Gareth Southgate has defended his reluctance to use Phil Foden in a central role by telling England's critics to ask Pep Guardiola about the Manchester City player's best position.
While Foden had a chance to impress in the middle when he came on during Saturday's draw with Ukraine, he is yet to convince his managers at club and international level that he has the defensive nous to earn a regular spot in his preferred role. Southgate revealed that he has spoken to Guardiola about the 23-year-old, who often plays in a wide role for City, and suggested that one of his most creative players has to improve without the ball.
England's head coach is under pressure to play a more expansive midfield trio after the stodgy performance against Ukraine – he tends to use two ball-winners alongside a more attacking player against top opponents – but he was perplexed by Foden saying that his favourite position is in the centre.
"He doesn't [play centrally] for his club," Southgate countered. "Presumably there is a reason for that. It depends on the level of the game. In the middle of the park, everyone wants to talk about the 'with the ball' but there is a lot of detail without the ball. You have to be spot on with pressing angles, your responsibilities and if you don't, you don't get the flow of the game.
"You'd have to speak to Pep, who is the best coach in the world, who plays him from wide. He's always got the freedom to drift if we play him wide. That's important."
Southgate has sought out Guardiola's view on Foden and he rejected the idea that the midfielder has played more centrally for City recently. Foden impressed when he came on for Kevin De Bruyne in last season's Champions League final and there was much excitement about his performance during City's win over Newcastle last month. "The manager told me to play more inside today," Foden said after the game at St James' Park.
Yet Southgate, who said it would be "ridiculous" to play an experimental side during Tuesday's friendly against Scotland at Hampden Park, insisted Guardiola has not been playing Foden in the middle that much. "I don't think he has played it a lot this season," Southgate said. "Seville in the Super Cup … Newcastle he plays wide right and he drifted – [Erling] Haaland and [Julian] Álvarez as 9 and 10, Phil defended right wing in a 4-4-2. He drifted in off the touchline with [Kyle] Walker going round him in possession. He picked the ball up in those areas a lot but his start position was wide on the right.
"I know it was a really eye-catching game and we were really pleased to see it but tactically and positionally it was him coming in from the right."
While Southgate gave Foden three starts on the left wing at last year's World Cup, there have long been calls for England to give more freedom to their creative players. Southgate faced accusations of negativity after playing a midfield of Declan Rice, Jordan Henderson and Jude Bellingham against Ukraine, though he has always been concerned with maintaining the side's balance. He was happy to highlight that Henderson's move to the Saudi Pro League did not hurt the Al-Ettifaq midfielder's physical data in Wroclaw.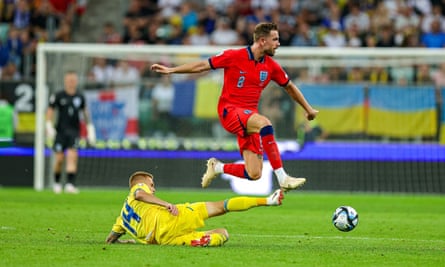 "We have been monitoring that in terms of his training," Southgate said. "Obviously we have got good contacts at the club so we have been monitoring his level. The physical outputs have been mixed because the climate has been different for different games, but he was in good physical condition. All of his data, he was hitting what he should have done. And his outputs on Saturday were the highest he has had in an England game."
Southgate was unmoved by criticism of his side's draw with Ukraine, pointing out that it did not hurt England's dominance of their qualifying group for Euro 2024. "We saw what happened in our group later that night," he said. "When we beat North Macedonia people were questioning the standard of the opposition, but Italy went there and couldn't get the win. We know the cycle with England. It's constant, but we have to focus internally on what's important for us."