Key events
Chelsea 1-1 AFC Wimbledon

Doncaster Rovers 0-0 Everton (L)

Harrogate Town 0-4 Blackburn Rovers

Nottingham Forest 0-0 Burnley

Sheffield United 0-0 Lincoln City
GOAL! PSV 1-0 Rangers (Saibari 35); agg 3-2. Noa Lang slips a pass down the left flank for Joey Veerman, who from the byline cuts back a cross into the mixer. Ismael Saibari is perfectly positioned to nod home from close range. It had been coming.
GOAL! Harrogate 0-4 Blackburn (Markanday 45+1). Dilan Markanday picks up a loose ball on the right-hand edge of the Harrogate D. He swivels and sends a precise low shot into the bottom left. Four shots, four on target, four goals.
GOAL! Chelsea 1-1 AFC Wimbledon (Madueke 45+1 pen). Noni Madueke tears into the Dons box from the right. He beats two men before being unceremoniously bundled over. He gets up and takes the spot kick himself. A pause, then a calm stroke into the bottom left. Chelsea level!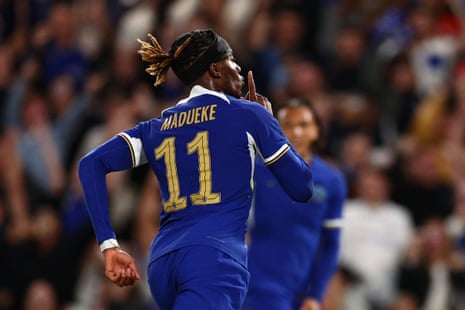 Everton are still to get going at Doncaster. The hosts pull back a corner for Tommy Rowe, who sends a rising shot inches over the bar. Jordan Pickford probably had it covered, but Donny are getting closer and closer. On the touchline, Sean Dyche takes a swig from a water bottle in the pensive style. It remains 0-0 between the bottom clubs in the Premier and Football Leagues.
Sheffield United are proving themselves the better team at home to Lincoln. Oli McBurnie and Yasser Larouci have both had efforts blocked. Still goalless, though.
A huge chance for PSV against Rangers. Johan Bakayoko crosses from the right. Luuk De Jong rises highest at the far stick. He should head home from six yards, but the PSV captain sends his effort wide left. Still goalless.
GOAL! Harrogate 0-3 Blackburn (Buckley 34). John Buckley arrives late to slam home a cutback from the byline, and this game is already over.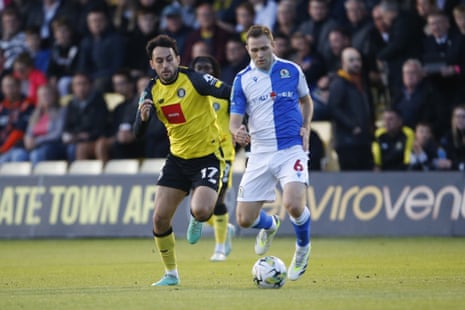 Stuart Broad on Nottingham Forest 0-0 Burnley. "In cricket, when you're about to bowl your first over when you've not played for a bit of time, your mindset is very much about just landing the ball and hitting a good area, rather than taking wickets and putting the opposition under threat. This game has that feel to it. Ten changes to Burnley, seven to Forest. A lot of safe passes. Nothing too fancy."
Rangers ship possession in the middle of the PSV Stadion pitch, allowing Joey Veerman to line up a shot from 25 yards. Veerman arrows an effort towards the bottom right; Jack Butland parries it clear with a strong arm. The hosts beginning to get into it.
Burnley are dominating at the City Ground but haven't had a shot on target yet. Meanwhile at Stamford Bridge, Ian Maatsen cuts in from the left and sends a piledriver goalwards; a big deflection takes it away from danger. Wimbledon still lead 1-0.
"Massive props to Everton who, within 60 seconds of kicking off, have already twice fallen to pieces defensively," reports Stephen Carr. And that is indeed the case. Michael Keane and Jordan Pickford get into an awful mess while overplaying out from the back. From the resulting corner, Doncaster defender Joseph Olowu is found clear six yards out, but somehow manages to head straight up into the air.
GOAL! Chelsea 0-1 AFC Wimbledon (Tilley pen 19). Robert Sanchez comes off his line, flattens a Don, and the referee points to the spot. James Tilley lashes the spot kick down the middle, and Wimbledon lead against the early run of play!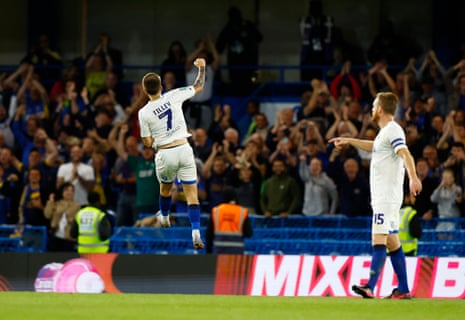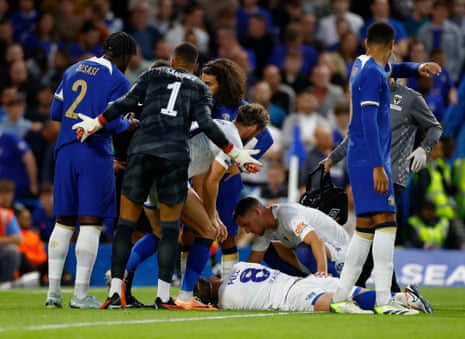 The big PSV-Rangers and Doncaster-Everton matches are underway. Rangers are on the front foot early doors, with Jose Cifuentes making good down the right before whistling a low cross in the direction of nobody in particular.
GOAL! Harrogate 0-2 Blackburn (Gallagher 13). Sam Gallagher, from pretty much exactly the same spot in the Harrogate box, opens his body and calmly slots into the bottom-right corner. Harrogate up against it already.
GOAL! Harrogate 0-1 Blackburn (Garrett 10). A bit of space for Jake Garrett down the inside-left channel, just inside the box. He swivels and fires a low drive across the keeper and into the bottom right.
Anyway, the big news so far this evening is that Stuart Broad is covering the Forest game for Sky Sports in their Soccer Special studio. He's well-informed, witty, erudite and charming, pretty much as you'd expect. Get him signed up. All of which is a long-winded way of saying there's nothing much going on in the early kick-offs yet.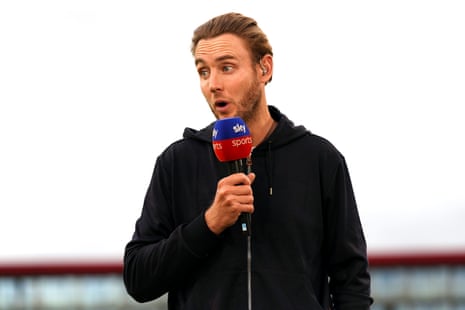 As for the Champions League … PSV-Rangers can go to extra time if the aggregate score is still level after the end of tonight's second leg. Penalties afterwards if required. Big week coming up for Michael Beale, who could be in a world of pain should tonight's match and this weekend's Old Firm derby go the wrong way for his new-look team.
A reminder that tonight's games in the Carabao Cup will go straight to penalties if there's no winner after the regulation 90 minutes. No extra time. The draw for the third round will take place at 10.15pm, unless the Doncaster-Everton game runs over, in which case we'll have to hang around a bit.
The 7.45pms kick off … and it's not long before the matches in Doncaster and Eindhoven get going as well. Goals to follow!
While we wait for the action to begin, let's have a rummage around the Joy of Six archive for some League Cup nostalgia. Here, this'll do! It was written 11 years ago, but there haven't been any shocks in the final since then, so the main thrust still stands. (Cardiff, Sunderland and Southampton tried their hardest, to be fair.)
Chelsea: Sanchez, Disasi, Colwill, Humphreys, Maatsen, Ugochukwu, Gallagher, Cucurella, Madueke, Moreira, Burstow.
Subs: Petrovic, Thiago Silva, Fernandez, Jackson, Chilwell, Caicedo, Gusto, Bergstrom, Samuels-Smith.
AFC Wimbledon: Bass, Ogundere, Johnson, Lewis, Pearce, Tilley, Williams, Pell, Ball, Neufville, Davison.
Subs: Tzanev, Brown, Al-Hamadi, Bugiel, Lock, Sutcliffe, Sasu, Jennings.
Doncaster Rovers: Lawlor, Senior, Westbrooke, Olowu, Maxwell, Broadbent, Rowe, Bailey, Molyneux, Ironside, Faal.
Subs: Wood, Jones, Long, Sotona, Roberts, Faulkner, Goodman, Straughan Brown, Kuleya.
Everton: Pickford, Patterson, Keane, Godfrey, Mykolenko, Garner, Doucoure, Onana, Dobbin, Chermiti, Danjuma.
Subs: Beto, Tarkowski, Virginia, Maupay, Young, Gueye, Lonergan, Branthwaite, Onyango.
Harrogate Town: Oxley, Ramsay, Burrell, Smith, Gibson, Horbury, Sutton, Thomson, Matty Daly, Odoh, Muldoon.
Subs: James Daly, Folarin, Thomas, O'Connor, McDonald, Foulds, Armstrong, O'Boyle.
Blackburn Rovers: Wahlstedt, Gamble, Scott Wharton, Hyam, Pickering, Garrett, Tronstad, Markanday, Moran, Buckley, Gallagher.
Subs: Brittain, Szmodics, Carter, Gilsenan, Hilton, Edmondson, Bloxham, Doherty, Atcheson.
Nottingham Forest: Turner, Boly, Niakhate, Kouyate, Aurier, Yates, Santos, Montiel, Williams, Elanga, Wood.
Subs: Awoniyi, Gibbs-White, Toffolo, Felipe, Johnson, Horvath, Hwang, Aina, Aguilera.
Burnley: Muric, Vitinho, Ekdal, O'Shea, Taylor, Bruun Larsen, Brownhill, Ramsey, Redmond, Gudmundsson, Rodriguez.
Subs: Trafford, Cork, Benson, Berge, Foster, Cullen, Amdouni, Al Dakhil, Odobert.
Sheffield United: Adam Davies, Basham, Egan, Trusty, Bogle, Coulibaly, Norwood, Brooks, Larouci, Archer, McBurnie.
Subs: Traore, Ahmedhodzic, Foderingham, Ben Slimane, Osula, Marsh, Seriki, Buyabu.
Lincoln City: Jensen, Eyoma, Mitchell, Roughan, Burroughs, Smith, Erhahon, Brown, Hackett-Fairchild, House, Mandroiu.
Subs: Sorensen, Jackson, Bishop, Hamilton, Wright, Duffy, Gallagher, Makama.
PSV: Benitez, Dest, Teze, Boscagli, Saibari, Veerman, Sangare, Schouten, Lang, de Jong, Bakayoko.
Subs: Sambo, Ramalho, Tillman, Pepi, Drommel, Til, El Ghazi, Waterman, Babadi, van Aanholt, Vertessen.
Rangers: Butland, Tavernier, Goldson, Souttar, Barisic, Lundstram, Cifuentes, Raskin, Cantwell, Matondo, Dessers.
Subs: Jack, Lammers, Sima, Sterling, Scott Wright, Davies, Balogun, McCrorie, Kieran Wright, King, Devine, Danilo.
Supporters of Leeds United and Tottenham Hotspur will understandably demur, but last night's second-round action in the Carabao Cup was a whole lot of fun. Goals, goals, goals. More please! Admittedly it's a more select card tonight …
Chelsea v AFC Wimbledon

Doncaster Rovers v Everton

Harrogate Town v Blackburn Rovers

Nottingham Forest v Burnley

Sheffield United v Lincoln City
… but a good one nonetheless. Also there's the bonus of Champions League qualifying action in the shape of …
… so there's plenty of CUP SOCCER to whet the appetite. Kick off is at 7.45pm BST, except in Doncaster and Eindhoven where it'll be 8pm. It's on!