Despite all the PR and marketing consultants hired by Saudi Arabia, the Saudi "Clasico", which featured Al-Ittihad and Al-Hilal, was not, for some reason, rebranded 'Al Clasico'. Nevertheless, the 1 September clash was quite the way to sign off for the international break. Al-Ittihad, hosts, champions and the so-called people's club from the Red Sea port of Jeddah, faced Riyadh royalty and took a 3-1 lead only to lose 4-3.
There was international interest, which was expected given the raft of big-name signings made in the summer, and more quality, which, again, was hardly a surprise. Al-Ittihad, who conceded only 13 goals under Nuno Espírito Santo last season, were cruising before conceding three goals in the space of 11 second-half minutes, with Al-Hilal's Aleksandar Mitrovic scoring an impressive hat-trick as the blue-shirted away fans did the Poznan. This has always been one of Asia's biggest games but there was a real heft to it this time.
The big games feel bigger due to the 'big four', taken over by the Public Investment Fund in June, and the big stars they have subsequently signed. Al-Hilal have added Neymar, Rúben Neves, Sergej Milinkovic-Savic, Kalidou Koulibaly, Malcom and Yassine Bounou to a team that lost 5-3 to Real Madrid in the final of the Club World Cup in February, defeating the champions of Africa and South America along the way. Al-Ittihad have reinforced with Karim Benzema, N'Golo Kanté, Fabinho and Jota. Meanwhile, Sadio Mané, Marcelo Brozovic, Seko Fofana, Alex Telles, Aymeric Laporte and Otávio have joined Cristiano Ronaldo at Al-Nassr and newly-promoted Al-Ahli have Riyad Mahrez, Roberto Firmino, Allan Saint-Maximin, Édouard Mendy, Franck Kessié and Roger Ibañez.
It's quite a list and that quartet – two from Riyadh, two from Jeddah – are now four of the most-talked about clubs in the world. Their attendances and atmospheres would not look out of place anywhere. Off the pitch too, there are the beginnings of coherent media and marketing strategies and greater levels of professionalism. That should mean that recent reports regarding European teams being concerned about receiving transfer fees from Saudi clubs, while understandable, prove to be unfounded.
Clubs from Saudi Arabia have been notorious for this in recent years, with even the likes of Al-Ittihad and Al-Nassr not being allowed to play in the 2018 Asian Champions League. It led to crown prince Mohammed bin Salman stepping in with more than £300m to clear the debts of the top-tier teams. Now there is an insistence that such days are gone and with the eyes of the world fixed upon the kingdom, any repetition would be hugely embarrassing.
This is also the case as far as attendances are concerned. While more than 60,000 Al-Hilal fans turned out to watch Neymar being unveiled, the average attendance for games hovers around 10,000. Not bad in the great scheme of things but nothing to write back to Riyadh about. The big four are doing fine but then there is quite a drop off. Indeed, Al-Shabab, who are certainly in the top four in recent years in terms of on-pitch success, were passed over by the Public Investment Fund partly because they are the third team in Riyadh and don't have the fanbase of Al-Ahli, a traditional giant who were in the second division last year.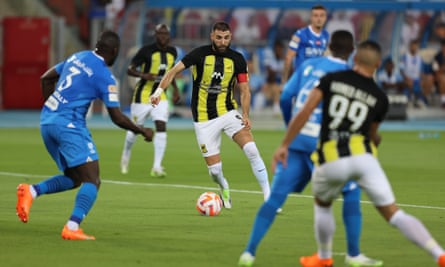 Closing the gap between attendances at the top and bottom is going to be tricky. Newly-promoted Al-Riyadh barely managed three figures in a recent game. It could be that expanding the league from 16 to 18 teams this season came too early with quantity coming at the expense of quality. Four top-tier teams in the capital is too much and a more equitable geographic spread would help. There are three clusters: Riyadh, Jeddah and the southwest. Large parts of the country, with population centres close to a million, are not represented. Bringing in a team from neighbouring Bahrain is one idea but what that would do to that country's domestic scene is a concern.
As is keeping the big stars happy. There have already been rumours of an Al-Ittihad rift – quickly denied – between Benzema and Nuno. Fellow striker Abderrazak Hamdallah, the league's leading goalscorer last season, is also reportedly unhappy at playing second-fiddle. Such is life in the spotlight.
At the moment the focus is on the big four, a vanguard tasked with delivering Ronaldo's goal of taking the league into the world's top five. Criteria on how that would be measured remains vague. Saudi Arabian domestic football does not have anything like the same depth as the big European countries, but the rise in quality at the top and international interest has been rapid. After just five games of the new season, the big Saudi games feel bigger and better than before – even if there remains work to do lower down.