Novak Djokovic has bad news for Carlos Alcaraz, Daniil Medvedev and all the other grand slam hopefuls in men's tennis: "I'm going to keep going."
Djokovic secured a record 24th grand slam title when he beat Medvedev in three gruelling sets to win the US Open. The 36-year-old capped another dominant year, during which he won the Australian and French Opens and was runner-up to Alcaraz at Wimbledon, by becoming the oldest champion at Flushing Meadows in the Open era.
Even Medvedev, whose challenge ended after he lost a marathon 104-minute second set, asked: "What are you still doing here? I mean come on."
But Djokovic insisted: "I'm going to keep going. You know, I feel good in my own body. I still feel I've got the support of my environment, of my team, of my family.
"The grand slams, I have said in the last few years, have been always the highest goal and the priority of mine in the whole season. I don't play as much in terms of other tournaments, so I try to prioritise my preparation so that I can peak in slams.
"These are the moments and these are the kind of emotions that I motivate myself with every single day when I'm not playing a tournament. Yeah, occasionally I ask myself 'why do I need this still at this stage after all I have done, you know? How long do I want to keep going?' I do have these questions in my head, of course.
"But knowing that I play at such a high level still, and I win the biggest tournaments in this sport, I don't want to leave this sport if I'm still at the top, you know, if I'm still playing the way I'm playing."
Djokovic's victory in New York moves him above Serena Williams to become the outright all-time leader in terms of Open era grand slams. The Serbian is level with Margaret Court for the most grand slams won, but the Australian won many of her titles before the Open era began in 1968.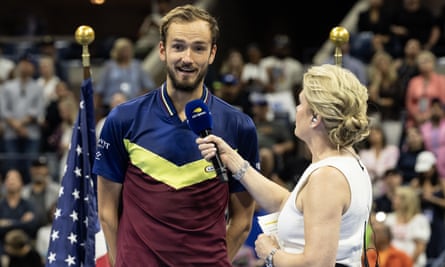 A Medvedev double-fault and a blistering backhand winner down the line gave Djokovic the early break point which he converted to love to take the first set in a relatively speedy 48 minutes.
The Russian, returning from deep behind the baseline, made Djokovic toil in the second set and it began to show with the favourite showing signs of fatigue. After an hour and three quarters, Medvedev produced his first break point of the match but Djokovic expertly snuffed it out with a big serve and an immaculate volley.
Medvedev had set point on the Djokovic serve but another volley at the net dealt with that, and when the tie-break slipped away from the 27-year-old, the match soon followed.
"The second set was the best set I played and I didn't win it," said Medvedev. "So that's why the match went that way, because first and third he was kind of better. The second, if I would win it, maybe it could have been a different game … I'm going to try to be better next time."