If Erik ten Hag's position on Scott McTominay is as entrenched as it would appear, the midfielder's starring role for Scotland against Cyprus is unlikely to register at Old Trafford. Still, McTominay's now continual use of the international platform to prove what value he could have at club level must turn heads.
Scotland's comprehensive 3-0 success in Larnaca on Friday evening had McTominay at its core. The 26-year-old played with control and poise but would be forgiven pent-up frustration. Ten Hag has used him only in the dying stages of the wins against Wolves and Nottingham Forest in the domestic campaign.
"We know he is good," said Steve Clarke, the Scotland manager, of McTominay. "That is why he starts for us. I think he has been playing like that for a little while now.
"With Scotty, we've been trying to find a way to play that can unleash him and John McGinn to get forward. It's nice to have two ball players behind them in Billy [Gilmour] and Callum [McGregor] to control the game.
"It's also nice to bring on the substitutes I can bring on. But it's good for Scott, if anyone needed reminding, just to show he's pretty decent. Not that we need reminding."
Clarke was perfectly correct to reference McTominay's role, which was as one of two advanced midfielders against Cyprus. Traditionally the Manchester United player would be regarded as a more defensive or destructive midfielder. Clarke's faith has been rewarded. McTominay has half a dozen goals in his last five Scotland appearances and has become a key player in both boxes.
Clarke has spoken to McTominay about what the future may or may not hold in Manchester. Links to Newcastle and West Ham during the transfer window passed without McTominay departing the club he has been associated with since the age of five. Clarke believes it would be premature to call time on McTominay's Old Trafford connection.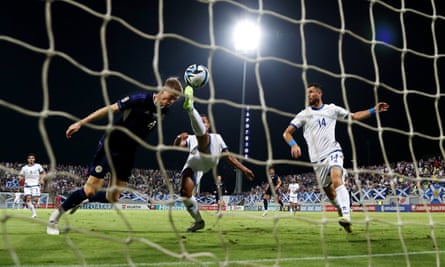 "When you're at one of the top clubs like Manchester United, they're going to have a big squad and you know they are going to have a rotation," Clarke said. "Sometimes you have to bide your time to get your chance in the team. At the moment, that's what Scott has to do. But I'm sure that once he does get his chance he'll show everybody he's a good player for his club as well."
McTominay's next moment in the spotlight will come on Tuesday, when England visit Hampden Park for a friendly sure to carry an edge. Scotland's victory in Cyprus took them to the verge of qualification for Euro 2024 – five Group A qualifying wins from their first five fixtures – but this team also value the taking of high-profile scalps.
"We have players who are playing at a good level," Clarke said. "We should go into this game with confidence. Why not? We haven't lost a competitive group stage game for a long time now. It's a friendly and sometimes that can be a little bit different but with the current momentum we've got, I think we can take that into the game.
"The game for us will be serious. In some friendlies you can relax a little bit and we can be a little big more relaxed after the win in Cyprus. But we want to win. We're playing England: they'll want to beat us and we want to beat them. I know [England coaches] Gareth Southgate and Steve Holland pretty well. They'll respect us."