SE ACABÓ
Until their pow-wow is broadcast in full, we can only guess whether or not there is much to be read into into the circumstances in which Luis Rubiales finally announced his intention to resign from his position as president of the Spanish football federation. Three weeks to the day after Spain won the Women's World Cup and Rubiales decided to plant what he continues to insist was a consensual kiss on the lips of Jenni Hermoso, the Spaniard announced his intention to quit in an exclusive interview with Piers Morgan, a similarly boorish and divisive alpha male who has form in the field of stepping down from a cushy, well-paid gig after being publicly criticised by a colleague for the manner in which he continued "to trash" a popular, high-profile woman.
While there is every possibility Rubiales had little idea whatsoever who Morgan was, the parallels between his departure from the Spanish federation and the broadcaster's exit from Good Morning Britain are not entirely dissimilar. While we must wait until Tuesday to discover if their tête-à-tête was more candlelit bath than waterboarding session, at least now we know that having spent recent weeks trashing Hermoso to such an extent that she has formally accused him of sexual assault, Rubiales has finally realised the jig is up and is ready to reluctantly sling his hook.
"After the rapid suspension carried out by Fifa, plus the rest of the proceedings opened against me, it is clear that I will not be able to return to my position," Rubiales tooted in a statement released on Sunday, having told Morgan he arrived at this conclusion following consultation with his daughters (they always like to mention they have daughters) and his father. "Insisting on waiting and clinging … is not going to contribute anything positive, neither to the federation nor to Spanish football. Among other things, because there are de facto powers that will prevent my return." Interestingly, at no point in his statement did Rubiales demonstrate anything resembling contrition or issue an apology, which is understandable considering at some point in the future he may have to appear before a beak and continues to insist he did little wrong.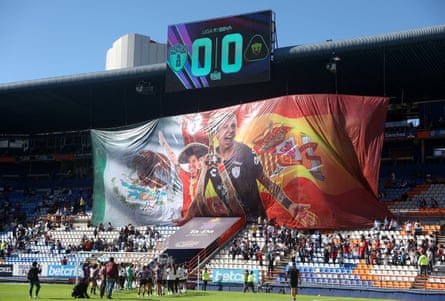 While the players who won the World Cup may now finally get to enjoy their triumph without having their thunder stolen by Rubiales and the poisonous fall-out, there are no shortage of men – and it is almost always men – who remain adamant that the Spaniard is the victim of a witch-hunt. And while it's entirely possible this controversy could have been immediately put to bed if Rubiales had issued a mea culpa and accompanying apology, his antics were simply the straw that broke a long overburdened camel's back within football in Spain. "For the Spanish this isn't just about a kiss," declared Chelsea manager Emma Hayes, a woman so wise and sensible it could be argued she should really be in charge of everything. "This is about systemic misogyny towards their players over many years. It's not an isolated incident. This goes back to the federation not supporting them the way they deserve." For so long at the heart of everything that was wrong with this culture, Rubiales is finally gone.
LIVE ON BIG WEBSITE
Join John Brewin from 7.45pm BST for hot Euro 2024 qualifying MBM coverage of Latvia 0-0 Wales, a must-win for Rob Page and his team.
QUOTE OF THE DAY
"Obviously, in a moment, at the time that me and Gareth spoke, the likes of Trent [Alexander-Arnold], [Kieran Trippier], Reece James coming through … you do think your days are numbered. And to sacrifice how many holidays and summers that I have? I've been doing this since I was 19. I'm 33 now. Me and Gareth have a good relationship off the field. We do speak and I feel that I can still bring something to the team. So why stop?" – Kyle Walker, on target for England in their 1-1 Euro 2024 qualifying draw against Ukraine, explains how Gareth Southgate talked him out of international retirement again.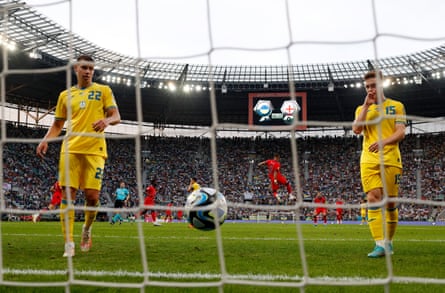 Reading Jonathan Wilson's thoughtful piece on the 'club v star player' conundrum, I was reminded of a piece of information I was once given by a young producer for the fledgling TV station Canal +, in Paris in the mid-1990s. Canal + were about to offer football to their 3 million cable subscribers, and my colleague was in charge of the sports presentation. He excitedly explained that they were going to revolutionise TV coverage by putting up to 30 cameras around the ground, with a large number of those devoted to close-ups, or 'single player cams', to follow the entire game focused only on this or that star. He told me that most people (in France at that time) were not sufficiently excited about a particular team (remember, this was after Marseille but before Les Bleus won the World Cup) so Canal's idea was to create a kind of cult of personality, and present each match (not a league, or a club, or a season) as the personal struggles of individual players. In the end, this meant homing in on individual skills; moments of controversy; one-on-one dribbles, tackles and fouls; and (with hindsight) the necessity to have as many distinct individual personalities on the field as possible. Ainsi soit-il (and so it went). Sort of makes me long for the eagle-eye point of view 'Subbuteo' shot of early Match of the Day, where even the top international centre-forwards didn't have their names emblazoned on their (sponsor-free …) shirts, and if you blinked, you could miss a goal. Sniff" – Russell Richardson.
Floundering leaders, they're all … the … same" – Harriet Osborn.
Send your letters to [email protected]. Today's winner of our prizeless letter o' the day is … Russell Richardson.
RECOMMENDED LISTENING
The Football Weekly team pick over the latest international action just for you.
The Football Weekly Book is out later this month and you can order your copy (with a discount) now, now, now.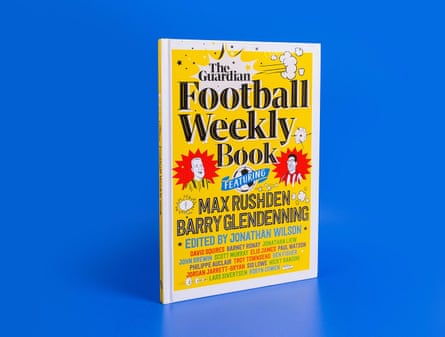 RECOMMENDED BOOKING
There's a live event on 26 September to mark that Football Weekly Book launch. More details and tickets are here. And then the pod goes on tour again in November. Several dates are now sold out, but there are still some tickets available elsewhere.