This is fun isn't it? Howard Webb coming on television to tell Michael Owen, two days later, that Manchester City's Manuel Akanji was in Bernd Leno's eyeline as Nathan Aké's header squeezed past him and into Fulham's net at the weekend. I'm all in favour – I want more. David Elleray doing a follow up show with Tony Adams. Then Pierluigi Collina can do a live Insta reviewing Ellery's review before Roger Milford and George Courtney lighten the mood with a synchronised TikTok dance with Keith Hackett beatboxing on the side. It's all rounded off with a live countdown of Mike Dean's top 40 PGMOL friends on VH1 voiced by Bruno Brookes. "Up two to No 11 and leapfrogging Darren Cann – it's David Coote." Eventually it'll become more popular than the football.
The despair of the Fulham manager, Marco Silva, was pretty evident after the Aké goal. "Everyone that has played football, who has some knowledge of football, knows 100% sure to disallow that goal. For the [assistant referee] it can be difficult to see an offside position, but for VAR it is impossible not to disallow that goal. That moment had a huge impact on the game."
I'm not entirely sure whether you need to have played football, or even seen one football match, to work out that Akanji was in the way. Anyone who has stood in front of a 6ft 1in man at any time in their life and then been asked: "Can you see that 6ft 1in man?" would have been able to give some guidance.
"From the outset, I want to say this should have been disallowed," said Webb on the TV show Match Officials: Mic'd Up on Sky Sports, aired on Tuesday. "These are not always easy to call because you are trying to get two pieces of information together. Is the player in an offside position, which official is in a good position to see, and what consequence was there of the player being in that position and how it impacts the opponents? Unfortunately it was not identified on the day and the learning from this will be shared from all of our group because we are looking to do better each and every week – and this was an error."
How can we share this learning? Perhaps after the eye test (there must be an eye test right?) prospective refs are led to a police lineup Usual Suspects style – with only Manuel Akanji standing there – whereupon each prospective ref is put to the test. "This is Manuel Akanji, can you see Manuel Akanji?"
Does Silva have a point? "You've never played the game" is the tiring preserve of the ageing ex-pro railing against caller after caller, journalist after journalist, or just anyone who disagrees with them. But perhaps with referees there is a kernel of truth.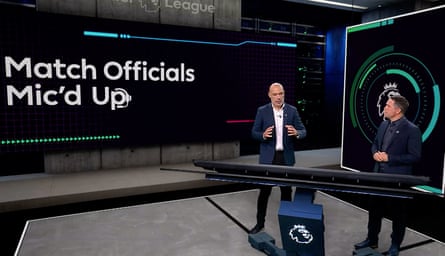 To reach the top as an official you have to start young – which generally means making the choice to ref instead of play. This would appear to be a very strange choice to any kid who loves football. Most refs are people who really have never played the game. That probably doesn't matter all that often. And how would you possibly go about fixing it?
Clearly the suggestion to add an ex-player to the VAR room is ridiculous. Many of them don't know the laws. If you add that constant incorrect criticism to the continual law changes, the disaster of handball, and beleaguered managers deflecting from their own team's performance, you can see the odds are stacked against officials. Erik ten Hag trying to outwit a straight line was quite the highlight last week.
And Webb's move to go on TV is actually a really positive step and presumably the first one on the way to broadcasting the VAR room. I can understand the PGMOL's reluctance to go live – there are decisions that are difficult and subjective, and broadcasting three people, two of whom are breathless, saying" "I dunno Jeff gasp, what do you think?" "I dunno either, Brian" isn't likely to help in the short term.
But perhaps over time fans, pundits and columnists would actually gain a modicum of sympathy for officials. Anyone who has stood in the centre circle of an amateur game because the ref didn't show will tell you how difficult it is. Sometimes you just don't know who won the throw and you point in a random direction.
There will always be the VARsonists who want to burn it down, and the eVARgelists (sorry), who correctly point out that there are fewer incorrect decisions now. And there are the rest of us in the middle who were fine with how it was before and remain fine with how it is now. Football isn't meant to be perfect. Owners, managers, players, officials, journalists, fans all get things wrong. Another layer of people occasionally doing the same is OK with me. Sometimes the wait at the ground is terrible, sometimes it's great – a double celebration, or agony turned to joy.
And there are many who just hate talking about it and will see this as a waste of a column which could be discussing inverted full-backs, Jordan Henderson not going for the money or Kai Havertz's best position. If that's the case, more than happy to drive to your house to apologise. I can car share with Howard Webb if you live in Brighton.
As for never playing the game – I'm sure Michael Oliver and everyone else at Stockley Park might like to yell to Silva and the rest of us: "You've never refereed a game." And the truth is we would all be appalling, even if most of us would be able to see Manuel Akanji from three yards away.