They don't call Tony Bloom "the Lizard" for no reason. The Brighton owner has earned almost $4m as a cold-blooded poker player and will be the proudest man in the Amex Stadium on Thursday nightwhen the team he rescued from the brink of extinction in 2009 make their debut on the European stage against AEK Athens.
After a three-year absence from the poker table, Bloom – who is said to have spent countless hours at the amusement arcades on Brighton pier as a child before studying maths at university and establishing his gambling empire – returned last year and won $360,000 (£290,000) in prize money. "I've always enjoyed playing poker, but life sometimes … there's a lot going on with business, the football club and a young family," he said. "I just heard about this tournament three days ago and pot-limit Omaha is my favourite game. Tough field, but I said I'll give it a go."
Bloom was also reported to have pocketed more than £800,000 after betting on his horse Energumene to win the Queen Mother Champion Chase for the second year running at Cheltenham in March and owns a betting consultancy firm called Starlizard, which is believed to have an annual turnover of more than £100m.
But Brighton could turn out to be his most lucrative gamble of the lot, after two summers in which the club have banked more than £350m, culminating in the sale of Moisés Caicedo to Chelsea for a British record fee, and still managed to qualify for the Europa League thanks to a sixth-place finish in the Premier League.
Bloom grew up watching Brighton with his grandfather Harry (a vice-chairman during the 1970s when Brian Clough had a brief spell as manager), invested £80m in 2009 to help pay for the new stadium that will host AEK and remains the driving force behind the success at a club where there has also been a constant turnover of staff as well as players.
Paul Winstanley, the former head of recruitment who moved to Chelsea with Graham Potter last year, and the Football Association's former director of elite development Dan Ashworth, who is now at Newcastle, helped to build the impressive scouting network that is the envy of the Premier League and beyond. But just as Roberto De Zerbi's side have picked up where they left off last season despite the departures of Caicedo and Alexis Mac Allister, behind the scenes the technical director David Weir and head of recruitment Sam Jewell – who is credited for scouting both players in South America – have seamlessly stepped up.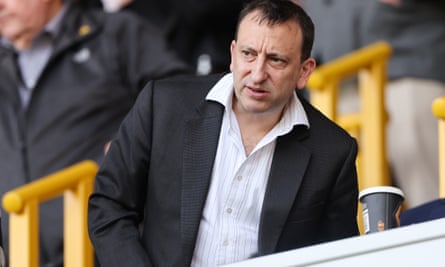 Bloom remains the constant in Brighton's evolution, with the owner said to have introduced parameters such as rarely spending significant transfer fees on older players. He also has the final say on signings and, as Chelsea and others have discovered, is not the kind of owner to mess with around the negotiating table.
"Poker gives you a good grounding in lots of things, including reading situations and reading people and making tough decisions," Bloom told the Times in a rare interview in 2011. "When it comes to football, people get very emotional and when I'm watching a game, I'm as emotional as the rest of them. But running the football club, it's really important to get that emotion to the back. Otherwise you'll end up doing what a lot of chairmen always do and make some horrendous decisions. I don't quite understand why a lot of successful businessmen get into football clubs and sometimes make a pig's ear of it."
Saturday's fourth consecutive Premier League victory over Manchester United, which featured a mesmeric 30-pass move for the second goal from Pascal Gross, was the latest evidence that Brighton's success is no flash in the pan. The appointment of the effervescent De Zerbi – who marked his first year in charge on Monday – to replace Potter has proved a match made in heaven with Bloom's analytical approach and he has transformed the team into a potent attacking force.
Brighton have registered more shots on target than any other team in the division since his arrival and so committed is the Italian to playing out from the back that Brighton have yet to take a long goalkick this season in the Premier League.
"He's so good at improving players," Bloom said last week. "He pushes everyone to go as far as they can. We don't have ceilings at this club but he certainly doesn't have one." De Zerbi said on Wednesday: "We are not a big, big team yet but we are improving. We have the ambition to become better and better. How we can compete can give us an upgrade. But we can't forget where we started and who we were. We can't lose our DNA."
It is not only Bloom and De Zerbi who feel Brighton's European adventure may be no one-off. The club are second favourites to win the Europa League with some bookmakers behind Liverpool, and supporters – who are relishing trips to face Marseille and Ajax – have every reason to think there is a good chance of qualifying for next season's expanded Champions League if De Zerbi can sustain their serene progress.
"I never thought when I came here that we could go this far," said Gross, who made his senior debut for Germany this month and was Brighton's first signing in 2017 after they were promoted to the Premier League. "It's incredible how much we have grown, especially over the last year. We all know it means a lot to the owner and I think it will be a special night."