City not at their best but they do not need to be
Four wins from four without too much stress sees Manchester City two points clear at the top. The football played under Pep Guardiola – and Juanma Lillo – is clinical, the players are almost robotic in their actions to best opposition. City average 68% possession per match as opponents are forced to sit back and hope for the best, although that tactic has come under scrutiny from Erling Haaland, who has already scored six goals this season. Considering City sold a number of players over the summer and have done limited work signing replacements, others might have thought there is a chance they can take advantage of this but Guardiola is ensuring standards do not slip, whether he is on the training ground or recovering from back surgery in a different country. When City finally get up to speed, opposition managers will be even more afraid.
The gap between the Premier League and the Championship is a huge one to close in the space of a summer as plucky top-flight newcomers Burnley, Sheffield United and Luton are finding out. Between them they have earned a solitary point, thanks to the Blades drawing with fellow relegation candidates Everton. Burnley have conceded 11 goals in three matches, while Luton a more respectable nine. Alongside Everton, it is the first time in history that four clubs have lost their opening three matches of the campaign. This set of defeats is unfortunate for everyone involved but perhaps most so for Burnley midfielder Sander Berge, who has lost in 20 of his past 21 Premier League appearances, the other 18 coming with Sheffield United. One suspects it will be a long old season for the three promoted sides.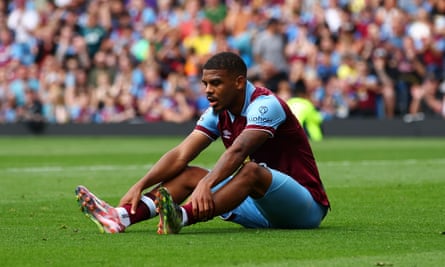 Fourth officials at Fulham matches know what they are in for when Marco Silva is patrolling the technical area. The Portuguese manager is not afraid to get in people's faces and is more than happy to share his opinions on every decision that goes against his side, leading to an impressive three bookings in as many matches at the start of the season and a touchline ban for their Carabao Cup tie against Tottenham. Even more impressively, despite his protestations and frustration at the erroneous decision to allow Nathan Aké's goal for Manchester City, Silva did not collect a fourth yellow. "I have to adjust," Silva said after his suspension was confirmed. "Probably the best way to adjust is to be sitting on the bench. I have to tell you, that is almost impossible for me because my players need me." Will he heed his own advice?
Liverpool's new midfield clicks into gear early
It was a long list of Liverpool midfield departees in the window from James Milner to Fabinho and a few in between. This resulted in a dash to tie down Alexis Mac Allister, Dominik Szoboszlai, Ryan Gravenberch and Wataru Endo to kickstart a new era in the centre of the park. This is a marked change in personnel but the transition to this new fangled midfield began last season when Trent Alexander-Arnold became part of an experiment, performing a hybrid full-back/central midfielder role. There were a few teething problems, possibly best shown in Liverpool's dramatic 4-3 win over Tottenham when his offensive play was imperative to his side's best work but it left a gaping hole in defence. Four months on, Alexander-Arnold and his teammates understand what is required and Jürgen Klopp is steadily reaping the rewards.
Hammers maintain European momentum
Last season it seemed the Europa Conference League was a distraction for West Ham as they struggled to maintain their Premier League status on their run to the final in Prague. But they saw off Fiorentina and things are still bouncing at the London Stadium. There was a slow summer in the window but eventually James Ward-Prowse, Edson Álvarez, Konstantinos Mavropanos and Mohammed Kudus arrived. They have taken the momentum from being European (Conference League) champions into domestic football. The pressure is finally lifting from David Moyes, who has maintained his calm despite a lot of fans calling for his head. The Hammers are unbeaten in four Premier League matches of which they have won three. They await the start of the Europa League and will be desperate to balance playing twice a week better than they did to last season.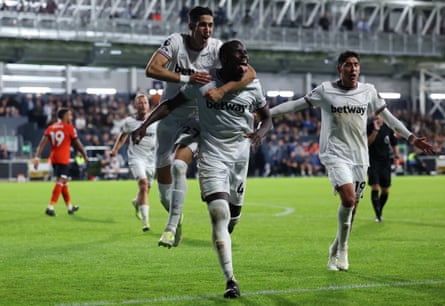 Added time is just adding to the mayhem
In an era where managers and players are complaining about the amount of football, some big brain in officialdom decided that elite sport needs lots of extra minutes to tire people out. Guardiola said: "With this added time at the end of the league we won't have played 38 games, it will be 43 games. Plus the Champions League, plus the Club World Cup, it's more and more. And then Fifa has to look out for the national teams, which again I'm not saying is a bad thing – of course any national team has the right to play – but we have to find a balance. Quality not quantity." Players will suffer and fans will be charged their eyewatering fees for tickets and TV subscriptions to watch a less product. Will common sense prevail? No.