Key events
I received a Werder Bremen woolly hat so I could show my support for Niclas Fullkrug for the remainder of the tournament. Admittedly, Germany are out, so it doesn't help much. Maybe they can bring Fullkrug back as a pundit. What's the most niche football gift you've received?
After witnessing the group stage, who are you backing to win the tournament? I can't look past Brazil's arsenal of attackers. They have so many options up top, they will be very hard to stop.
Son Heung-min described South Korea's agonising wait for confirmation of their place in World Cup knockout rounds "the longest six minutes of my life" after their 2-1 win over Portugal on Friday saw them advance to the last 16.
The Korean captain set up Hwang Hee-chan to score a 91st-minute winner against Fernando Santos' side and leave the Taeguk Warriors hoping Uruguay would be unable to add to their two-goal lead over Ghana in the other Group H match.
Another goal would have taken Uruguay into the last 16 at Korea's expense on goal-difference and the squad huddled together on the Education City Stadium pitch watching on digital devices as the South Americans ultimately fell short.
"It was the longest six minutes of my life, but in the circle we were really positive," said Son, who will be playing in the World Cup knockout rounds for the first time in his career.
"I said: if Uruguay score one more goal, I'm very proud of this team and very happy that you gave it everything and we will see what's going to happen. We were just waiting, but it was a long wait." Reuters.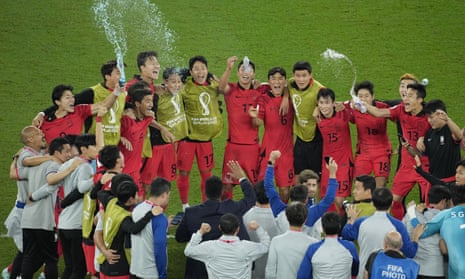 Louis van Gaal has been linked with the vacant Belgium national team job but he has more immediate matters to deal with, starting today against USA.
"We want to become world champions so we've got another four matches ahead of us and then we'll see whether there are any offers on the table," Van Gaal said through a translator. "If we become world champions, everybody is so opportunistic in this football world that there will be offers. I know that full well.
"But for the moment we are not world champions. And if I have to believe the Dutch media, we will never become world champions."
It is Australia v Argentina later. Graham Arnold has played in the fixture before. A certain D Maradona was playing that day.
The great Karen Carney on England v Senegal.
Kurt Perleberg is backing the Americans: "The USMNT will defeat the Netherlands today."
Conclusive.
Nedum Onuoha has been on Sky Sports News backing USA to overcome Netherlands. Is anyone else in the same boat? There is plenty of attacking talent in the USMNT squad but I fear their defence is a touch suspect.
England are four matches away from winning the World Cup. Jonathan Wilson asks 'but are they any good at football?'.
Naturally, while my colleagues are off galavanting in Doha, I have been speaking to the former manager of a non-league team. Do not worry, it is very much World Cup-related. Two Senegal players have represented non-league teams in England. Can you name the other?
We should remind ourselves of yesterday's action.
Starting with Serbia v Switzerland.
Barney Ronay's analysis.
The match report.
And Cameroon v Brazil.
Barney Ronay has been looking at the Aspire project and how it's influence.
The group stages are over, so it is time to relax. Oh, the knockout stages begin today.
The action kicks off with Netherlands v USA at 3pm and concludes with Argentina v Australia in the evening. Betting folk would back the Dutch and Argentinians to progress but this tournament has not been a simple one.
Elsewhere, there is plenty to build up to in the coming days, including England's match tomorrow night against Senegal. Gareth Southgate's side are back to get to the quarters but their opponents will be desperate to cause an upset.
As well as looking forward, I suspect there will be some fallout from yesterday. Uruguay's upset with the officials and TV monitors might cause a few problems for them and Granit Xhaka's alleged naughtiness might be assessed by Fifa.