Key events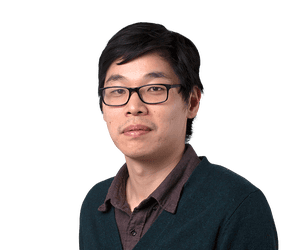 Jonathan Liew
Jonathan Liew is in Doha for the Guardian, and this morning he casts his eye over the situation that Germany find themselves in ahead of their decisive clash with Costa Rica:
Take the lack of a natural striker, an ongoing source of introspection in Germany and one brought into sharper focus in recent years. From Gerd Müller to Karl-Heinz Rummenigge to Jürgen Klinsmann to Miroslav Klose; the dominant, masculine No 9 is a central part of the mythology of German football. And so for many, the absence of world-class centre-forwards – generally believed to be a product of a youth development system that prioritises versatility and technical excellence over specialism – is emblematic of something deeper; a dilution of German identity, a divergence from tradition.
By the same token, the rise of the veteran Niclas Füllkrug – the stalwart Werder Bremen striker who was playing second-division football until this season – has been interpreted as a return to core values. "The German virtues, which we had been missing a bit lately, are back," wrote Lothar Matthäus after Füllkrug's emphatic equaliser against Spain on Sunday night.
Perhaps this feeds into a wider debate about whether, in an age of porous borders and the increasing fluidity of ideas, there remains such a thing as a national footballing identity. And if so, what is Germany's? "I do believe there are identities," Flick said on Wednesday. "Perhaps the nuances have changed in recent years. We want to have high intensity, be active and have possession. We want to force the opponent to make mistakes, which means we sometimes press hard. We want to stand for attractive and modern attacking football."
Read more here: Jonathan Liew – Germany face questions that cut to heart of identity before Costa Rica tie
One sad note that has come out of last night's Australia match is the confirmation from Football Australia that defender Bailey Wright's mother-in-law has died.
Wright came out with an emotional statement in the immediate aftermath of his team's 1-0 victory over Denmark, saying "I've just come in from a message from my wife. I just want to dedicate this to my wife, bless her, and her mum. I'll be honest, I'm not sure if she's still with us."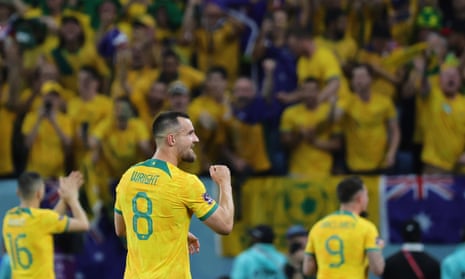 "It was, for them, a really tough time back home, but ultimately it made this possible for me to be here and live one of my dreams so I dedicate that to Tammy."
Reuters reports that Wright said he had not told his teammates about his worries back home. "No one knows. That's something I've kept to myself; we*ve all got a lot going on. Job to do, isn*t it? You've got to be professional all the time," he added.
Football Australia confirmed on Thursday morning that Wright's mother-in-law had died and the defender would not appear for media.
It was another late night for Max and the gang in the pod. If you haven't caught it yet, then here is the latest daily episode of Football Weekly. Joining Max Rushden are John Brewin, Philippe Auclair, Mark Langdon, Marcela Mora y Araujo and Emma Kemp to dissect the final action in Groups C and D.
Today is the day we sort out Group E and Group F, which means this evening it is crunch time for Germany, the possibility of an unlikely redemption for Costa Rica, Japan sweating on results elsewhere if they can't get a second win, and Spain still not guaranteed a second round place.
Before all that, Belgium's golden generation face their last hurrah, Croatia still have some work to do, Morocco will be hoping to progress from a group for the first time since 1986, and Canada want to show they will not "do a Qatar" as hosts in four year's time. Here is what we have to look forward to:
We will, of course, have MBMs for them all. Before then there's the fallout from last night, media appearances from all the teams playing in tomorrow's final round of group games, plus any other nonsense that occurs to me along the way. Do get in touch – you can email me at [email protected]