Key events
HALF TIME: Wolverhampton Wanderers 0-0 Arsenal
That's the end of the first half. Wolves will be the happier of the two sides as everyone trudges off for their half-time orange segments.
45 min +2: Boubacar Traore is booked for hauling back Jesus as the Arsenal man hares down the left. A free kick and a chance for Arsenal to load the Wolves box. Odegaard swings it in, but Collins clears. Jesus grimaces as he rubs his achilles.
45 min +1: Guedes has been a right old handful, and now he finds himself on the right-hand corner of the Arsenal six-yard box, but with no route to goal. He tries to find another old gold shirt with a forensic cutback, but isn't successful. Arsenal clear.
45 min: Nothing comes of the needlessly conceded corner. There will be two added minutes.
44 min: Saliba gets away with a huge mistake. He plays a blind backpass down the Wolves left. It hits Guedes, who scampers into the Arsenal box. He should work Ramsdale at the very least, but in opening his body and aiming for the top right, gets his shot all wrong. But it takes a flick off Gabriel and out for a corner.
43 min: Vieira has a dig from 25 yards. It's blocked easily enough. Wolves are holding their shape nicely, and Arsenal are struggling to find a way through.
41 min: Guedes is half-wrestled, half-clipped to the floor on the edge of the Arsenal D by Gabriel. You've seen fouls given for much less, but the referee is in a particularly laissez-faire mood tonight, and allows play to go on. Guedes and the Wolves fans not happy. Even less so when Adama Traore then blazes wildly over the bar.
40 min: White crosses deep from the right. Jesus comes haring in from the left and tries to steer a right-footed shot goalwards. He can only pull it wide left, and nearly adds injury to insult by crashing into the post. He avoids that slapstick fate. Just.
39 min: Martinelli probes down the left but ends up running the ball out of play for a goal kick. Kind of sums up Arsenal's uncharacteristically impotent play so far.
37 min: Toti is booked for a cynical trip on the in-flight Jesus. It's a booking all day long, but Wolves aren't happy about it, in the wake of the non-decisions that were beneficial to White and Odegaard. Two wrongs, etc.
36 min: Saka slips Jesus clear down the inside-left channel. Jesus enters the box, opens his body, and sends a curler meant for the top right pinging off the top of the bar and out for a goal kick. The flag then goes up for an offside. Probably correctly, though there wasn't much in it between Jesus and Wolves' last man Toti.
35 min: Kilman beats Zinchenko to a header down the right wing, sending Guedes into space. Guedes dribbles his way into the box … then trips over his own feet. Good football up until then.
33 min: Arsenal's Partey trick: the long throw. He fizzes one in from the left, and it pings off Neves for a corner. Wolves half clear it. Odegaard sends the ball back in from the left. Toti launches a clearing header upfield. Sa hasn't had a save to make yet against Arsenal's effervescent attack.
31 min: Arsenal ping it around in the old-fashioned sterile style.
29 min: Odegaard tugs back Moutinho by the arm. Just a free kick. No booking for that, either. The home fans are getting agitated. Moutinho isn't best pleased either, to be fair.
28 min: White takes up possession and finds himself also in receipt of some loud booing from the Wolves faithful. Panto season soon!
27 min: White isn't happy that Wolves are awarded a goal kick. He wanted a corner. He gives the linesman some beneficial advice before throwing the ball in his direction. He gets a long talking-to from the referee, and is pretty fortunate not to go into the book.
25 min: Arteta hugs the touchline, micro-managing his players in the Rafa Benitez style. He very nearly gets in the road of an in-flight Bueno. Let's hope Richard Keys has something else on tonight and isn't watching this. We worry about his blood pressure.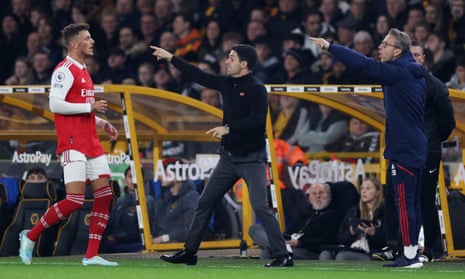 23 min: Vieira makes good down the left before pulling back for Zinchenko, who curls in a cross. Jesus flashes a header wide right. Good chance.
22 min: Jesus slaloms at speed down the inside-left channel from deep, nearly making it into the box. He's swarmed and crowded out before he can get a shot away. Lovely run, though.
20 min: White ships possession and Wolves counter down the right. Boubacar Traore slips a pass down the channel for Guedes, who sends a first-time screamer wide and high from the edge of the box. That's about one inch wide and one inch high. That was close. Wolves are looking dangerous whenever they get up the park.
19 min: Semedo tries to release Adama Traore down the middle, but Traore is miles offside and doesn't bother chasing. Had he been a little more aware of what was coming, he'd have held back and sprung what passed for Arsenal's offside trap. Arsenal were at sixes and sevens.
18 min: Zinchenko is caught dawdling on the ball by Adama Traore, who goes barrelling down the middle of the park. Jesus saves his team-mate's blushes by chasing Traore down and stealing the ball back.
16 min: Xhaka can't continue. He walks off, blowing his cheeks out, the very picture of a man feeling as though he might boak. He's replaced by Vieira.
15 min: Saka sends in a flat corner at speed. You could hang your washing on it. What a delivery. Gabriel gets his eyebrows on it, but only sends the ball harmlessly wide left.
14 min: White, Odegaard and Saka triangulate down the right wing. Saka reaches the edge of the penalty box and crosses from a tight spot near the byline. The ball nearly squeaks into the top right, and Sa is forced to turn out for a corner.
13 min: One corner leads to another. Neither are very good.
12 min: Wolves look lively. Bueno bombs down the left and nearly opens Arsenal up with his dribble. Not quite. He's forced to turn tail. But Wolves come back at Arsenal, and Semedo wins a corner down the other flank.
11 min: Jesus busies himself down the inside-right channel, spinning away from Kilman but unable to get past Toti. Sa claims.
9 min: A nice open feel to the early exchanges, then. Saliba definitely clipped Guedes' heel. Somewhere in the multiverse, Arsenal are one up but down to ten men. For the want of a yard here, a yard there.
7 min: Semedo rolls a pass down the right for Adama Traore, who scampers into space. Traore curls low for Guedes, clear in the middle. But there's not quite enough pace on the ball, and Guedes is barged out of it on the edge of the box by Saliba. The referee would have had a decision to make there, had Guedes not been caught offside.
6 min: Martinelli drops deep on the left wing. He cuts infield and whips a stunning diagonal pass towards Jesus, free on the penalty spot! Jesus takes one touch before firing into the bottom left. That would have been a hell of a goal had Jesus not been clearly offside, and the flag goes up accordingly. But what vision from Martinelli, and a fine finish by Jesus to boot.
4 min: Xhaka's back up and appears good to continue. He'll battle on.
3 min: Xhaka squats on his haunches as he talks to the trainer and takes on some isotonic orange drink.
2 min: Arsenal spend the first 90 seconds pass, pass, passing and getting a feel of the ball. But then play stops as Xhaka doubles over. Looks as though he feels a little queasy. On comes the trainer.
Arsenal get the ball rolling. It's top versus bottom!
The teams are out! Wolves in old gold, Arsenal in red with white sleeves. Classic looks. We'll be off in a couple of minutes … one of those being spent in silent reflection in honour of the fallen. The lights dim. The Last Post. A moment perfectly observed.
Julen Lopetegui doesn't officially take charge of Wolves until Monday, but he's been given a sensational reception upon being introduced to the denizens of Molineux. Sky ask interim coach Steve Davis how much input the incoming Spaniard has had going into this fixture. "None really. He's stayed out of the way. Watched a bit of training yesterday. We had a meeting, we spoke about players and general things. He seems a good guy and a good fit for the club. The players have done their best, they're working as hard as they can, we just need to turn our results around."
Meanwhile Mikel Arteta adds: "It is a big night and we know how difficult it will be here. We have to perform well and earn the right to win. We just focus on ourselves."
Newcastle United have just beaten Chelsea 1-0 to reclaim third spot from Spurs, who had earlier leapfrogged them with a 4-3 win over Leeds. On the subject of today's Premier League results, there were two others that affected Wolves and Arsenal. Nottingham Forest's 1-0 victory over Crystal Palace means Wolves are now bottom, though they'll rise to 18th with a win this evening. Anything else, and they'll be bottom at Christmas. Meanwhile Brentford's sensational 2-1 win at Manchester City means that whatever happens here tonight, Arsenal are guaranteed to go into the World Cup break as leaders of the title race. But will they be two, three or five points clear of the champions? Much to play for tonight at both ends, yes sir!
Wolves make two changes to the side beaten 3-2 at home by Brighton & Hove Albion last weekend. Toti and Adama Traoré are in; Daniel Podence and Hwang Hee-chan are out.
Arsenal are in If It Ain't Broke mode. No changes to the XI named for the 1-0 win at Chelsea last weekend.
Wolverhampton Wanderers: Jose Sa, Nelson Semedo, Kilman, Collins, Gomes, Bueno, Boubacar Traore, Neves, Joao Moutinho, Adama Traore, Goncalo Guedes.
Subs: Ait Nouri, Daniel Podence, Sarkic, Mosquera, Ronan, Matheus Luiz, Hodge, Campbell, Lembikisa.
Arsenal: Ramsdale, White, Saliba, Gabriel, Zinchenko, Odegaard, Partey, Xhaka, Saka, Gabriel Jesus, Martinelli.
Subs: Tierney, Nketiah, Holding, Cedric, Vieira, Nelson, Elneny, Alencar, Turner.
Referee: Stuart Attwell (Warwickshire).
The club that owned the 1950s take on the dominant force of the 1930s. That's one way of looking at it anyway. Whatever, both clubs are coming at things from a different angle in the 2020s. Mikel Arteta's upwardly mobile side are looking to reassert The Arsenal as the best in the land. By contrast Wolverhampton Wanderers, under new boss Julen Lopetegui, are simply hoping to retain their top-flight status. Contrasting goals, same importance placed on grabbing all three points. Kick off under the famous Molineux floodlights is at 7.45pm GMT. It's on!