Key events
17 min We've seen almost nothing of West Ham in attack, but we've not seen loads of City either.But here comes Foden, pulling down a crossfield pass on his big toe and feeding Cancelo, whose cross is deflected behind for a corner.
16 min West Ham shut down space so well. Their defensive spacing and discipline are both excellent.
14 min Cancelo drives forward and finds De Bruyne, who works space along the face of the box before screwing a shot wide of the far post.
13 min Coufal slides in on Grealish, cleans him out, and avoids a booking – I've no idea why.
12 min "I saw someone tweet 'Is Haaland made of rock?' writes Alix Sharkey. "Haaland with 'a heavy touch that allows the defender to clear', you say Daniel? Does he have any other kind of touch? I've yet to see him control a ball traveling at more than 10 mph. He's going to be this season's Lukaku, isn't he?"
He's a much better player than Lukaku, "for me". He's no artist, but his one-touch finishing tells us he's got decent technical ability, I think.
10 min City have made 65 successful passes relative to eight for West Ham. That is both ridiculous and unsurprising – but West Ham are doing well to restrict final-third space.
9 min Grealish is seeing a fair bit of the ball out on the left, and he'll need that – he's a player who thrives on involvement, and going from being Villa's key man to just another bloke at City must've affected him.
7 min City knock is about in midfield, then Gundogan finds Grealish, whose cross is cleared. It's pretty hot in London today, so this might be a slower game than we'd ordinarily expect.
6 min Haaland lanks through the middle towards Zouma, but a heavy touch allows the defender to clear.
5 min "Hello from Pittsburgh!" begins Eric Peterson. "I'm imagining the Manchester United board in their luxury suite at Old Trafford, lingering over the debacle of today's game and the disaster their club has become, and having their gaze drawn to the TVs and the sight of West Ham, led by their first post-Ferguson manager. I'm imagining them collectively realising, wait a second, this is what happens if you bring in a good manager and just give him what he needs to succeed rather than try to trip him up at every opportunity because he's not doing it Your Way. I have an overly active imagination."
I know what you mean, but Moyes doing brilliantly at West Ham doesn't mean he was the right man for United. His sweet-spot is biggish clubs who need some organisation and heart.
3 min A near-post brute, under the bar, forces Ederson to flap as his defenders charge him, the Bowen thumps a volley that's blocked; the ball goes left, Fornals whips in a cross, and Antonio heads over. Good start from West Ham, and there'a a delay because Ederson needs treatment, having been hammered by Haaland.
2 min Excellent from West Ham, winning the ball high and spreading left to Cresswell, whose cross for Antonio is a decent one and his header is blocked behind. Corner, and we know what West Ham can do with them…
1 min And away we go! For those of you watching in black and white, City are in dayglo yellow.
The players take the knee; we've yet to solve racism.
Before the game, Maxwell Cornet was introduced to the home fans, making the hammer sign, and goodness me what terrace-ditty potential he has.
Here come the teams!
Yeah, I'm not having this top.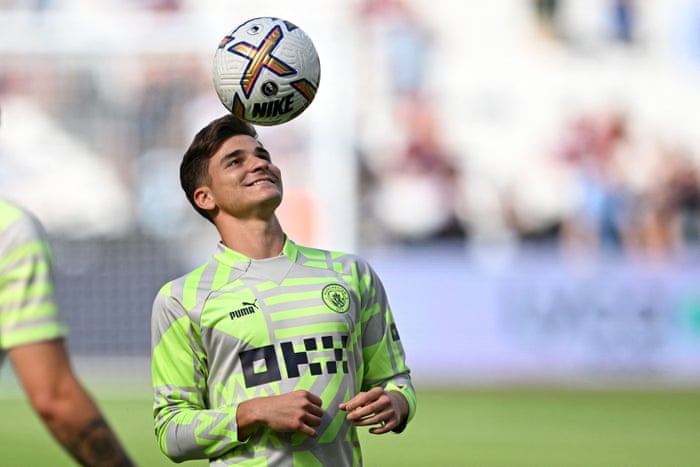 More transfer news:
This seems a very old-skool move – I bet, when asked, Lampard talks about "character", "personality" and "leadership" rather than "being good at defending and not making errors".
Looking at Grealish mucking about with the ball, my guess is that he's been picked partly because Guardiola needs signing him to work, but also because his ability to improvise and pick holes might help against a team defending deep and properly, as West Ham will. Realistically, he and Riyad Mahrez are probably competing for one position, because I'd expect Foden to start the majority of games this season. Today, that looks like being on the right, and perhaps that'll become his regular station; he needs one, because though he can play anywhere, consistency of selection will help him become as good as he should be.
Moyes tells Sky Scamacca isn't fit enough to start and that Craig Dawson got injured against Lens – of course, he pronounces it Lense.
Guardiola says Haaland has settled well and is developing a connection with his new teammates.
Sky reckon it's Ben Johnson at centre-back for West Ham. That makes some sense because he has recovery pace, but may suffer fro a lack of experience in the position.
There's also pressure on Pablo Fornals, whose spot in the team is most at threat from the arrival of Maxwel Cornet. Fornals is a tricky mover, but so is Cornet – who'll also bring dynamism and improvisational skill. He could prove a very canny addition.
Today, I imagine Moyes will want his wingers staying wide, trying to push Walker and Cancelo back. That'd allow Rice, Soucek and Lanzini to scrap with Rodri, Gundogan and De Bruyne for midfield control, and give West Ham a decent chance of turning that into a physical affair. There's a lot of pressure, though, on Jarrod Bowen, who looks his side's most likely creator – though they'll always have their set-pieces.
I mentioned below that West Ham might play 4-4-2 in some games. That's because, in Declan Rice and Tomas Soucek, Moyes has the legs in midfield to allow strikers and wingers – and perhaps explains the pursuit of Amadou Onana, who's now going to Everton. I do, though, wonder if they need a bit more guile.
Brighton have beaten Man United 2-1 – welcome to "this league" Erik – while Brentford have come from 2-0 down to draw 2-2 at Leicester.
This is a really big season for Jack Grealish. He wouldn't be the first to need a year to get used to Guardiola's methods, but there's a nagging doubt that he's just not the right kind of player for the system, and that a quick, direct winger makes more sense – especially with Haaland making runs across the front post. That isn't to say Grealish isn't a great option to have, he is, but might make more sense as a sub and rotation player than a big-game staple.
A little bit of West Ham news:
West Ham are keen to improve his options in attacking midfield. They are willing to listen to offers for Saïd Benrahma and Nikola Vlasic. Nottingham Forest have shown an interest in Benrahma following their promotion from the Championship.
Elsewhere, mirth: Brighton lead 2-1 at Old Trafford with three minutes of the 90 left.
As for City, Haaland does indeed start, with Phil Foden and Jack Grealish chosen to flank him. More surprisingly, Nathan Aké starts in the middle of defence alongside Ruben Dias – John Stones is on the bench – and the midfield, the best in the league and perhaps the world, contains Ilkay Gundogan rather than Bernardo Silva, who's linked with Barcelona and on the bench.
Moyes leaves his new signings on the bench – though I daresay we'll see Gianluca Scamacca at some point. I wonder if, against less august opposition, we'll see him play up alongside Michail Antonio in a 4-4-2, but for now it looks like a 4-5-1, a favourite Moyes tactic against better sides because it allows them to compete in midfield while retaining a threat in wide areas. Otherwise, West Ham are short of options in the centre of defence, so either Aaron Creswell or Vladimir Coufal will partner Kurt Zouma.
West Ham United (a proactive 4-5-1): Fabianski; Johnson, Coufal, Zouma, Cresswell; Fornals, Soucek, Rice, Lanzini, Bowen; Antonio. Subs: Areola, Randolph, Scamacca, Vlasic, Downes, Benrahma, Coventry, Okoflex, Ashby.
Manchester City (a matter-of-principle 4-3-3): Ederson; Walker, Dias, Ake, Cancelo; Gundogan, Rodri, De Bruyne; Foden, Haaland, Grealish. Subs: Ortega, Phillips, Stones, Alvarez, Silva, Mahrez, Palmer, Lewis, Wilson-Esbrand.
Referee: Michael Oliver (Ashington)
93, 100, 98, 99, 86, 93, 86, 99 – no, not a fiendishly difficult Mensa sequence, nor a pre-snap call from an NFL playbook, but the points obtained by the Premier League champions in the last six seasons. And of those tallies, only one is outside the top five recorded in the Premier-League era, just as only one – the 95 recorded by José Mourinho's Chelsea in 2004-05 – makes the list from the entirety of the previous 24 years.
There are various reasons for this and – the world being the world – obscene wealth is foremost among them, delivering big squads replete with options and alternatives. But it's also the case that, like Mourinho before them, Pep Guardiola and Jürgen Klopp have raised the bar – not necessarily of quality, though that can be argued too – of what it takes to win the title, marrying excellent recruitment with epochal force of personality and mentality.
In such context, it's easy to see why both have invested in strikers: you can play nicely, with "co-ordinated pressing", "choreographed movements" and all that, but football will forever remain a simple game with getting the round thing into the oblong thing its most important aspect. We saw that yesterday, when Darwin Nuñez, one of four Liverpool subs, came off the bench to save his team a point that – ridiculously – felt like a blow to their title ambitions. And we may well see it again today, because Erling Haaland, the world's first lab-created goalmonster, will be starting in attack for Manchester City.
But there are far easier beginnings than West Ham away. David Moyes' side are now established as one of the league's best: physical, skilful, and an absolute brute to play against. Last season at the London Stadium, they beat Liverpool, almost did the same to City, and have plenty of scope to get better still.
Or, put another way, there are more friendly places to begin a bid for a record-equalling third consecutive title, and not many less so. This is going to be good.
Kick-off: 4.30pm BST