Kyle Walker has certainly bided his time. Twelve years on from his England debut and on the occasion of his 77th cap, the Manchester City right-back finally scored for his country. It was an important one, too, his cool finish before half-time cancelling out Oleksandr Zinchenko's opener for Ukraine and ensuring that England came home with something from a collective 6/10 performance.
Walker was the outstanding player on the pitch, his speed on the defensive cover so reassuring for Gareth Southgate, particularly as he was up against the jet-heeled Mykhailo Mudryk. He repeatedly shut the door in his opponent's face even after he gave him a head start in footraces.
Walker's goal came from Harry Kane's precise assist and it momentarily quietened a near sell-out crowd that was painted in blue, yellow and Ukrainian passion.
England have virtually qualified for the European Championship finals in Germany next summer after four victories from their first four qualification ties and there was no disaster in this draw. They simply did not do enough to win, despite playing on the front foot. The guile in the final third was missing and there would be an outpouring of Ukrainian joy when the final whistle blew. For Southgate and his players, it is on to Tuesday's friendly with Scotland in Glasgow.
It is hard to say precisely how many Ukrainians live in the Polish city of Wroclaw, whose population is listed at about 640,000, but the generally accepted figure is about 250,000. In other words, they are a fundamental part of the social fabric. It was impossible to ignore their excitement from lunchtime onwards as they milled around the picturesque old town, watching the travelling England fans pinning up their flags and settling in.
The vibe under the hot sun was laid-back, although there were reminders of Ukraine's suffering. One mural depicted Vladimir Putin as Adolf Hitler, a swastika between his eyes, his hands in cuffs. The word "Killer" was sprayed underneath, "Nuremberg For Putin" to the side. Before and during the game, the crowd chanted in support of their army while the rendition of the national anthem, blue and yellow banners held high, was emotional.
England wanted control and they dominated possession at the outset. The new Ukraine manager, Serhiy Rebrov, broadly deployed a 4-4-2 out of possession but he did not want to press, to overcommit. The counterattack was his intended route to glory.
The onus was on England. What could they do with the ball? Not a lot, was the answer for much of the first half. Jude Bellingham had a couple of nice moves early on while Bukayo Saka had a shot blocked but it was thin gruel.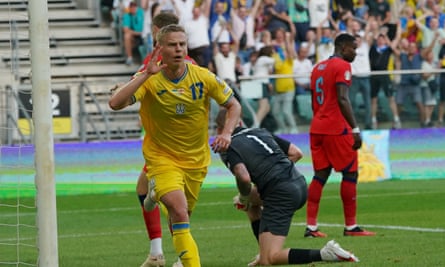 There is a better feel around the Ukraine setup under Rebrov, who took over in June, than there had been at Wembley in March when England won with a degree of comfort. Rebrov started well with wins over North Macedonia and Malta and the stadium was bouncing when Zinchenko made the breakthrough.
There were neat feet from the impressive Heorhiy Sudakov in the buildup and when Viktor Tsyhankov released the overlapping right-back, Yukhym Konoplya, England were stretched. The home crowd had gone wild whenever anybody in yellow did even the slightest positive thing. Now the decibel level rose sharply. Konoplya cut back and there was Zinchenko, arriving late, to steer home. A red flare lit the celebratory scene behind the goal.
Southgate had kept unenforced changes to a minimum, the only one from the 7-0 dismantling of North Macedonia at Old Trafford in June being James Maddison for Marcus Rashford on the left wing.
England were indebted to Kane because they were labouring until he dropped deep to create the equaliser with a fabulous diagonal over the top and inside Vitaliy Mykolenko for the onrushing Walker.
Jordan Henderson had tried to find Maddison straight after Zinchenko's goal when he might have shot and Maddison then summed up England's mounting frustrations by receiving a yellow card for a challenge on Illya Zabarnyi.
Maddison took a heavy touch when a better one from a Bellingham pass would have got him through on goal but Kane sparked the equaliser with his pass, Walker's first touch so true that he had time to allow the ball to bounce once, then twice, before he finished.
Maddison brought a different interpretation to the role on the left where Southgate has so many options, drifting inside in search of pockets of space. The idea was that Ben Chilwell could overlap or maybe Bellingham could bomb on. Neither really happened. Maddison was a mixed bag, some good passes, some sloppy touches.
England applied pressure at the start of the second half and only the crossbar denied Saka after Maddison found Kane, who fed the winger. Saka cut inside and his technique was perfect, the shot fizzing up and against the woodwork. It looked to the naked eye as though the goalkeeper, Heorhiy Bushchan, had got a touch to it.
Southgate swapped Bellingham and Maddison for Phil Foden and Rashford; Bellingham had faded after a bright start. For Foden, there was the central midfield role that he wants. The switch, however, did not help England fashion a late sting.