At the beginning of this year, while she was still just one player in a vast field of challengers, Aryna Sabalenka made her primary goal for the season clear. The Belarusian rarely does things by half measures and so she did not merely want to win her first grand slam tournament – she intended to catch Iga Swiatek and overtake her as the world No 1.
That goal may have finally been realised, but the work does not stop. With the No 1 ranking from next week secured, Sabalenka continued to march through the US Open draw as she overpowered Zheng Qinwen of China 6-1, 6-4 to return to the semi-finals for the third consecutive year.
In the men's draw, Daniil Medvedev survived the suffocating heat and humidity as he returned to the semi-final with a convincing 6-4, 6-3, 6-4 win over Andrey Rublev. It is the fourth time in the last five years that Medvedev, the 2021 champion, has reached the semi-finals in New York.
During a tough three sets, which were played out in brutal conditions, Medvedev used an inhaler on-court for the second successive match. He expressed his frustration at continuing to play in such tough conditions, with the tournament organisers only closing the roof halfway. "One player is going to die. And they're going to see," he said.
Having struggled earlier in her career with a significant mental block in the major tournaments, Sabalenka has become the most reliable grand slam performer in the sport with remarkable consistency at the biggest events. The 25-year-old has reached the semi-finals of five consecutive grand slams, now becoming the first woman since Serena Williams in 2016 to reach the semi-finals of all four majors in a year.
"I'm super-proud of myself and my team that we have been able to adjust to different conditions, different courts," she said. "We were able to bring this consistency in my game."
Her opponent, Zheng, is one of the most talented young players in the game. The 20-year-old is armed with an excellent first serve, one of the heaviest forehands in the game and she is a great athlete.
Yet against Sabalenka's immense power, weight of shot and growing intelligence, Zheng's game looked underpowered.
The Belarusian served so brilliantly, losing just nine return points in the entire match, that by the second set Zheng felt compelled to return serve from the back fence, a tactic more often seen on the ATP Tour. It did little to stop Sabalenka from closing out another great performance without issue.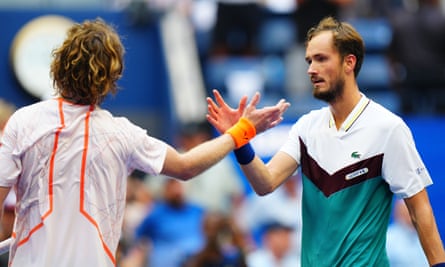 This has been an incredible season for Sabalenka, who clinched her first grand slam at the Australian Open, and she has made dramatic improvements to her game. Where she was once emotional, rash and thoughtless on the court, Sabalenka has moulded herself into a calm and smart player capable of harnessing her extreme power with high percentage, sustainable tennis that she has replicated all year.
Yet this year has also, at times, been crushing. For all of her success, she could have achieved even more. She held match point and a 5-2 third-set lead against Karolina Muchova in their French Open semi-final before completely crumbling. Then, in the semi-finals of Wimbledon, she led Ons Jabeur 7-6 (5), 4-2 before losing four games in a row, and eventually the match.
"I just have a really strong belief that all those tough matches that I lost will help me in the future in tough matches, tough battles," she said. "I'm just learning and I'm just getting more experience and getting stronger. It's been tough," she said.
It has been clear that the pressure of the No 1 ranking, which was on the line at both tournaments, weighed heavily on her in those matches and the Australian Open triumph this year remains the only time she has won a grand slam semi-final. Thus, one of the most important questions in the final days of the US Open will be whether Sabalenka, having reached her ultimate goal, will be able to play with a level of freedom that will only make her more dangerous.
Meanwhile, Naomi Osaka said that she plans to make her return to professional tennis in January ahead of the Australian Open after giving birth to her daughter, Shai, two months ago. Osaka, a four-time grand slam champion and former No 1, returned to the US Open in order to speak on a mental health panel alongside Michael Phelps.