At the entrance to Stadion Wroclaw stands a short plinth commemorating the venue's role in Euro 2012. The logo from that summer, a flower in Polish red and white adjoined to one in their Ukrainian co-hosts' blue and yellow, recalls a simpler time: an era when fans could watch a game here one evening, catch another in Lviv within 24 hours and, with a fair wind, carry on in Kharkiv or Donetsk the following night.
The presence of England shines light on a more modern version of unity between the two nations. Russia's invasion of Ukraine has made the world smaller and football has felt the effects: Serhiy Rebrov's team have not played on their own soil since November 2021 and this will be the fourth time in five that Poland has stepped in. More than 250,000 Ukrainians are thought to reside in Wroclaw now, a figure unmatched anywhere else in the country. This is as close as Ukraine can get, for now, to a home fixture.
"I know some friends who have been living here since the invasion and the feedback is that Polish people are helping as much as they can," said the Ukraine captain Oleksandr Zinchenko, who again talked compellingly of football's platform to remind onlookers of the horrors that still unfold daily back home.
One day in March 2022, with Ukraine's cities under heavy attack, the number of refugees arriving at Wroclaw's central stadium peaked at around 12,000. The local community stepped up in support and a walk around the city centre 18 months later tells a tale of rapid, largely seamless integration. It is little exaggeration to say every second voice walking the streets is speaking Ukrainian. In those early weeks the queue outside Fundacja Ukraina, which offers a range of support to the migrant community and stages cultural events, snaked out into the main street from its offices in a courtyard five minutes from the old town. Many of those people have since found work, made homes, enrolled their children in local schools, settled down as best they can until Ukraine becomes free.
On one level this is a regulation Euro 2024 qualifier: a chance for England to coast clear in Group C and for Ukraine, who will probably benefit from the safety net of a Nations League playoff if all else fails, to keep pace. But the sight of 40,000 fans in Ukraine's yellow and blue, 350 miles from the national border, is evidence for a wide audience that something remains badly wrong.
"It's an amazing opportunity to talk, to speak out," Zinchenko said. "I need to show the rest of the world what is happening in my country because, unfortunately, there is a lot of propaganda everywhere and people need to know the truth."
Figures who work with Ukrainian arrivals to Wroclaw note that, while the atmosphere in the city remains friendly and cooperative, they have detected a certain decline in the willingness to devote time and resources to refugees. The task is to ensure the situation's ongoing gravity remains understood. Numbers arriving at the station seeking sanctuary may have dried up to a trickle, the thousands of volunteers who worked day and night to ensure their safety long since stood down, but the accommodation and employment of those already here are not always long-term or stable.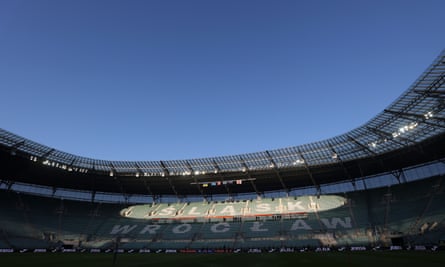 Football, as ever, speaks to graver concerns while offering escapism. Close observers of the Ukraine team do not swell with optimism about their ability to trouble England, pointing out that the former Tottenham player was only appointed in June and has had little time to create a winning culture. Rebrov brings a different style to that of his predecessor, the veteran Oleksandr Petrakov, whose gifts were of the more schoolmasterly kind. Under Rebrov and his largely Spanish coaching staff, Ukraine's players are being steeped in tactical information and training, as Zinchenko noted earlier in the week, has stepped up in intensity.
Rebrov can call upon four Premier League-based players and another quartet from La Liga, including Girona's outstanding winger Viktor Tsyhankov. Their speed down the flanks can trouble England and they will hope to draw upon any motivation Mykhaylo Mudryk, who is yet to get off the mark for his country, feels to silence those who have called time prematurely on his prospects at Chelsea. Those looking for Ukraine's next major export may train their eyes on the centre of midfield, where Shakhtar Donetsk's 21-year-old schemer Heorhiy Sudakov has been turning heads of clubs in England and Germany.
Another reminder of their biggest driving force came on Thursday when the squad were visited by children from a youth academy in Zielona Gora, a city 80 miles north-west of Wroclaw. The facility was founded shortly after the invasion and 65% of its intake are refugees. Zinchenko and Mudryk attracted the most attention: the role of footballers in offering a symbol of hope and pride for many who have suffered unimaginable grief has rarely been greater.
Those qualities will abound on Saturday night, even if Ukraine would trade every element of their surroundings for a safe return to their national stadium in Kyiv. "It's impossible to say that it is going to be the same atmosphere as when we play in Ukraine," Zinchenko said. "When you play in Ukraine, even the air is different." For now, the helping hand of Poland offers a chance to make their statement.