As Ajla Tomljanović slumped into her courtside chair in New York on Monday after a stirring victory in her comeback to tennis, parts of her were aching that she did not know existed. The Australian, who had not played since last November due to a knee injury, had a stunned expression on her face as she soaked in the applause ringing around the outside court. A star of last year's US Open when ending the career of Serena Williams, and now a Netflix celebrity on Break Point as well, she looked towards her father, Ratko, before asking: "How?"
How, indeed? Until two weeks ago, Tomljanović was not sure she would be able to return to New York after suffering a recent setback while training in California. It has been a rough year. On Saturday the 30-year-old described the last eight months as awful due to the amount of rehabilitation required just to get back to the grand slam stage. The knee cartilage issue will need to be managed for the rest of her career, but the three-time grand slam quarter-finalist felt confident enough to give it another crack.
After playing just one full practice set and a handful of games against other players, Tomljanović was able to shake off some early rustiness to defeat Hungarian Panna Udvardy 3-6, 6-2, 6-4 in the US open first round.
"To me, it felt like the greatest thing in my life was taken away from me, and for me, I almost could not accept it," she said. "Every time I didn't hit the mark of playing the French, or playing [Wimbledon], it definitely stung bad. We ruled out it was career ending … but I was not prepared for how long the road could be and along that road, I definitely felt like there was no light at the end of the tunnel, because I have no experience with a knee."
In defeating Udvardy she became the second Australian veteran to post a fine victory on the comeback trail after her fellow "sister of the twisted knee" Daria Saville triumphed earlier. Saville, who overwhelmed Wimbledon girls' champion Clervie Ngounoue 6-0, 6-2 on her US Open debut, has been among a group of women, including 18-time major champion Chris Evert, who provided counselling for each other as they battled different health issues this year.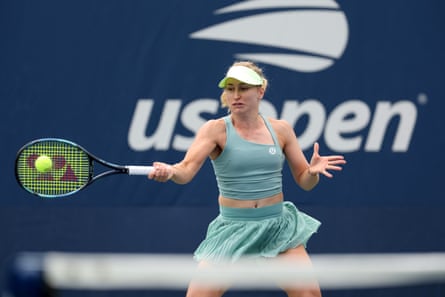 "I wanted to check up on [Tomljanović], because we were going through different injuries, but similar (in a way)," Saville said. "Because I have done it so many times before, and she has also done it with her shoulder, we were trying to stay positive together. I gave Ajla some advice. She gave me some advice. Obviously there was a lot of gossip as well. But that stays between us."
Saville ruptured her anterior cruciate ligament while playing against four-time major champion Naomi Osaka in Japan last September and has returned from knee reconstructions twice to win at grand slam level. The Melburnian came across her Billie Jean King Cup teammate at an opportune time on Monday – Tomljanović had felt paralysed by self-doubt while stretching before her comeback match, unsure if she had the grounding necessary to be able to win at this level. Or at any professional level.
"I was laying down, thinking, 'I'm so nervous,'" Tomljanović said. "And [Saville] goes, 'Ajla, this is a celebration that you are playing today.' And I was like, 'That is a celebration.' So I was like, 'Great. That is my last little pep talk before I head out.'"
Tomljanović and Saville should feel satisfied with their victories, but it will need to be short-lived, for awaiting them in the second round are two of the most formidable players in the world.
Saville will play defending champion Iga Świątek in a match that will almost certainly be scheduled for Arthur Ashe Stadium on Wednesday. The world No 1 Świątek defeated Swede Rebecca Peterson 6-0, 6-1 in 58 minutes, which is about the time it takes to get from Grand Central station to the Flushing Meadows complex. The three-time Roland Garros champion has now won 43 sets this season either 6-0 or 6-1, which prompted Saville to state afterwards she was desperate to avoid a "double bagel". But the opportunity to play the best on the sport's biggest stages was a motivating factor for the Australian as she dived into rehabilitation with verve late last year.
Tomljanović will play the 2022 Wimbledon champion, Elena Rybakina. Adding to her challenge will be the manner with which she recovers from Monday's testing 1hr 54min encounter. "It wasn't great physically for me," she said. "I think strength is the biggest thing that is lacking. It has definitely been a new experience. But I'd be kicking myself if I didn't give myself a chance to compete in New York. We will see tomorrow, but I am very positive everything is fine."
Rinky Hijikata was the other Australian to progress on the opening day, with another eight including world No 13 Alex de Minaur scheduled to play on Tuesday.