"I wouldn't say I've taken the most conventional route," Ali al-Hamadi says of his journey to this point. Even then it feels as though he is underselling it. The 21-year-old AFC Wimbledon striker was born in Maysan, Iraq, but at the age of one he fled the war-torn country with his then teenage mother, Asseel. A few months earlier, his father, Ibrahim, who carries scars from the torture of being imprisoned by Saddam Hussein for protesting against the dictator's regime, was granted asylum in Liverpool.
"I feel like it's a special part of me that gives me an edge, a bit more hunger and a lot more perspective on things because of the sacrifices my family had to make," al-Hamadi says. "I always have that in the back of my mind."
Al-Hamadi grew up on a council estate in Toxteth and spent his childhood honing his skills on the streets. He recalls jumpers for goalposts and climbing walls and searching underneath cars for his football. "Some days we did not really have anything to eat, but my dad would bring as much as he could for us," he says. "It was always tough but I have happy memories because, regardless, my parents always tried to provide as much as they could for me.
"Liverpool is an amazing and a really football-mad city. I hear senior players say all the time that as they have got older they don't watch football as much or they love to go and play golf, but I just love football. I'm always watching it, learning, listening or reading about it. That was my upbringing."
Five and a half miles separate Chelsea and AFC Wimbledon but there could hardly be a starker juxtaposition in the Carabao Cup second round after the League Two club, who have been fan-owned since 2002, were handed a trip to Todd Boehly's all-encompassing empire for Wednesday's second-round tie. Chelsea's £115m purchase of Moisés Caicedo, for a British record outlay, means they have spent almost £1bn on players since a Boehly-led consortium completed a £4.25bn takeover in May last year.
At the time, al-Hamadi was on loan at Bromley from Wycombe, "getting knocked about in the National League". Two months later, AFC Wimbledon broke their own modest transfer record, signing Josh Davison from Charlton for about £200,000. AFC Wimbledon are unbeaten this season and overcame last season's Championship playoff finalists, Coventry, in the last round.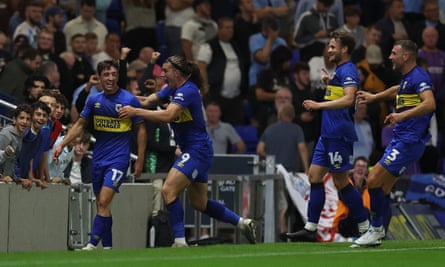 "Let's be honest, it's something some players will probably do once in their lifetime, playing away at a Premier League ground. I'm getting goose bumps just talking about it," al-Hamadi says. "We're from different worlds so for us to come together in a game is special."
The striker, who could face Thiago Silva, cites the Bayern Munich defender Kim Min-jae, nicknamed the Monster, as his toughest opponent. "He definitively lived up to his name," al-Hamadi says with a laugh. "I came up against him in a World Cup qualifier for Iraq. I tried to run him in behind, he was quick enough to stay with me and when I was holding the ball up he just timed everything perfectly."
It has been a bit of footballing odyssey for al-Hamadi. He joined Tranmere at 14, Swansea as a scholar and AFC Wimbledon from Wycombe in January. He made his Iraq debut against Syria two years ago and a few months later his father flew to Lebanon to watch him play. Growing up, al-Hamadi says his dad was his superhero. "There are some feelings in life you cannot explain," he says. "It was a proud moment for my parents, with me moving here from such a young age but sticking to my roots and playing for the place where I was born, where they were born.
"Every time I put on a football shirt, it is an amazing feeling. People like to think football is life or death sometimes but I enjoy it as much as I can because the odds were all against me getting to this point and I want to keep defying them."
In March, al-Hamadi played for Iraq in St Petersburg, in Russia's first match on home soil since the invasion of Ukraine. Last year, he was part of the Bromley team that beat Wrexham at Wembley to lift the FA Trophy. Before joining Wycombe, he had trials at Bournemouth, Nottingham Forest and Derby, when Wayne Rooney was in charge, but the financial distress at the club put paid to his hopes of signing.
"I've been through loads of adversity and I'm sure there's loads more to come," al-Hamadi says. "He [Rooney] did join in the five-asides and I was like: 'This is mad.' It was nuts, thinking back on it."
While visiting his parents on Merseyside during the summer al-Hamadi was transported back to his childhood after spotting a sporting hero of sorts at the gym. "I was like: 'Wait, that's John Cena doing a bench press?' I think he was filming a movie in Liverpool.
"It was a mad little moment. I used to have his T-shirt and these sweat bands he wore when he was wrestling … I used to get my dad to wake me up in the early hours so I could watch the pay-per-views."