ALL GUNS BLAZING
Last season was the first time since the 2013-14 campaign that one side has done the double over the other in the north London derby. That last decade or so stands in stark contrast to the lopsided rivalry of the 2000s, when Arsenal went unbeaten against Tottenham for almost eight years. Ever since the inconsistent sparkle of the 'Arry Redknapp era, when Spurs famously came from 2-0 down to claim their first victory at the Emirates thanks to two gleeful pantomime villains in Gareth Bale and Rafael van der Vaart, along with a big, daft bouncing header from Younes Kaboul, it has been one of the most competitive derbies going. For the neutral, it's great entertainment. For fans of the two clubs, it's euphoria and misery; fear and loathing; a match to watch between the gaps in white-knuckled fingers.
It's some time since both clubs faced each other on such a high, however. While Arsenal have reaffirmed their intentions to challenge for the title, starting the season unbeaten albeit without the fluency they showed early on last term, Spurs look re-energised by the do-or-die nature of Angeball and, after wading through so much ordure under José Mourinho and Antonio Conte, fans seem taken with their manager's flamin' no-bull policy. When Spurs were ascendant under Mauricio Pochettino, Arsenal were sliding into late-Wengerism; as Arsenal slowly flourished under Mikel Arteta, Spurs had trophy managers without the trophies. Even as the pendulum swung wildly back and forth the derby was finely balanced but, after a season of Arsenal dominance, the two sides now collide with similar momentum.
This is another milestone in Postecoglou's self-professed quest to get Spurs fans dreaming. Where his immediate predecessors spent much of their energy tilting at windmills, he seems determined to refocus from phantom opponents to real ones. Having grimaced with monk-like patience through Harry Kane's transfer to Bayern Munich – a departure which leaves him in a situation akin to trying to start a car with a gaping hole where the engine should be – he has done the seemingly impossible and moved on with minimal fuss. Even so, where Arteta has several seasons of progress behind him, Postecoglou is only just starting his journey: after six games at Spurs, including several winnable fixtures, it remains to be seen how far a Kane-less team can go on creative spark, improvised combustibles and elbow grease.
Then there's the fact that Spurs last beat Arsenal away in the league on that frenzied day in 2010, when Bale, Van der Vaart and Kaboul rode a runaway train through their hosts' matchstick defence in the second half. Before that, Arsenal had gone 17 years unbeaten to their old foes at home in any competition. Postecoglou doesn't seem like the sort of manager to fret over historical records, but an away win on Sunday would be a precious rarity. Until then, both managers will have to work on ways to impose some sense of order on a game which is predisposed towards joyful chaos.
LIVE ON BIG WEBSITE
Join John Brewin for updates on England 2-0 Scotland in the inaugural Women's Nations League from 7.45pm BST.
QUOTE OF THE DAY
"I remember playing Fifa and I was always Arsenal. I had a good feeling about the club and brought myself here" – Martin Ødegaard tells Nick Ames how being a keen gamer helped inform his decision to join the Gunners, where he has just inked his signature on a new five-year contract.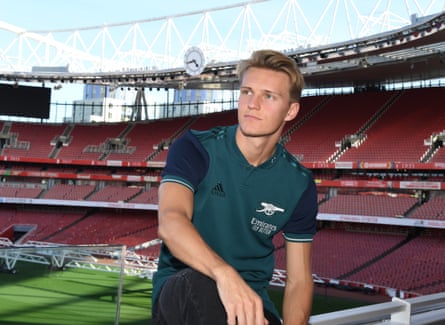 Stop all the clocks, cut off the telephone, etc, Brighton lost in Europe. Mind you, the demonic benefactors of that Goldstone injustice, York, lost to Oldham in the National League on Tuesday, so that's karma. Also, this week, Chester beat Tadcaster, Maidstone beat Steyning Town, Bury are riding high in the (checks Rothmans) North West Counties League and, of all teams, Hereford battered Anstey Nomads. So it's actually all now going well for anyone who was ever in the position of losing their club. Must be all that equally distributed supportive media coverage emanating from London that saved us all, eh? Mind you, Bradford (Park Avenue) lost again, but all that happened in the 70s and so doesn't count" – Jon Millard.
Regarding Brighton's foray into Europe and being the 'blueprint for how a football club should be run' (yesterday's Football Daily). Make sure you enjoy it, Seagulls fans. Ten years ago this week a team with a similar blueprint, Swansea City, were applauded off the pitch at the Mestalla after tonking Valencia 3-0 in Big Vase. On Saturday we are heading into our eighth match of the Championship season playing dross football and on two points. Michael Laudrup, Michu et al seems like a dream" – Gareth Rogers.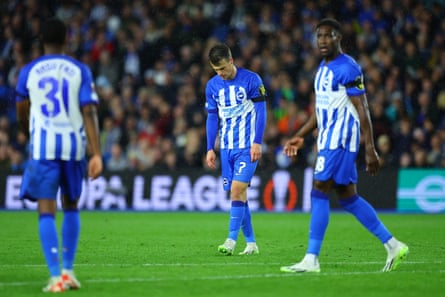 Is 'Backa Tombola' really the name of the Serbian team playing in the Big Vase? A brazen approach to online gambling" – Alex Cameron.
Send your letters to [email protected]. Today's winner of our letter o' the day is … Jon Millard, who wins a copy of The Blizzard: Issue 50. Readers can get £3 off and free shipping for the print edition with the promo code FD3, while those who would rather get the digital version can get £1 off with code FD1. More prizes next week!