You have to thumb through five decades to find the previous time six years passed without Manchester United winning a trophy. Then, Ron Atkinson's 1983 vintage of Norman Whiteside, Gary Bailey and Bryan Robson claimed the FA Cup to bridge the gap to Tommy Docherty's XI of Stuart Pearson and Brian and Jimmy Greenhoff that had triumphed in the same competition in 1977.
Erik ten Hag hopes to end the club's longest trophy drought in 40 years. The Europa League victory of May 2017 under José Mourinho is the last of United's 66 pieces of silverware (including Charity/Community Shields), the 2021 final of the same competition being the nearest miss since.
United remain alive on all four fronts – Premier League, both domestic cups and Europa League – and on Wednesday they can take a significant step towards success when they visit Nottingham Forest in the first leg of their Carabao Cup semi-final. Ten Hag believes the lengthy wait will inspire his team.
"It belongs to this club to win trophies so we have to get back on track," he said. He does not believe his players will buckle under the weight of expectation. "We like the pressure and we need the pressure – that is good. We need to deal with that; it gives us more motivation."
Ten Hag knows what a trophy could do for his nascent tenure. "It gives you confidence and once you are winning [titles] that gives you confidence that you know how to do it. And in the difficult moments you learn how you stay in the game, how to stay in to win games as you know the chances will come and, too, what you have to do to get there.
"Winning trophies is also mental. Winning games is one thing, winning trophies is another. In these decisive moments it is like this: know what to do. I think it is a thin line [where we are]. We grow a lot mentally but still we have a step to go. It's all about winning trophies, so we have a good opportunity but we have to go game by game."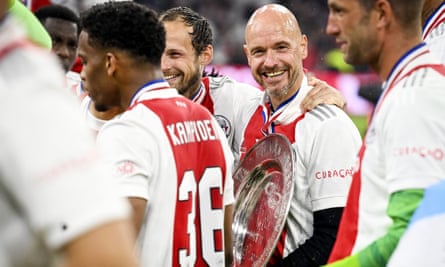 As a manager, Ten Hag's honours list features three Eredivisie titles and two Dutch cups with Ajax, from 2018-22. "It's the best feeling you can have, winning a trophy, and I have the luck in my career to win some and it's magnificent, especially for the fans. The fans here have some experience, especially the older ones. The period Manchester United didn't win trophies is too long. We are aware of that fact and we have to start doing it again."
Forest's wait has been even longer. Since Nigel Jemson's strike beat Oldham to secure the League Cup in 1990, glory has been a stranger to a club that has won two European Cups. United's last visit to the City Ground, in February 1999, featured Ole Gunnar Solskjær scoring four times in an 8-1 win, and they return to a venue that is sure to be hostile.
Ten Hag says: "A fanatical audience is nice to play before. It will be a good atmosphere and will motivate the players and we have to get ready for that."
After the 3-2 defeat at Arsenal on Sunday Ten Hag criticised his side's defending. Overall, though, he is content with a rearguard that has shut-out the opposition 13 times. "In a lot of games we did very well: we had a lot of clean sheets," he says. "Against Man City we defended very well [in the 2-1 win]. In general against Arsenal we defended very well. They didn't get clean shots, there was one time from a free-kick.
"There were a lot of defenders between the ball and the goal. All the goals were avoidable and that's my point – it cannot happen. When you concede three goals in a top game you can't win."