Key events
Speaking to the media from the Death Star at Benton, Eddie Howe has given some team news ahead of Newcastle's trip to Sheffield United. "We're still missing the two Joes in midfield," he said. "Joe Willock will be back after the international break but we're hoping Joelinton will be back sooner.
"Apart from that we're pretty good. With Callum [Wilson], we always have to manage his load and training. We have to give him the best chance of staying fit through the season."
As we wait for the other managers, it's as good a time as any to read this weekend's 10 things. Go on, treat yourself.
As is customary, Arteta also provided some north London derby hype. "This game doesn't need motivation, it's the biggest game of the season," he said. "They have a new manager who has done really well and has changed the vibe around the club. He's also brought in a new style and we have to adapt.
"I really like [Postecoglou]. I know players who worked with him and they speak highly of him. You can tell straight away that he's fitting in really well. That's the beauty of this league, we have so many good managers."
Asked what it will be like to face Spurs without Harry Kane, Arteta was magnanimous about the way Ange Postecoglou's side have come to terms with his departure. "They have many other qualities and many other players who can make a difference in the game," he said. "It's a big change but they have adapted well without him.
"He was a special player and everything went through him. He glued everything together in many areas of the pitch. Now, it's different. They have some movement with certain players who are different. We are just focused on the team we face and trying to play the best way to cause problems."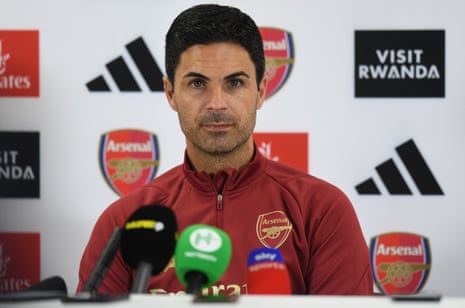 Speaking to the assembled media before Tottenham's visit to the Emirates on Sunday, Arteta has also addressed the decision to drop Aaron Ramsdale for David Raya. "I care about every player that isn't playing, but it's my job to make a decision in the best possible way for the team," he said.
"[Ramsdale has] been supportive and great around the place, that's what I expect from my players. So far he has been really good. Am I comfortable [making the decision]? I'm not sure. In your stomach it's hard. When players don't play it's difficult. You want them to feel wanted, but it's tough."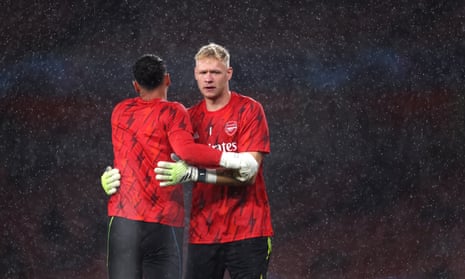 Edu, Arsenal's sporting director, has also been waxing lyrical about the Norwegian. "To agree and complete a new contract with Martin is such great news for us all," he said. "He is our captain, an experienced international and a player who gives us so much quality and joy every time he plays for us.
"Martin is still only 24 years old, so there's still much more to come from him, and we're delighted that we will be together in the forthcoming years. Our aim is to keep our best players, and with Martin now also included, we're pleased to have completed new long-term contracts with a number of our most important young players in recent months."
Unsurprisingly, Mikel Arteta has been singing Ødegaard's praises. "Martin signing a new long-term contract is such good news for everyone connected with Arsenal," he said. "He is our captain and a hugely respected person at our club, who is a great role model and professional, bringing quality and maturity in everything he does. On the pitch, as everyone has seen, Martin is a young player of top quality who consistently contributes at such a high level.
"As a manager, working with Martin the person and the player is an absolute joy, and it's great that after experiencing a number of clubs already in his career, he is now settled and really feels at home at Arsenal. We all look forward to continuing our journey with Martin in the years to come."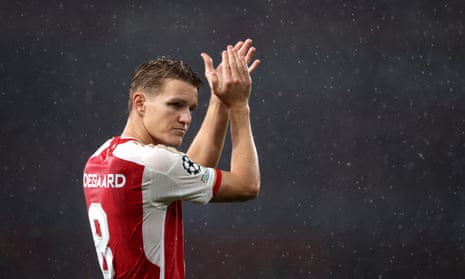 Ødegaard signs new Arsenal deal
Let's start with the news that Martin Ødegaard, Arsenal's silky playmaker, has signed a new contract. Nick Ames has been getting his chat on with the midfielder, who has linked his sense of belonging at the Emirates to the fact that he always used to play as Arsenal on Fifa.
If the buzz of this week's European fixtures is starting to fade, don't worry, this is football we're talking about: another buzz is just around the corner.
The weekend's Premier League action includes a north London derby and a south coast derby, with Arsenal hosting Tottenham and Brighton welcoming Bournemouth, and several other fixtures with the potential for high drama. The managers are on press conference duties today, so we'll have that covered. There are also Women's Nations League fixtures to come, with Sweden taking on Spain and England doing battle with Scotland. All eyes will be on Spain after weeks of turmoil following the Luis Rubiales scandal.