Gareth Southgate has mentioned his dirty secret previously – how he was a Scotland fan before he was an England fan. And yet when he did so here, in the Hampden Park auditorium, in the buildup to Tuesday night's showpiece between Scotland and his England team, a celebration of the oldest rivalry in international football, it seemed to carry extra resonance.
It was out of necessity, of course. And ignorance, Southgate said with a smile. England had not qualified for the 1978 World Cup but Scotland had and the seven-year-old him simply wanted to support a British team. "I kind of followed it through the trauma of Peru and the Netherlands," Southgate said, firing memories of Scotland's defeat in the opening group game and the Archie Gemmill-inspired victory in the third that was not enough to see them advance. "They were a British team … I didn't realise it all then. You just got your sticker album and did what you did. I soon saw the error of my ways."
Southgate said that one of his first memories as a fan was when he watched Scotland's 2-1 win over England at Wembley in 1977 on TV. "It was when some of your mates nicked the goalposts," Southgate told a Scottish reporter, taking everyone back to the Tartan Army pitch invasion and the infamous breaking of the crossbar.
It is impossible not to see Scotland as a reference point for Southgate, as a supporter and then on and through his professional career. He won two of his 57 caps as a player against them while he has presided over three games against them as a manager; each one has been a mini epic.
Now another looms, another marker, this time on the road to next summer's Euro 2024 finals. It is not a qualifier, rather a "heritage" match to acknowledge the 150th anniversary of the fixture. The first meeting was a 0-0 draw in Partick. But it is no friendly – how can it be? It matters because of the historical context and the current one.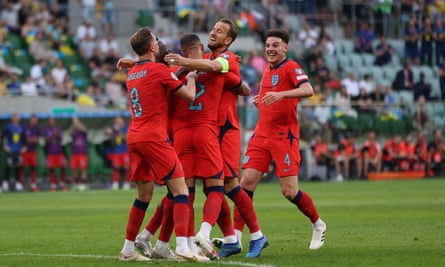 Southgate knows the cycle better than anyone. A flat performance, an underwhelming result – as in the 1-1 draw against Ukraine in Poland on Saturday – and the criticism is harsh. "It's constant, it's never ending," Southgate said, throwing in, almost as an aside, that the pitch in Wroclaw was not conducive to incisive, first-time passing. "You needed a little extra touch or there was a little bobble," he said.
The Ukraine game, despite representing the first dent in England's 100% record in Euros qualifying, has made things spicier for Southgate, certainly in terms of his selection because a setback after Wroclaw would not be a good look. Does he prioritise his regulars on a hostile occasion? Or does he blood the less experienced in order for them to grow?
"The first thing is we cannot fiddle around with the team because we are playing a top-level side," Southgate said, with a nod towards Scotland winning all five of their Euro qualifying ties. "You cannot overly experiment because that would be ridiculous.
"You've also got to find out about certain players. You have got to be bold enough to do that. This will be something different for those who were not in the last England v Scotland game."
The previous meeting was the 0-0 Wembley draw at the last Euro finals, played in the summer of 2021 when Southgate admitted his team were caught up in the emotion and Scotland were value for the point. But what he really meant was the last fixture at Hampden: the 2-2 World Cup qualifying draw in 2017 when Leigh Griffiths sparked mayhem in the stands with a pair of late free kicks for Scotland before Harry Kane volleyed a 93rd-minute equaliser. Southgate had previously said that he could "still see the back of Griffiths's head in my nightmares" as he addressed the free kicks. Was the game a big moment in his story as manager?
"Well, yes, but there are loads, aren't there?" he replied. "For Harry to get the equaliser when he did was so important for so many different reasons. They are important moments, good reference points for a team."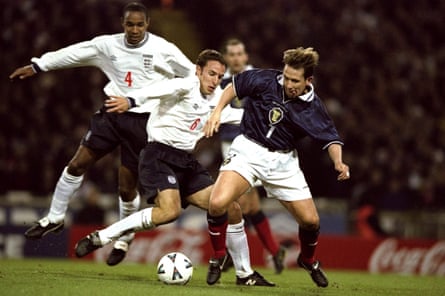 Southgate's first managerial game against Scotland came in 2016 when he was still a caretaker; had he not won, he has admitted, he would not have carried on. And everybody knows about his first match against them as a player: the Euro 96 victory at Wembley, England's greatest triumph in the fixture.
Southgate was asked about his other game as a player against Scotland: the second leg of the Euro 2000 playoff at Wembley. Scotland won 1-0 on the night and it goes down as their only victory over England since 1985. But was it truly a win? As Southgate was quick to point out, England were 2-0 up from the first leg thanks to a pair of goals from Paul Scholes. Southgate was an unused substitute that night at Hampden. "I remember after Scholesy's first goal, [assistant manager] Arthur Cox telling us all to sit down on the bench," Southgate said. "Then he leapt up and ran about 30 yards after the second!
"They were like every England v Scotland game, really intense, great occasions to be part of. I think the stories and the history are handed down. Both teams will be trying to find the right balance between competing and being composed." Of course, that's easier said than done.