Gareth Southgate was true to his word. The England manager always said that he would not go to see Dear England at the National Theatre, the play by the acclaimed writer, James Graham, about how Southgate has transformed the mood around the national set-up. And he did not go.
Too awkward, in Southgate's opinion. He never felt comfortable with the idea, which is a shame because he missed a sympathetic and beautifully pitched portrayal of him by Joseph Fiennes. It is not every day that you get to have a heavyweight of the English stage as you. The production does transfer to the West End in early October, although Southgate's position will not change.
It is understandable and Graham himself respects it. "He's been thrown into a new campaign for Euro 2024 and I totally get that at the moment other people's take on your story … you probably just don't need it in your head," he told the Guardian.
Southgate's bigger problem, arguably, is how people have come to demand his take on their stories, or at least other stories – the societal issues of the day, some connected closely to football, others further removed to varying degrees.
And so the new international season has kicked off for Southgate where the previous one left off – in a hail of sensitive, difficult-to-answer questions on a range of subjects, the kind where he is damned if he leans one way, damned if he goes the other. And we are not talking about his continued faith in Harry Maguire.
Southgate's ability to strike the right tone in virtually any situation has driven his success with England. It has underpinned his expert man-management and it is why an institution like the National has made a piece of art about him. But it has also created a monster, enabling an impossible-to-sate media to put him on the spot about anything and everything.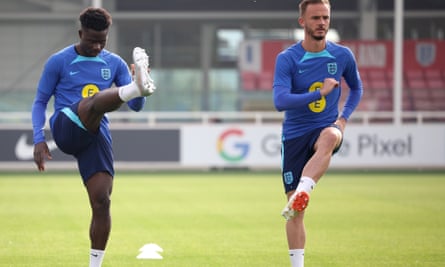 The only surprise in the countdown to Saturday's Euro 2024 qualifier against Ukraine in the Polish city of Wroclaw has been him not being asked for a solution to Russia's aggression. The Jordan Henderson issue has dominated, the focus mainly on how the midfielder has let down the LGBTQ+ community with his move to Saudi Arabia – Henderson has long been a supporter of gay rights – rather than the question of whether Southgate should have called up a player from such a low-quality league.
When Southgate rather over-thought some of his answers at his squad announcement it was possible to detect a certain frustration and weariness. He discussed gay rights in the Middle East throughout last season in relation to Qatar hosting the World Cup; is there anything more he can say?
Southgate will continue to be measured and considerate when asked about social matters; patient, as well. It is who he is. And yet if he cannot win at times, there is the broader sense that he might feel it is time to sidestep a little more, to focus on what he is paid to do, what he must do in order to keep the wolves from his door. Which is pick teams to win football matches.
Southgate's watchwords for this camp, which also takes in next Tuesday's (un)friendly against Scotland at Hampden Park, are continuity and momentum. Nothing was broken in the first half of this Euro campaign – far from it. England were genuinely excellent in the first half of the first qualifier against Italy in Naples en route to a statement victory and they made light work of the home game against Ukraine, followed by Malta (away) and North Macedonia (home).
It is four wins out of four and, as such, Southgate sees little need to make unenforced changes, especially in wide attacking areas, where his options run the deepest. Hence the lack of a recall for Raheem Sterling, even after Jack Grealish was forced to withdraw. Southgate is more than happy with England's newly minted player of last season, Bukayo Saka, along with Marcus Rashford and Phil Foden. Could the in-form James Maddison make his mark?
The major disappointment is the absence of Trent Alexander-Arnold, who also had to pull out through injury, depriving Southgate of the chance to road test him in a midfield three with Declan Rice and Jude Bellingham, which seems to have a bit of everything.
Southgate's moves from here on in will be seen through the prism of next summer's championship in Germany, where the stated aim is victory. Nothing else. It is all about him arriving at the perfect blend – something, essentially, to get the better of France.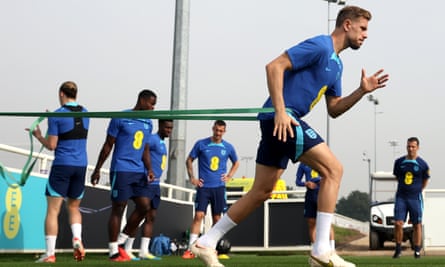 No Alexander-Arnold stands to mean more Henderson, who has taken his medicine since the publication of an interview on Tuesday in which he explained his reasons for going to Saudi. Whatever he said, he was going to be pilloried. His position is indefensible. The only positive is that he has spoken. Saying nothing would have only created problems, a buildup of pressure for him and Southgate.
The greatest excitement resolves around Bellingham, who has made such an explosive start to his Real Madrid career. He is one of three Ballon d'Or nominees in the squad; the others are Saka and Harry Kane. And the biggest talking point from the expected XI against Ukraine is Maguire, who has barely played for Manchester United this season.
Southgate has stood by him because, in the absence of the injured John Stones and Tyrone Mings and with other more established options having faded from the picture, Maguire is his only experienced centre-half. He will be needed at a stadium that will be painted blue and yellow; Wroclaw has a huge Ukrainian population and they believe that the tie could fire their qualification hopes.