Eighteen years have passed since that Roy Keane interview on MUTV without one glaring inaccuracy being addressed. "I can't understand why people in Scotland rave about Darren Fletcher," Keane said. People in Scotland actually did nothing of the sort. Fletcher earned 80 caps for his country at a time when qualifying for a major tournament felt an unattainable dream. As a Manchester United player, Scotland supporters always demanded far more from Fletcher than he was able to give. A midfield player who broke up play wasn't deemed flashy enough. Fletcher spent much of his Scotland spell being hugely under-appreciated.
The same cannot be said of Scott McTominay. People in Scotland rave about him alright. This partly resonates in circumstance. As the Tartan Army sing, McTominay "turned the English down" when committing his international future to Scotland. Alex McLeish's second tenure was a troubled one but his convincing of McTominay to don navy blue left a legacy that should be appreciated. Steve Clarke has felt the benefit.
A Glasgow taxi driver remains aghast at, having attempted to strike up conversation, the attitude of José Mourinho, who essentially told him to be quiet and concentrate on the road ahead between the airport and a city centre hotel. Mourinho, then in charge at Old Trafford, was in town for a Scotland match in which McTominay was to play. Erik ten Hag has no such interest; McTominay has found solace in Scotland colours while routinely ignored by his club.
Clarke's deployment of McTominay as one of two supporting midfield players – John McGinn the other – has generally proved a huge success. The trouble is, in a game like this where the opposition has clear technical and territorial superiority, it leaves McTominay on the fringes. His contributions had been minimal before Phil Foden flicked England ahead. McTominay may feel he should have blocked the Foden cross which preceded England's second but the bigger issue was that he was failing to impose himself where it mattered.
On the basis Ten Hag wants to make United a club side with standing reflective of England, one assumes he took note. Whisper it, but what transpired in the first half here rather endorsed Ten Hag's stance. In Declan Rice and Kalvin Phillips, England had the outstanding midfielders on display. Jude Bellingham played the entire game as if on a different stratosphere to the other players.
A 150th anniversary and associated commercial spin-off was the key motivation for this friendly. Yet Clarke was also content to face high calibre opposition – Scotland play France in a similar movie next month – to assess how his team may cope in the top section of the next Nations League. During a grim opening 45 minutes, the gulf between England and Scotland appeared pronounced. McTominay, McGinn and Callum McGregor could not influence proceedings at all. A blunder by Andy Robertson, the normally dependable Scottish captain, rather summed it up. Scotland were being forced into aberrations due to being outclassed.
That Clarke opted to leave McTominay in position when making his first set of substitutions on the hour mark was intriguing. McTominay had just cheaply coughed up possession to Bellingham – twice – and remained an otherwise peripheral figure. This did, however, show how much faith Clarke has in the 26-year-old. It was rewarded, McTominay involved in intricate build-up play which gave Scotland a pulse before Harry Maguire's latest moment of ignominy. As Scotland found their feet, so too did McTominay.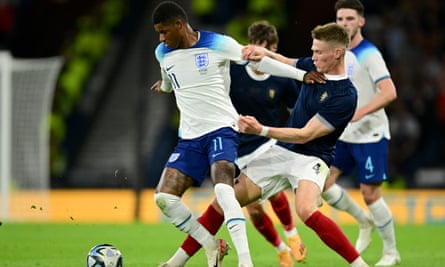 Harry Kane punctured Scottish expectation. The extent of Gareth Southgate's celebration at that point was an admission of how much this victory meant. Clarke will have no interest in being patted on the head but this was also a nod towards Scotland's new-found status. The frustration for McTominay will be that on an evening when he could have delivered an undeniable case to Ten Hag, he was unable to do so.
United's valuation of McTominay, thought to be £45m, was undoubtedly a reason he remained at the club into September but the player also seems to believe he can change his manager's stance. Bluntly, a stand-out showing in Cyprus on Friday would count for little on that front.
Clarke apparently has no interest in pursuing Elliot Anderson and Harvey Barnes any further. Scotland's manager has made his case to the Newcastle duo, who must decide whether to declare for Scotland or England. It is not Clarke's style to press for answers. His approach may be different were either player a central defender; this is an area in which Scotland look slightly exposed. Watching this, Anderson and Barnes could only have ascertained that it will considerably easier to earn serious minutes with the Scots. They would also be joining a blossoming team, which has progressed significantly under Clarke.
This was a bump in the road and a bloody nose against old foes whom Scotland have not defeated in Glasgow since 1985 but in the grand scheme hardly matters. Clarke would even be buoyed by making a game of things after the interval. Euro 2024, Scotland's key target, remains so tantalisingly close. McTominay must hope his club situation is clearer by then. Even if it is not, he forever has a home for an adopted country.