Key events
53 min McGregor curls a dangerous pass towards Robertson at the far post. Walker stoops to head away. Meanwhile, every pass Harry Maguire plays is being sarcastically cheered.
50 min Tierney's long throw isn't cleared properly by Rashford. It goes to Gilmour on the edge of the D, but he can't wrap his foot round the ball and the shot goes high and wide.
49 min A speculative 20-yarder from McGinn hits his teammate Adams and flies behind for a goalkick.
47 min Foden overhits an angled through pass to Bellingham, who made a good run off Tierney and would have been through on goal.
47 min "I used to think Trevor Brooking had the best cushioned take of a through ball with left or right foot of any English player I'd seen, but Phil Foden's left foot is purely magical," writes Brian Withington. "How he doesn't start every game for City and England simply mystifies me. I get the slight impression he might be getting a bit tired of it, too."
The truth is out there, though I'm buggered if I know what it is.
46 min Peep peep!
Half-time substitution Marc Guehi is replaced by Harry Maguire.
"Scotland's kit font, unlike their defending, is impeccable," says Justin Kavanagh. "Meanwhile, those England shirt numbers look like duct tape affixed by the kitman at the back of the bus on the way to Hampden. England may be dominating this on substance, but Scotland are the clear winners on style tonight."
Twas ever thus.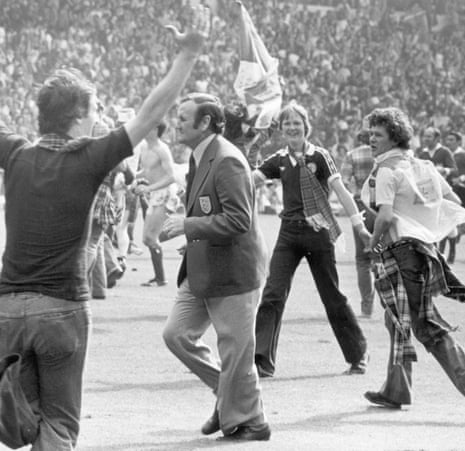 Half time: Scotland 0-2 England
Phil Foden's cross just evades Harry Kane at the far post, an apt note on which to end a sadly one-sided half. England, played with a kind of snooty excellence, dominated throughout. Foden and Jude Bellingham scored the goals, Bellingham after a grisly howler from Andy Robertson, and the Scotland defence found it increasingly hard to cope with an unusually dynamic England attack.
Neutrals hoped that, after a couple of decades of irrelevance, the Scotland/England rivalry might be back. Looks like we were wrong.
45 min A third goal in Milan. England are going to win the group, barring something peculiar, but tonight's game between Italy and Ukraine might decide who joins them in automatic qualification.
44 min The corner is half cleared. Hendry puts the ball back in the area and McTominay is penalised for a push on Guehi.
42 min Robertson's free-kick is headed behind for a corner by Dunk, who has been good on set-pieces. This is Scotland's best spell, and Steve Clarke must be frustrated that they needed to go 2-0 down for it to happen.
41 min: It's kicking off (in the modern style)! Phillips is booked for going through the back of Adams – an unwitting homage to Begbie's tackle at the start of Trainspotting – and then Bellingham and Hendry start pushing each other in the chest. They're both booked.
40 min There's been a second goal in Oslo, and indeed in Milan.
38 min Bellingham leads a very dangerous England break, galloping down the left – but for once he gets it wrong and plays the ball behind Rashford. With a better pass, Rashford would have been in on goal.
37 min Scotland appeal unsuccessfully for a penalty when a low cross deflects onto the arm of the falling Guehi. VAR has a quick look and then play resumes.
The goal machine Jude Bellingham has put England 2-0 up after a dreadful mistake from Andy Robertson. Bellingham started the move by finding the overlapping Foden on the left. He curled a wicked cross that flashed across the six-yard box, hit the unsighted Kane and deflected to Robertson. He tried to play a pass across his own area but gave the ball straight to Bellingham, who swept an emphatic first-time drive past Gunn.
GOAL! Scotland 0-2 England (Bellingham 35)
Oh, Scotland.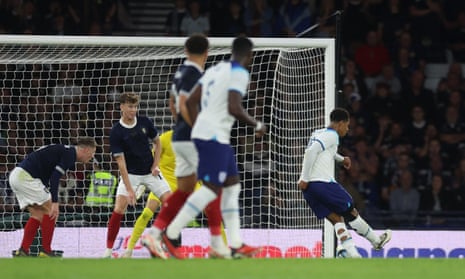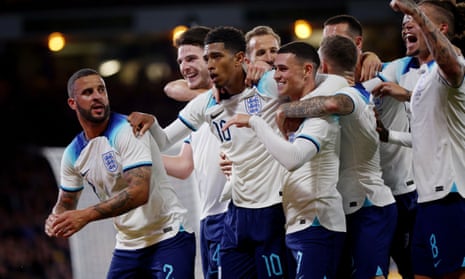 Bellingham, in the D, threaded a clever pass through the eye of a needle to find Rashford. The presence of Robertson meant Rashford couldn't shoot, so instead he poked the ball across the area to Walker. He smashed a cross-shot that was going well wide until Foden, six yards out, opened his body to steer it into the net.
At first I thought Walker's shot just hit Foden, but actually he adjusted his feet with dizzying speed. What a fine finish. I wondered whether Rashford was offside when Bellingham played the ball through to him; he wasn't and the goal stands.
GOAL! Scotland 0-1 England (Foden 32)
As I said, a goal was in the post. (Though it might be offside.)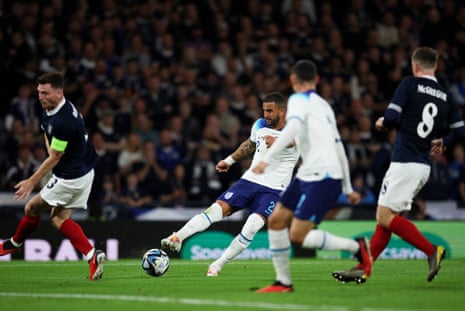 31 min Scotland work the ball nicely down the left, only for Tierney to overhit his cross.
31 min England continue to boss the game. I can't decide whether a) a goal is in the post or b) it's the same, slightly sterile domination we saw against Ukraine on Saturday. You're welcome!
29 min There's been a goal in Norway v Georgia, and indeed in Italy v Ukraine. You can find out more, should you desire, with Michael Butler.
27 min Bellingham waves a delicious pass with the outside of the boot to release Walker on the right. He fires a first-time cross towards Kane that is crucially cut out by Hendry at the near post. Another corner to England, of which nothing comes.
25 min The impressive Rashford plays a fine angled pass to release Bellingham on the left side of the area. His cross on the run clears everyone in the middle but is collected by Walker on the far side of the box. He chests the ball down and cuts across a shot that goes a few yards wide of the far post.
21 min Still no shots on target at either end. England have been much better in possession, though Steve Clarke will have budgeted for that. The Spain victory in March, when Scotland had 25 per cent possession, is their template.
20 min Now Kane drops deep to release Rashford, but on this occasion he's slightly offside. The attack is allowed to play itself out before the flag goes up.
18 min: Chance for England! Rashford is starting to cause Scotland a few problems. Phillips lobs a terrific pass over the defence to release him on the left. He moves into the area and slides a square pass to Foden, who screws a shot high over the bar.
Foden is normally good at those first-time finishes as the ball comes across his body; I can think of one in the derby in 2021-22 and another at Chelsea in the Covid season.
17 min "Brilliant from Dion Dublin on C4 – we learn that Rashford has a left foot and… a right foot," says Steve Bradfield. "Thank goodness for that."
After the last – gulp – 19 years, I don't think I'm in any position to criticise anybody for saying something daft during a live commentary.
16 min Robertson curls the ball to the far post, where Dunk does well to get in front of Porteous and win the header. It loops up in the air and Phillips completes the clearance.
15 min Rice is penalised for handball 30 yards from goal. Robertson is over the ball…
12 min The last man Porteous comes across to make a crucial tackle on Kane, who had escaped Tierney and Hendry.
11 min Robertson gets the crowd going by pressing Walker to win a throw-in. The more emotional the game is, the better for Scotland.
10 min England are dominating possession, as they do against most teams these days. Imagine if you went into a coma in 2003 and emerged to see England players passing the ball to one another all the time.
8 min "Might I suggest the American term 'scrimmage' to describe this game?" says Harriet Osborn. "I find it better communicates the feeling around these rather optimistically named 'friendlies'."
If Scott Murray ever takes over from Gianni Infantino – and what a wonderful world that would be – they'll be called Hegelian dialectics.
7 min Foden's inswinging corner is headed over by Dunk at the far post. He had to jump backwards so it wasn't much of a chance.
6 min Rashford tries to run Porteous, who concedes another corner. That leads to a third, this time back on the right…
4 min Trippier drives a flat corner to the unmarked Rice beyond the far post. He lifts an up and under back across goal and Gunn comes through the crowd to punch clear.
3 min Walker runs Robertson to win the first corner. England have started well.
1 min Peep peep! Billy Gilmour gets the match under way, with Scotland kicking from left to right as we watch.
The two sets of players gather round the centre circle for a minute's silence in honour of Craig Brown, the last Scotland manager to beat England, and those who have died in Morocco and Libya. It's abysmally observed.
Yeah, this ain't no friendly. The atmosphere is fantastic.
"If one wanted to listen to the game on the radio this evening, both BBC Radios 5 and Scotland are available," writes Brian Cloughley. "So, where can I find the Scott Murray MBM? (Only kidding, doubtless you'll do a wonderful job.)"
For Scott's MBM, you need to have been sitting on a particular bar stool since midday.
(I jest, he's on holiday.)
Here come the players. It's not quite Murrayfield 1990, but there's still a very lively atmosphere. As I type, the England national anthem is one long tribute to Joe Root.
From the archive
This piece is 10 years old, but Scott Murray on the Scotland national team is worth reading at any time.
"Ewan Murray's column on the gulf between the Scottish national team and its top-tier league could be written about many other countries as well," says Joe Pearson. "Croatia, for example, has one of the strongest squads in the world, but only THREE members of the entire team play in the Croatian league. Similar could be said about Switzerland. It's just that the Big Five European Leagues suck up all the available talent. No solace to Scottish Premiership fans, but that's the way it is. And don't get me started about MLS."
Denmark were such pioneers.
"Kudos to the Brighton captain on earning a spot in the England starting XI today but I've got a piece of advice for him," says Peter Oh. "Do not use the nickname Big Dunk."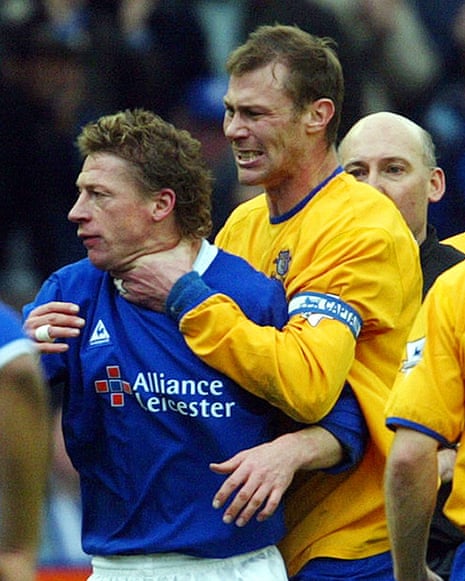 Pre-match reading (part 2)
Pre-match reading
Euro 2024 qualifying
There are games in both Scotland and England's groups tonight. There's an outside chance Scotland will qualify for Euro 2024 tonight, though it would need Georgia to draw away to Erling Haaland.
Group A
Spain v Cyprus

Norway v Georgia
Group C
Italy v Ukraine

Malta v North Macedonia
Team news: Dunk, Ramsdale start
Scotland are unchanged; England are much changed. More than half the team that started against Ukraine on Saturday have been rotated/dropped. Aaron Ramsdale, Lewis Dunk, Kieran Trippier, Kalvin Phillips, Phil Foden and Marcus Rashford replace Jordan Pickford, Harry Maguire, Ben Chilwell, Jordan Henderson, Bukayo Saka and James Maddison. It's a big night for Dunk in particular: his second England cap, and his first appearance in five years.
Scotland (3-4-2-1) Gunn; Porteous, Hendry, Tierney; Hickey, Gilmour, McGregor, Robertson; McTominay, McGinn; Adams.
Substitutes: McCrorie, Clark, Souttar, Dykes, Christie, McKenna, S Armstrong, Ferguson, Nisbet, Jack, Patterson, McLean, Shankland.
England (possible 4-1-2-3) Ramsdale; Walker, Dunk, Guehi, Trippier; Rice; Phillips, Bellingham; Foden, Kane, Rashford.
Substitutes: Chilwell, Johnstone, Henderson, Maguire, Tomori, Saka, Eze, Colwill, Maddison, Gallagher, Pickford, Wilson, Nketiah.
Referee Davide Massa (Italy).
Tonight's game is a celebration of international football's oldest rivalry. Scotland and England first met each other 151 years ago, hence tonight's 150th Anniversary Heritage Match. The actual anniversary was 30 November 2022, slap bang in the middle of the World Cup, and happily the delay has enhanced the fixture.
Last November, Scotland were merely Scotland. Now they are Scotland, the team that can't stop winning football matches. They've won all five of their Euro 2024 qualifiers and are in the top tier of the Nations League, which puts them two up on England. A first win over England since 1999 – and a first worthwhile victory since 1985 – would turn a very good year into a piece of Latin. England will have other ideas.
With so many competing demands, it's hard to know exactly how much this rivalry means in 2023. The first 50/50 ball should enhance our understanding.
Kick off 7.45pm.
It's Scotland v England at Hampden. There's your preamble!