As kick off approached and a blend of Arab pop and Bedouin-influenced Khaleeji music drifted out of the stadium sound system it became increasingly clear this was no ordinary match.
Outside St James' Park, Arabic was the dominant language as groups of young Saudi Arabian men, many dressed in immaculate white thawbs topped off by red and white chequered ghutras, milled around chatting and taking selfies.
On a balmy September night it was as if a part of the Middle East had been transplanted to Tyneside.
In one sense it had. Saudi Arabia were, after all, designated by Fifa as the "home" team in a friendly against Costa Rica intended as a warm-up for January's Asian Cup in Doha.
It was also Roberto Mancini's first game as the Green Falcons manager and, given that it ended in a 3-1 defeat, the former Italy and Manchester City head coach clearly has his work cut out.
Anyone who regards it as somewhat peculiar that Saudi Arabia are playing two games in north-east England – the second is against South Korea here on Tuesday evening – is almost certainly unaware that Newcastle United is 80% Saudi Arabian-owned.
Given the Kingdom's atrocious human rights record the scheduling of these fixtures has raised awkward questions regarding the Saudi regime's precise agenda. Accordingly the lobby group NUFC fans against Sportswashing staged a small, peaceful, pre-match protest across the road from the ground calling for the release of political prisoners on death row in jails in Riyadh and Jeddah.
The original idea was for the demonstration to be held in the stadium's precincts between the statues of Sir Bobby Robson and Alan Shearer but club officials asked that the protesters remain outside St James' perimeters.
Once inside the ground an extremely familiar, immaculately manicured figure could be seen standing, contemplatively, in the home dugout normally occupied by Eddie Howe.
By half-time Mancini was probably relieved the 52,000 capacity arena was barely a tenth full. Memories of Saudi Arabia's landmark World Cup group stage win in Qatar last November were fading fast as they trailed 2-0.
With the Sunderland winger Jewison Bennette causing Mancini's men all sorts of problems, it was turning into a frustrating night for Hervé Renard's successor.
While Renard took a 75% pay cut to take charge of France Women in March, Mancini's defection has annoyed, not to mention puzzled, many Italians.
A television crew had duly flown in from Milan to quiz him on the matter but journalists were informed that the Saudi government – specifically the Ministry of Sport – had decreed that Mancini and his players were not allowed to speak to the media here. The sole exception was a brief post-match managerial interview with the host broadcaster, Pitch International.
Maybe the government in Riyadh didn't want Mancini asked about his adopted country's execution tally or the experience of Loujain al-Hathloul, whose reward for leading the campaign which saw the ban on women driving in Saudi Arabia lifted in 2018 was to be, among other forms of torture, waterboarded while also being imprisoned for 1,001 days for allegedly contravening counter-terrorist law.
Her sister, the Saudi leading human rights campaigner Lina al-Hathloul addressed a meeting of NUFC fans against Sportswashing last week and urged Newcastle fans to lobby the Saudi regime to reform while still supporting Howe's team.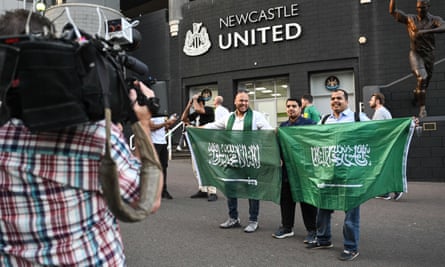 "I think we can bring change with the Newcastle fans saying they will pressure for things to get better in Saudi," she said. "Speak about political prisoners, speak about execution. The Saudis care about the image. They will listen."
The Green Falcons had clearly heeded Mancini's half-time homily as a slightly improved second half saw Ali Albulayhi reduce the deficit, prompting exultant chants of "Saudi, Saudi" from the "home" supporters.
Many north-easterners argue that the UK government is happy to deal with Saudi Arabia and the Kingdom's companies are currently investing heavily in regional business projects, most notably green fuels on Teesside.
Accordingly, plenty of those wearing black and white replica Newcastle shirts cheered the side in green. That would doubtless please the club's chief executive Darren Eales who is on a mission to make Newcastle "Saudi Arabia's best-supported overseas club."
That task appears slightly simpler than the challenge facing Mancini, whose side's brief revival was ended by Costa Rica's late third goal.
What a shame he was not allowed to detail his blueprint for glory.