For Mauricio Pochettino, it was just not possible to sell this as a hard-luck story, although he would try. His Chelsea team dominated possession, they played on the front foot and they had plenty of possibilities in their approach work. But there remains something missing in what he is trying to create out of the chaos of the summer transfer window.
Quite simply, it is aggression and conviction – particularly in the final third, when the pressure is really on. It was hard to say that anybody in Chelsea's colours had played well – maybe apart from the stand-in captain, Conor Gallagher.
There were too many fives and sixes in the ratings, nobody who stamped his authority on proceedings and it came as no surprise that there were boos from the travelling fans upon the full-time whistle. When Ben Chilwell, on as a substitute, went over to them, he found himself in the crosshairs.
After four points from the opening four matches, Chelsea needed a win, something that represented a spark. Instead, there was only frustration. Raheem Sterling hit the underside of the crossbar with a free-kick at the start of the second half but there were not too many regrets in terms of glaring missed chances. Chelsea threatened yet only in a vague and increasingly empty sort of way.
Bournemouth will take the point, especially as they were in containment mode for the majority, although they did almost nick something late on as things became more open, Chelsea pushing with increasing desperation.
The substitute Justin Kluivert made a difference and Dominic Solanke had a couple of sightings against his former club, the first on 79 minutes when he rammed a low shot at goal. Robert Sánchez saved smartly with a foot.
What Pochettino wanted to highlight was the long list of injured and unavailable players; it was up to 12 here, Moisés Caicedo (knee), Marc Cucurella (illness) and Noni Madueke (muscular) the latest additions. Chelsea might have spent around a billion pounds on new signings under the ownership of Todd Boehly and Behdad Eghbali but nothing can insulate a manager from this volume of absentees. He had only three players on the bench who had kicked a ball for the club.
Pochettino's related point was that Chelsea's lavish spend had created a level of expectation that was impossible to live up to while he was, essentially, punching with one hand behind his back. Moreover, there were many young players from overseas who needed to be assimilated. And yet it still felt that he had enough on the pitch to get the better of Bournemouth, who are yet to win in the league under Andoni Iraola.
Everybody connected to Chelsea had stewed since the Nottingham Forest defeat before the international break and there will be more of the same this week before the visit of Aston Villa on Sunday.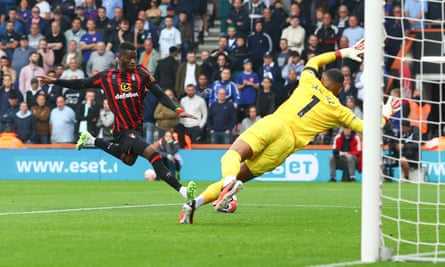 "Attack, attack, attack," the Chelsea support chanted on 37 minutes, even though their team had done so and enjoyed moments. It spoke to general angst, which was encapsulated by Mykhailo Mudryk, who Pochettino had started on the left wing ahead of Chilwell.
Mudryk had flickers and he could reflect that he set up two chances for Gallagher in the first half; the second being the clear one. When Mudryk's pass ran through to Gallagher and he turned Ryan Christie, he had to score. He shot too close to Neto. Mudryk also won the free-kick for the Sterling chance.
In the debit column for the Ukrainian were a number of hesitant decisions, mainly involving when to release the ball; weak work out of possession and a yellow card for a late tackle.
The hard truth was that he was uncomfortable to watch at times, although he was not alone. Nicolas Jackson laboured up front while Enzo Fernández was ineffective. He infuriated the away fans when he practically walked off when he was substituted.
Chelsea's buildup play showed promise at the outset. Gallagher drove with purpose while Sterling was quick and sharp. The end product, though, was absent.
Jackson hit the outside of the post with a low shot on 14 minutes that he appeared to scuff but the big chance of the first half was at the other end. Bournemouth worked a quick free‑kick and Pochettino felt his blood run hot when his players switched off. Christie crossed and there was Dango Ouattara stealing in at the far post. Sánchez made a fine block to deny him.
Sterling's free-kick bounced down off the crossbar, on to the line and away and, when Levi Colwill converted the rebound, he was flagged offside. Cole Palmer, who came on for Mudryk, worked Neto, with another substitute, Ian Maatsen, seeing the follow-up blocked and at least Chelsea were not ambushed. Philip Billing wasted a free-kick on the edge of the area while Solanke could not find a finish.