Applying the line attributed to Mark Twain – "reports of my death are greatly exaggerated" – to Paris Saint-Germain's season would be a bit unfair to the league leaders. Despite losing to Rennes and Lens in recent weeks, and having looked unsteady at times in the Champions League, the team, and Kylian Mbappé in particular, won their Coupe de France match 7-0 this weekend, offering a firm riposte to anyone who thought their hegemony in France will be broken this season.
Of course, scoring seven goals against Pays de Cassel, a sixth-tier side who featured a baker in goal, will not impress everyone. But PSG had a raft of absentees for this last-32 tie, including Marco Verratti, Lionel Messi and Gianluigi Donnarumma. Achraf Hakimi was only on the bench for the visitors, and Renato Sanches and Nuno Mendes were making their first starts in some while, having also struggled with injury this season.
More important than the result, though, was the confidence boost the performance will give the squad, whose faith may have been shaken by recent results in the league. In addition to the losses to Rennes and Lens, PSG barely scraped by relegation-threatened Strasbourg in their first match after the World Cup, and did not look comfortable in narrow wins over Lorient and Troyes before the tournament. The cracks in this team have been apparent for a while.
Cracks, though, can be covered over when a side have one of the best players in the world at their disposal, and there was little doubt that Mbappé, confirmed by Christophe Galtier as the team's vice-captain, was eager to make a difference in his first start since New Year's Day. He tore the minnows' defence to shreds, scoring five of PSG's goals. Wearing the armband in the absence of Marquinhos, he barely cracked a smile when celebrating, instead acknowledging the players who had set him up. This was an all-business performance from Mbappé, who seems ready to carry his team on his back – as he was with France at the World Cup.
In three weeks' time, PSG square off with Bayern Munich in an eagerly anticipated last-16 tie in the Champions League. That match was never going to be easy but it has perhaps become a bit more challenging given that PSG face a potential title race, with Marseille and Lens doing their best to keep pace. It's hard to see past Mbappé, who is in transcendental form, especially given Manuel Neuer's absence in the Bayern goal.
The fixtures are piling up though. PSG face a tricky tie against Marseille in the next round of the Coupe de France. There will be a boiling atmosphere in the Vélodrome and that match comes the week before they visit Monaco in Ligue 1 and then welcome Bayern to Paris. PSG have dominated Le Classique in the recent past, but Marseille will be hoping that Galtier decides to "sacrifice" the cup to prioritise defending the Ligue 1 title and chase European success.
Beyond Marseille, there are several teams left in the draw who are capable of making life difficult for PSG. Nantes, the holders, will face Angers in a derby, and their ability on the counter makes them dangerous opponents. The same is true for Reims, who held PSG to a scoreless draw a few months ago. And both Lyon and Lille (who face each other in the next round) are capable of finding the back of the net on their day. PSG are odds-on favourites to secure their first domestic sweep since 2020 but, as the ties this weekend show, this will be an intriguing competition, full of narratives.
Talking points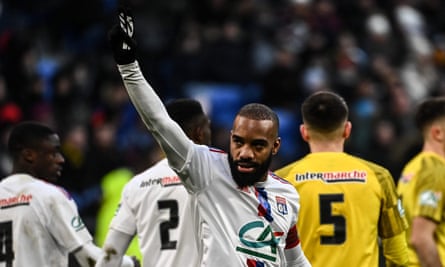 Lyon are another team who have taken full advantage of the cup to get a confidence-boosting win, an Alexandre Lacazette hat-trick proving the difference as they beat the fourth-tier side AS Chambéry 3-0 on Saturday. The captain now tops the team's scoring charts by some margin, with 14 in all competitions, and Tetê, who provided assists for two of the goals, has been involved in nearly a dozen this season as well. However, with Karl Toko Ekambi likely heading toward the exit door, this match might have been an ideal opportunity for some of the team's peripheral and promising forwards to step up. If that's not forthcoming, Europe will continue to look a long way off for Lyon.
Lens also rolled over their opponents at the weekend but, instead of beating amateurs, they won 3-1 away to a Brest team who deployed a first-choice XI. With the regular starters Loïs Openda, Florian Sotoca and Przemyslaw Frankowski all rested, Franck Haise's side showed an impressive level of domination. This team's unflinching work ethic (no doubt bolstered by the frustration of having come close to a European place last season) looks as undimmed as ever, lending further credence to the above-mentioned worries for PSG.
Finally, Marseille had enough about them to beat an injury-hit Rennes side who were playing an experimental back three. Mattéo Guendouzi, who is still being linked strongly with a return to England, scored the game's only goal, but even if the France international does leave this month, the club have been proactive in their squad-building. With Ruslan Malinovskyi already in the fold, and Ivan Ilić also a target, the latest reports have the club making an offer of Bamba Dieng and cash to Lorient for Terem Moffi. The Nigerian is the league's second-leading scorer and, even if it's not immediately clear where he fits into Igor Tudor's tactical scheme, the ambition the club are showing in the window will surely appease a fanbase who are still smarting from their gut-wrenching Champions League exit.