Mikel Arteta has spoken of his pride at leading Arsenal into their first Champions League campaign since 2016. Their meeting with PSV Eindhoven at the Emirates Stadium on Wednesday marks a return from the wilderness and is a visible waymarker of the progress they have made since Arteta took over almost four years ago.
Although Arteta must reshuffle his attack after Gabriel Martinelli sustained a hamstring victory in the 1-0 win at Everton on Sunday there was an evident buoyancy around Arsenal's training facility. They face last season's Eredivisie runners-up, who are managed by the former Ajax and Borussia Dortmund coach Peter Bosz, and Arteta was happy to dwell on the momentousness of the occasion.
"Proud and excited," he said when asked to describe his feelings. "It's been a long time for the club since we've been in the competition and it's the first time for me as a manager, so I'm really looking forward to it. We've been chasing and fighting for it and now we've got it we have to make the most out of it."
Arsenal's comeback in Europe's showpiece competition, in which they finished runners-up in 2006 but have never won, follows five seasons of Europa League football and a 2021-22 campaign confined to the domestic stage. Mohamed Elneny, who is injured, is the only player to remain from their previous Champions League tilt.
Arteta reflected on the journey involved and explained their belief had never wavered. "We had some big situations to go through," he said. "We did it together and in a really powerful way as a club. We always believed we were going to reach [the Champions League], but something [else] is to try to plan and then do it. We don't want to stop there. The aim is to continue to be better."
PSV, against whom Arsenal experienced a win and a defeat in last season's Europa League group stage, form one-third of a relatively kind set of group B opponents. They are joined by Sevilla and Lens, but Arteta spoke of the new challenge involved for a group yet to play together at this level.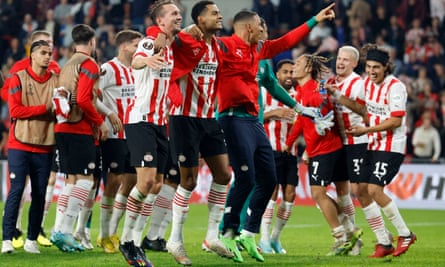 "Europe is different," he said. "The pace of the game is different, the quality of the opposition. Culturally, you find a game that requires different things. The way the law is applied by referees is different. The need to find a certain number of points in the group stage makes the game different as sometimes it is enough to hold for a draw, whereas in the Premier League we would never do it. There are a lot of little rules that change the context of the game in a big way."
Gabriel Jesus is a rarity among Arsenal players in possessing significant Champions League experience, scoring 20 times in 38 appearances for Manchester City. The Brazilian recalled missing school in order to watch games in the competition. "My mum got crazy," he said. "It starts from there. It was different to hear the music, to see the best clubs."
Arteta would not take the bait when it was suggested that English clubs should be expected to win the Champions League given the growing disparity in resources between them and their rivals, preferring to point out 14-time winners Real Madrid should be named favourites every year. Nor would he take the invitation to state Arsenal could win it.
He was little more forthcoming in shedding further light on his decision to replace Aaron Ramsdale with recent signing David Raya in goal in Goodison Park, although it would be little surprise if Ramsdale returned to face PSV.