A series of Premier League clubs lost their most important players in the transfer market this summer. Harry Kane left Tottenham as their captain and all-time top scorer; Declan Rice said goodbye to West Ham after captaining them to their first trophy in 43 years; Wilfried Zaha left Crystal Palace as their top scorer and appearance holder in Premier League history; and Brighton lost not one but two key central midfielders. Losing a star player should halt a team's progress, but that has not always been the case.
Wayne Rooney spent his formative years in Everton's academy, famously announcing his arrival as a 16-year-old when scoring a spectacular last-minute winner against Arsenal in 2002. He finished as the club's top scorer the following season, drawing the attention of Alex Ferguson. Everton fans felt betrayed when the 18-year-old moved to United at the end of that season, as exemplified by the graffiti that adorned a wall outside Goodison Park: "Rooney could have been a god, he chose to be a devil."
Added to this sense of a personal slight, the burning question was how would they cope with the loss of the homegrown prodigy; the signings of James Beattie, Marcus Bent and Tim Cahill in the summer of 2004 felt a little underwhelming. Having finished 17th in Rooney's last season at the club, Everton improved dramatically in the subsequent years.
Cahill weighed in with 11 goals in the 2004-05 season, helping Everton reach fourth place – their highest position since 1988 – as well as securing a place in the Champions League qualifying stages. Only once in the next 10 years did they fail to finish in the top half of the table, qualifying for Europe in five of those the club's most successful period since the late 1980s.
On the other side of Stanley Park, another academy graduate left Merseyside in the summer of 2004. Michael Owen, who joined Liverpool as a 12-year-old in 1991, was the club's top scorer for seven consecutive seasons before leaving for Real Madrid. It was a tough start for Rafa Benítez's managerial reign as he had expected Owen to stay right up to the point of his exit on the eve of the new campaign. The Spaniard expressed his surprise at the move, saying: "Michael was very happy when I spoke with him last week and we wanted him to stay."
Despite his disappointment, Benítez was sanguine about filling the void in his team. "I'm not afraid," he said. "All teams around the world lose important players. You have to look to the future. We have the opportunity to try and balance the team. The supporters should know we have done the best for the club. There will hopefully be good news for them next week. We can be a stronger team." Benítez was right. In the season after Owen left, Liverpool became European champions for the first time in 21 years.
Rooney and Owen were part of their clubs' academies. By contrast, Esteban Cambiasso was a well travelled professional who had won league titles in Argentina, Italy and Spain when he joined Leicester from Inter in August 2014. The 34-year-old was brought in to help the newly promoted club settle in the Premier League. He was instrumental in keeping them in the top flight.
Leicester were bottom at Christmas and seemingly cast adrift, but Cambiasso dragged them to safety with a string of impressive performances in the second half of the season. Having been rooted to the bottom of the table for four months, they picked up 22 points from their last nine games and shot up to the dizzy heights of 14th. Cambiasso was voted the club's player of the year, saying as he received the award: "The most important trophy is that Leicester City play next season in the Premier League."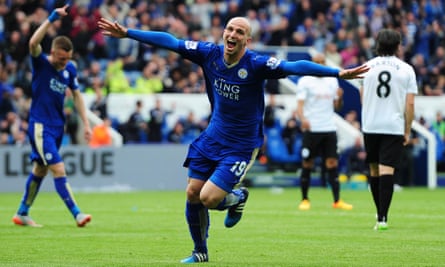 But Cambiasso would not enjoy the fruits of his labours. He joined Olympiacos in the summer of 2015, leaving Leicester supporters to wonder how they would survive the following year. His replacement was an unknown quantity from Caen who cost less than £6m. N'Golo Kanté did not just help Leicester survive in Cambiasso's absence but he was a central figure as they pulled off the most unlikely triumph in Premier League history.
Another Argentinian who was considered indispensable by his club's fans arrived in England a few years before Cambiasso. Not only did his goal secure Manchester City's first Premier League title in 2012-13 but Sergio Agüero was City's top scorer for eight seasons in a row. When Agüero left for Barcelona in 2020 fans were concerned about replacing a striker who had scored 260 goals for the club.
Initially there was no need for a direct replacement. The onus for goals was shared between others, with Raheem Sterling, Riyad Mahrez and Ilkay Gündogan the leading scorers over the next three seasons before Erling Haaland's arrival. In the post-Agüero period, City won three out of four Premier League titles as well as adding the elusive Champions League title this year.
In the last few years Brentford and Brighton have shown that selling their best players is no impediment to steady and impressive progress. Brentford have been particularly adept at moving up the table after cashing in on prized assets. Neal Maupay was their top scorer for two seasons before his £20m departure in 2019 – the biggest fee the club had ever received for a player – but his exit did not halt their rise up the Championship table.
Brentford repeated the trick with Maupay's replacement, securing promotion to the Premier League the season after they sold Ollie Watkins to Aston Villa for a club-record fee of £28m. Watkins had scored 25 goals in his final year at Brentford but he was not missed. In came £5m signing Ivan Toney, who scored 31 goals as they won promotion to the top flight through the playoffs. Brentford were ninth in the Premier League last season, their highest finish since 1938, and they are doing even better this season while Toney serves his eight-month ban.
Brighton have enjoyed similar results, sometimes with the same player. They signed Maupay from Brentford and he was their top scorer in all three of his seasons at the club. Yet his departure to Everton at the start of last season did not interrupt the club's development. Maupay left Brighton and they responded by hitting new heights, finishing sixth in the league and qualifying for Europe for the first time in their history.
Brighton made £150m this summer by selling their star midfielders, Alexis Mac Allister and Moisés Caicedo, yet they continue to flourish. Their 3-1 win against big-spending Newcastle at the weekend was their latest feat, taking them up to sixth in the table. They are in good company. Tottenham, West Ham, Brighton, Crystal Palace and Brentford are also in the top eight. It is early days, but perhaps adjusting to life after the departure of a superstar is not as difficult as it seems.