Most of the focus, post match, was on the hug. And in fairness, the hug was pretty funny. England will be happy enough with a forgettable night in Wroclaw: a point gained, the avoidance of injury, and a step closer to next summer's low‑carbon tour of Germany, the first Euros to be scheduled in a way that minimises rather than maximises travel, a mild correction after the Platini-led cheap-flight madness of Everywhere 2020.
There weren't many highlights, or anything much to mark an evening characterised by a strange slackness at the heart of Gareth Southgate's team. But the hug was one of them. It came just before Ukraine's goal, product of a surgical counterattack down the left. As Yukhym Konoplya crossed, every England player seemed to be in a state of flux, spinning and twirling, looking for traction.Harry Maguire chose to make a run into the same space as Marc Guéhi and in the process ended up embracing his defensive partner, arms wrapped tenderly around Guéhi's torso, as behind them Oleksandr Zinchenko pinched the ball off the boot of Mykhailo Mudryk (generally speaking, a good option) and tucked the ball into the England net.
The hug was a funny detail. But it wasn't the headline note of Maguire's game, which was in turn also the story of England's night. Either side of the hug it was Maguire's own low carbon footprint, his basic lack of mobility and foot‑speed that created a very obvious problem for England's positioning and forward movement; one that Southgate really should have weeded out by now.
Maguire doesn't deserve the abuse that comes his way. There is no lack of application here. He has fine qualities: calmness, heading the ball, defending in close-quarter duels. But he is also a pre-modern model of a central defender, a footballer whose chronic lack of agility provides referred pain in pretty much every position.
Harry-ball, then. Six times in the opening 90 seconds in Wroclaw Maguire took the ball as England's deepest player, and not just a little bit deeper but several yards behind the rest of the defensive line. The seventh time, having crept a little further upfield, he instantly fed the ball back to Guéhi behind him, always seeking that nothing space of dead defensive possession.
This was the pattern through the opening 20 minutes, Maguire always walking back before taking the ball, as he does automatically now, a function perhaps of always being the slowest player on any pitch, and in the process setting a pattern of sedentary, cautious recycling of the ball that England never quite shook off. Like an all‑day weekend hangover.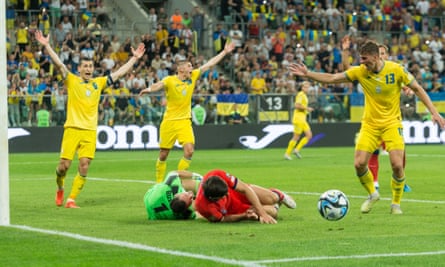 Maguire has often been compared to a wardrobe: square, traditional, hard to shift. In this England team he functions more as a defensive sofa. Stationed back there a Maguire-led central defence becomes a place to rest, to flop, to zone out, to avoid the issues of the day. In Wroclaw England sunk into The Sofa from the opening minutes, a state of ennui from which they were never able to fully emerge.
Maguire and Guéhi made 135 largely risk-free passes in the opening 38 minutes, completing 130 of them, as England idled around harmlessly in dead spaces. Possession football has always carried an idea of resting on the ball but this is simply too much, too much entropy, the kind of possession that lulls your own team to sleep. Watching it you wondered if England could be instantly improved by putting Maguire in goal and playing Jordan Pickford in central defence, where he might at least add a little jittery forward energy.
This might seem harsh on Maguire. England were playing away from home. He is obviously rusty. But that tendency towards ponderous possession has become a vice, and an issue for the rest of the team.
There are two parts here. Most obviously this is just not how modern elite football teams pass forward from the back. At Arsenal, Declan Rice often takes the ball in that position, allowing the centre‑backs to split daringly, drawing the opposition press forward. At Manchester City, John Stones has basically become a midfielder, carrying the ball fearlessly into forward spaces whatever his starting position. Nobody here is dawdling, acting as a human baseball mitt, basically killing time, and in the process your own team's forward energy.
The second problem is the space Maguire opens up in his own team by standing so deep. This can be a very small thing, tiny margins of momentum, angles of passing. But any loss of intensity gives an opponent angles to pass, dilutes England's ability to counterpress high up the field, and leaves the midfielders looking oddly frantic, asked to cover too much ground.
This isn't hard to spot. At one point in the first half, Jude Bellingham could be seen shouting for his centre-backs to move higher up the pitch, to create a greater intensity in that area. Bellingham knows how an elite midfield should feel, where the spaces should be. And he was used badly in other ways against Ukraine, moved to the left side to accommodate Southgate's caution, with Jordan Henderson roaming in a narrow straight line on the right.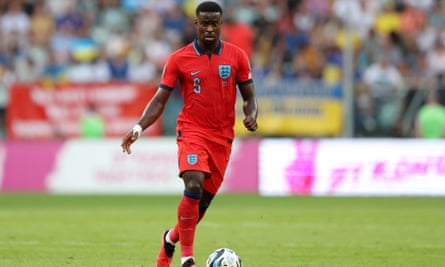 It felt like an odd way to use your best player. Bellingham has a genuinely rare blend of attributes, not least the ability to absorb a pass on the turn from any angle and surge into just the right open lane of space. Every part of the team should be configured with at least half an eye on making best use of this. Instead he spent a lot of time fighting for the ball in a midfield where England couldn't apply enough pressure, where the defence sat off in a cautious line, rather than offering overloads, extra bodies, extra options.
Stones, who does take chances and step forward into these spaces, could have offered an obvious upgrade. At moments such as these the contrast between his development over the past six years and that of his long-term England partner is painfully stark.
As ever, what Southgate does from here comes down to the balance of risk and reward, of loyalty to the tried and trusted versus the duty as England manager to those playing every week and seeking their own chance. For all the talk of a talent pathway England are on course right now to go to the European Championship finals with six, or possibly seven players from the 11 who played in the World Cup semi-final defeat to Croatia in 2018. This includes a starting midfielder currently operating as a deep-cover liberal morality agent in a developing league. And of course The Sofa, a centre-back who has started three club games since April.
The fact is England do have other options in Maguire's position. Stones is a world-class footballer and a sure thing if he's fit. Guéhi played well in Poland and has great junior England pedigree. Lewis Dunk is an excellent defender in a tactically cutting-edge Premier League team.
How bad could it be? Would anyone really begrudge the odd missed header in return for a much-needed surge in energy, mobility, passing skills, and the referred positives through the rest of the team?
Southgate was ruthless in cutting away the good old boys at the start of his time in charge. He has been impressively bold in giving young players a chance. For all the fond memories, the loyalties repaid, the cosy tournament moments, it is surely time once again to wield that scythe.