When the Champions League anthem aired inside Arsenal's home for the first time in six and a half years, its opening strains were drowned out by cheers. If that felt a touch saccharine, it summed up the crackling anticipation that had surrounded their return to the top table. Mikel Arteta's side promptly pulled up a chair and, long before the end, could recline in comfort. They overwhelmed a PSV Eindhoven side that, laudably but naively, came to trade blows and the hosts set themselves fair for a swift qualification from Group B.
It ended up being the kind of cakewalk more familiar to those who had sat through five Europa League campaigns since Arsenal's last appearance on this stage. They will certainly not always find things this easy but, in common with the rest of the resource-rich English representatives, should be expected to travel deep into the knockout stages. Any concerns that the occasion would overwhelm them were quickly dispelled by a characteristically sharp, insistent display that gave PSV little oxygen and ensured the manager could shuffle his pack long before the end.
"It was a beautiful night," a beaming Arteta said, explaining he had felt emotional in the buildup. "I was, yeah. I was really excited about it. I wanted to be in control and not show that too much, but I was really excited. Now we have to produce what we have to produce to stay at this level."
They offered more than enough here. It felt apt that Bukayo Saka, a consistent seam of star quality during much of their time in the wilderness, got things moving. He could thank a loose piece of goalkeeping from Walter Benítez, whose parry of Martin Ødegaard's shot was barely worthy of the term, but Saka still had to be sharper than PSV's defenders in reacting and converting from a tight angle.
That was in the eighth minute and nobody with the faintest grasp of reality could have expected a different outcome from there. Helped by their opponents' willingness to commit men forwards, Arsenal coursed into the spaces left behind and could have scored again before Leandro Trossard doubled their lead. His second goal in as many games was a fine finish, swept first time from the edge of the area, after Gabriel Jesus had led a counter down the middle and allowed Saka to lay on the chance.
Jesus gave Benítez two opportunities to redeem himself, both taken, but made no mistake with his next opening. It came after Gabriel Magalhães' ball down the line to Trossard left the right-back Jordan Teze hopelessly exposed, meaning Trossard could scamper away and dig out a delivery to his colleague beyond the far post. Jesus's collected foot on the ball and a lashed drive across Benítez later, and the tie was stone dead.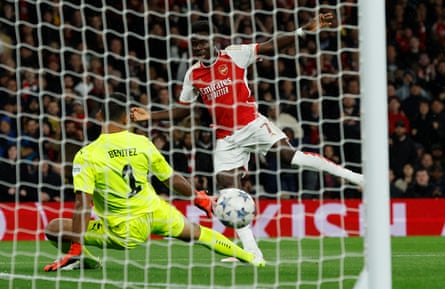 "That's what we have to do," Arteta said. "In the box we were exceptional today, we were ruthless, we took our chances. It was top."
The second half was now a formality and, perhaps most importantly to Arteta, a chance to stand key players down early with Sunday's north London derby in mind. Proceedings were meandering until Emile Smith Rowe, a peripheral figure nowadays but far from forgotten in the stands, was given his first action of the season with 21 minutes left. He was greeted by perhaps the night's loudest, most fully-meant, roar: it recharged the pitch with energy and Smith Rowe quickly helped his fellow replacement Reiss Nelson tee up the magnificent Ødegaard for a cracked 20-yard finish that deservedly garnished the Norwegian's performance.
The feelings rose up in Arteta once again. "I was really emotional when I saw the reception of Emile as well," he said. "It's a player that hasn't played much yet and to get the reception that he got was much deserved."
Beyond a shot inside the first minute from Noa Lang, a swift and graceful mover who looked at home, David Raya was rarely extended in Arsenal's goal. He had again been selected in place of Aaron Ramsdale and Arteta, who gave a non-answer afterwards about the decision, had no cause to test his theory about goalkeeping substitutes. A VAR review into a potential penalty for handball by Oleksandr Zinchenko offered PSV a glimmer of hope between Arsenal's first two goals but it was swiftly cut short.
Raya has, as a minimum, not detracted from Arsenal's stability and distributed soundly all evening. Arteta was also pleased with Kai Havertz, who he said looked "really connected". Havertz could have had a second-half assist for Jesus and enjoyed the possibilities to maraud that PSV frequently offered; it was the kind of affair that helps a new signing find his legs and his radar.
In a relatively weak group, progress to the last 16 before the final match is up for grabs. Arteta's abiding delight was that, while hearts swelled as the music piped up, cool heads quickly took over. "We rode that energy and emotion in the right way," he said. "We have to enjoy these moments, these nights are the ones you remember in the end." Europe may yet end up dancing to Arsenal's tune.