During these latter years of Novak Djokovic's storied career, as his increasing mileage on the court and his growing family have required him to prioritise his longevity, the 36-year-old has continuously stressed his intention to focus on the grand slam tournaments.
It is fair to say that his plans are going well. Djokovic reached his fourth grand slam final of the year by effortlessly picking apart yet another young player in Ben Shelton, winning 6-3, 6-2, 7-6 (4) to return to the US Open showpiece. The Serb, who won the Australian Open and French Open this year before finishing runner-up at Wimbledon, is once again one victory away from a record-extending 24th men's grand slam title.
This is also the third time in Djokovic's career that he has reached the final of all four major tournaments in a calendar year after doing so in 2015 and 2021. Djokovic has now made the US Open final on 10 occasions, an Open era record, and he has a 26-1 win-loss record on hard courts this season.
There has never been any doubt about Shelton's weaponry, which includes a destructive first serve that he twice struck at 149mph for aces in the same game against Tommy Paul in their quarter-final. But the 20-year-old was always unlikely to find much joy against a player expertly placed to expose his inexperience, particularly any rash mistakes or losses of concentration.
Still, Shelton entered Arthur Ashe Stadium with at least one possible advantage. The pair had never played each other, nor had they ever trained together, meaning Djokovic was charged with figuring out Shelton's game, and particularly his serve, on the spot. As the American navigated his first couple of service games with a flurry of unreturned serves, Djokovic was clearly still learning how to read his tendencies.
By Shelton's third service game, though, Djokovic was fluent. He landed every return and, under pressure to dictate off the ground, Shelton produced a predictably unfocused, error-strewn game and gifted his opponent the decisive break with a missed forehand volley.
Although Shelton showed strong fight to save triple set point at 5-2 down before eventually creating a chance to put the set back on serve, he was erratic under pressure once again, missing three forehands in a row as Djokovic took the set.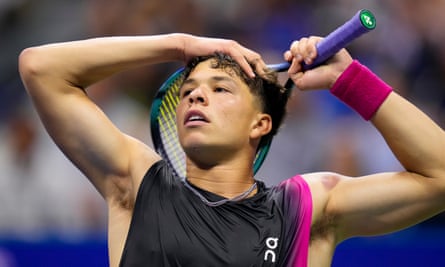 As the match continued, life became increasingly uncomfortable for Shelton as the No 2 seed methodically pounced on every weakness that his first-set interrogation had uncovered. While so much of the positive attention has rightfully focused on Shelton's first serve, his returning is poor. Djokovic exposed it throughout with spotless, precise serving, particularly with his slice out wide to the backhand. In the exchanges, Djokovic ground the youngster down with his discipline and consistency.
But as Djokovic seemingly neared victory, Shelton came alive. Where other players would have already given up, he fought hard until the end and was rewarded for his fortitude. Trailing 4-3, Shelton stayed in Djokovic's service game long enough to generate a break point and convert it after some loose forehands from the veteran. Finally amped up, Shelton played his best tennis of the day, firing down 145mph bombs, lasering forehand winners and screaming encouragement at himself between each point.
While Shelton's level rose, Djokovic was tight as a drum as he tried to close out the match. But even as he missed match point and failed to serve it out at 6-5, his forehand leaking nervous errors, he forced himself to remain calm and he finally closed out the tie-break. Once Shelton's final forehand struck the net, Djokovic celebrated his 36th grand slam final with a surprise message: he copied Shelton's 'dialed in' celebration, imitating the gesture of speaking into a phone before hanging up. The handshake that followed was not particularly warm.
Shelton left the court with his pride intact after his late surge but having also been served a reminder of the room he has for improvement after such a thrilling, brilliant run. While he has struggled at times this year, he has shown on the biggest stages that his nuclear serve, destructive forehand, variety and athleticism make him such an exciting prospect, and there is so much more to come from him.