Key events
"I may be biased as a Newcastle fan," writes Thornthawat Thongnab, "but Isak's body was through on goal, the ball was with him, and Van Dijk clearly nicked Isak's leg before getting the ball. How is that not a simple call for denial of clear goalscoring opportunity? Also baffled by the international commentators saying that this should've been a yellow."
I agree. The ball wasn't running away, and the incident raises what I think is an interesting question: should it matter who the player is when we decide if an offence was worthy of a red card? Isak has a gorgeous touch and a dead man's composure, so I was certain he was in.
On Sky, Jamie Carragher chastises Van Dijk's application in allowing Isak by him, and his rashness in tackling. He says we don't know it was a goalscoring opportunity as we didn't see Isak's first touch, so Townsend points out that the reason for that is the foul itself. Carragher has no sensible retort to that because there isn't one, but carries on arguing nevertheleess.
"I never loved him like I loved Torres, but every time Liverpool play Newcastle, I miss seeing Suarez," admits Matt Dony. "He scored more 'spectacular' goals (Hello, Norwich!), but that goal against Newcastle is one of my favourites ever scored by anybody. It was pure, unadulterated technique and improvisation, and so unique. I've never seen another goal quite like it. I'm certainly not going to defend his character on the pitch, but there have been very few footballers who could do the things Suarez could do."
I agree. I was in Amsterdam not long after he signed and was assured by a table of Ajax fans that he wasn't all that. Soon after, I was an away fan stood in Anfield Road right down the front, when this happened in front of me.
Half-time email: "Totally agree with your Van Dijk synopsis," writes John Donnelly. "He used to have a large window of time to clear any danger because he had different ways to do it, and pace as back up. It isn't just that he no longer has that pace as back up (or call it the Kyle Walker effect), he now has added pressure from the shorter window to make the right decision and fewer options to deal with any danger, which will ultimately lead to more mistakes and less confidence."
On top of which, he knows he's got lesser quality around him.
HALF-TIME: Newcastle United 1-0 Liverpool
An excellent first half from Newcastle; a disastrous one for Liverpool.
45+3 min The resultant corner comes to nothing, Tonali's aggression enough to get the ball away and after battling through a challenge or two spins away from Szboszlai, deploys feet to works space down the line, and is happy enough when Gomez boots him to the ground.
45+2 min Tonali concedes a free-kick which Robertson swings towards the back post, Joelinton doing well to poke away from Gomez.
45+2 min "I'm listening to radio commentators," says Robert King, "incredulous at the sending off and VAR.He got the ball , is their opinion."
That doesn't mean it's not a red I'm afraid. Van Dijk did get the ball, but he had to boot Isak first. Well, that's my reading anyway; I might be wrong, I often am.
45+1 min We'll have four additional minutes.
45+1 min …which Szboszlai larrups over the top.
45 min At last a bit of Liverpool, Mac Allister spinning away from Almiron and Guimaraes, who foul him. Free-kick Liverpool, 35 yards out, dead centre…
43 min "There are times watching games when I admit my internal monologue directs some choice vituperation in the direction of officials," says Sean O'Keefe, "but watching Van Dijk spit 'Fuck you' in the referee's face turned the stomach. Disgraceful."
I don't like to judge because I can't imagine for a second the emotion, but I do agree players need to have a serious think about their behaviour.
42 min Newcastle knock it about, Liverpool chase.
40 min "You can blame the cruciate for many things," reckons David Singleton, "but I don't think you can blame it on that. Last I checked the cruciate ligament wasn't in your brain and that was just stupid. Or perhaps frustration with having to play next to Alexander-Arnold."
It's not as simple as that, I don't think. For the entirety of his career, Van Dijk's been able to rely on his power and pace, now he can't. I'd be amazed if those losses haven't affected his mentality – old him might've let Isak go assuming he'd have caught up and made the tackle or block – but I agree, the state of things around him won't be helping.
37 min Alisson's a funny one in that the majority of his big saves look like bad misses. Of course, his positioning and aura are also a huge part of that, and here he is again coming to punch out a cross, Newcastle recycling the ball and finding Almiron who swipes wide.
36 min OH MY DAYS WHAT A SAVE! Newcastle win a corner down the right, the ball is cleared just as far as Almiron on the edge, and he chests down beautifully before annihilating a volley brutally … which a flying Alisson shoves onto the bar and out! That is sensational behaviour.
34 min In co-comms, Gary Neville notes that he knows how Alexander-Arnold is feeling.
33 min Change for Liverpool, Gomez replacing Diaz. I don't suppose Klopp had any other option there, there's far too long left in the game for anything funky – though he needs a goal.
31 min Many aeons after the original offence, Schaer looks to clip the free-kick over the wall, 20 yards out, just left of the D … but hits it, and Tonali's shot is then deflected wide for a corner that comes to nowt.
30 min Van Dijk doesn't want to go, but he's going to have to, and his momentary refusal so to do isn't going to do him or the game any good. Isak got down the near side of him – it's also ball-side – and Van Dijk kicks through him en route to knocking the ball away. I hate to say it, but very few do a cruciate in their late-20s and come back the same; he didn't hasn't, and is nowhere near the colossus he once was.
RED CARD FOR VIRGIL VAN DIJK!
28 min Goodness me! Again it's Gordon, coming inside then sliding a ball in behind for Isak … ands Van Dijk, caught out, kicks through him rashly, just outside the box! That's clumsy at best, and I can't see VAR overturning that.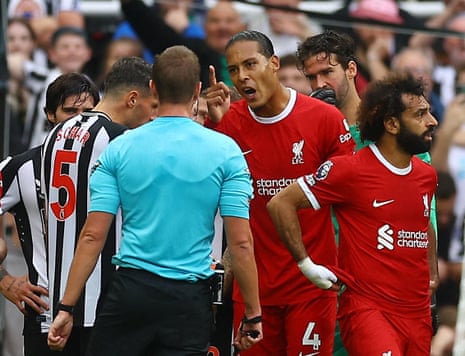 GOAL! Newcastle United 1-0 Liverpool (25)
Klopp should've taken Alexander-Arnold off! He'll wish the ref had sent him off! Because this is all him, a pass sent back to him from Salah – if we're being generous, not a friendly one – but that's no excuse for letting it pass under his studs, a straight loss of concentration and nothing else. So Gordon seizes upon it, streaking away from Van Dijk, drawing Alisson – it's a pretty good likeness too! – and slotting under Alisson's under-carriage!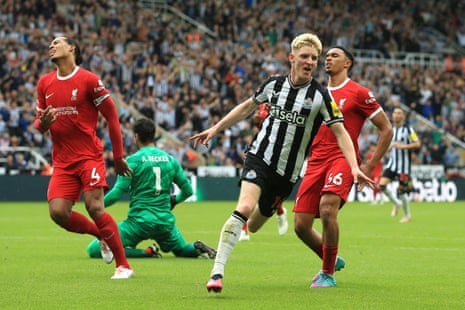 24 min Szboszlai into Gakpo, who finds Salah with Burn on the retreat, side-on to show him down the line. For all the good it does him, Salah cutting inside when it suits him only to curl a shot straight at Pope.
23 min I thought this would be a frantic, fizzing game. So far, it isn't, and I wonder whether that's because at this point, Liverpool aren't capable of engaging in one against Newcastle.
21 min "Yes but in fairness Rashford's was as close to simulation as he gets, or some fans are willing to admit," says Nina. "It was at least an exaggeration for me! (Telling that on MOTD they had to zoom for the merest of of thigh glances.) I'm neither a Newcastle nor Liverpool fan, just think it doesn't help to make the point that simulation isn't part of the game, as it has its clear benefits, it just didn't work for Gordon this time!"
Who's making that point? Of course it helps, but if there's a foul it's irrelevant and in both cases I think we can see, precisely, that there was. Rashford knows if he goes on the outside the defender has a problem, but the defender's thigh also caught him and how well MOTD analyse something isn't relevant I don't think.
20 min This looks a lot like a team on the way up against one on the way down, the former pushing the pace but without the quality and composure to seize the moment and the latter waiting for that moment.
18 min The resultant corner comes to nowt.
17 min Newcastle look the more fluid outfit but Liverpool have ridiculous ability in attack and here they are now, Szboszlai flipping a switch out to Diaz who drives for the box, defenders backpeddling and doing just enough to close down prospective shooting lanes, the eventual effort a stabbed futsal-style toe-bunger that Pope shovels around the post.
16 min It's a messy start, but as I type, Guimaraes runs studs over the ball 25 yards out – he's a lovely footballer – battles through two tackles, and when the ball squirts loose, a touch from Gordon allows Isak to set wide for Joelinton … whose shot is straight at Alisson.
14 min "Gordon is an annoying little brat," says Joe Pearson, "and was obviously trying to buy the second yellow. He was not seriously impeded. If that had been in the box, Gordon would have been carded for simulation. (Yes, I'm a Liverpool fan)."
I don't know about that; I think Alexander-Arnold pulled him down with a hand on the shoulder, and Gordon's intention isn't relevant because it's still a foul. That's my reading of things anyway, not dissimilar to those as regards the penalty Marcus Rashford won for Man united yesterday.
13 min Trippier aims for Burn towards the far post but Liverpool defend well enough and Diaz wins a throw.
12 min Guimaraes flicks the ball over his own head, eases away from Mac Allister … and wears the inevitable foul. Free-kick Newcastle, 45 yards out, almost dead centre.