Germany want, says Julian Nagelsmann, "to take an approach that isn't typical for a crisis". After months and even years of stodge and with a home tournament on the horizon, the new coach is right to assume that patience and back-to-basics aren't on the menu. Before hosting Euro 2024 Germany, it seems, just want to have fun.
This should be music to the ears of a nation of football fans turned off their national team not just by lacklustre displays – and successive failures at World Cup 2018, Euro 2020 and the latest World Cup – but by disorganisation and dispute within the Deutscher Fussball-Bund (DFB), the game's governing body. Germany exited the 2022 World Cup at the group stage but already it was as if the tournament wasn't happening back home, with few public screenings – reflective of antipathy about the hosts Qatar among fans but also of the squad's perceived lack of personality, both in confronting human-rights issues and in performances.
So Nagelsmann's job is not just to immediately improve a team who ended the Hansi Flick era on a run of three successive defeats for the first time since 1985. It is, as he was clear in recognising when presented in a Friday press conference in Frankfurt, about reconnecting with a public that has been indifferent to their national side for a while.
It was that divide, as much as some underwhelming results in friendlies, that eventually did for Flick. He was far from solely responsible but his inability to drag the team out of their torpor meant something had to change, and fast. Nagelsmann is taking over from Flick again, just as he did at Bayern Munich in summer 2021, and there are many parallels; not least in that he is inheriting a few thorny issues with the team.
Whereas Bayern's defensive issues, which ended up causing such a headache for Nagelsmann, were largely papered over in the public consciousness by the attacking verve of Flick's treble winners, this time the problems facing the new coach are very much out in the open. It is clear Nagelsmann will need more than a fresh face to turn the team's fortunes around as quickly as is needed.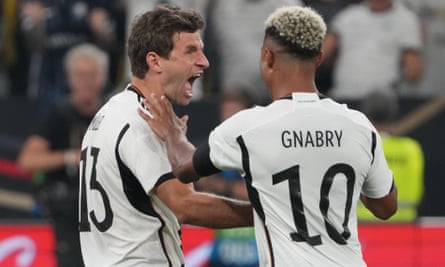 Whether he has the players he needs is a fundamental question. A lack of leadership, in defence and attack, has been clear for a while. If Antonio Rüdiger displayed some in the backline during the win over France, presided over by the sporting director, Rudi Völler, two days after Flick was fired, Germany are still weak in the full-back positions.
Thomas Müller gave a fine performance as a de facto centre-forward in that game in Dortmund, as well as striking the opener. He is an example of the mobile, atypical profile that Nagelsmann likes in the centre of attack, perhaps lessening the desire to lean on a relative international rookie in Niclas Füllkrug, who is the only really viable old-fashioned No 9 on the block and was one of the few positives to come out of Qatar.
The question is how effectively can Nagelsmann get across his philosophy in such little time? He recognised that openly when asked about the pathway from grassroots ("I don't have time to develop something which is going to take two years") and next month's US tour, taking in friendlies with the United States and Mexico, will be absolutely vital in setting out his stall and bonding with his players. Many of his former charges at Bayern, it should be said, were sorry to see him go in the spring. His famous description of coaching in his Hoffenheim days as "30% tactics, 70% social competence" will undertake the acid test in Connecticut and Pennsylvania.
For Nagelsmann, Völler and the DFB president, Bernd Neuendorf, this is about instant gratification, even if the coach didn't rule out an extension of his deal, which will run out shortly after the Euros. The door had been opened last week by Bayern's willingness to rescind a contract that ran until 2026 – interested clubs during the summer had been quoted an eight-figure sum to release him, despite the fact that the German champions were obliged to continue paying his salary – and the hypothetical quickly became reality after that. Being free of that deal opens him up to a return to club management next summer, and a strong Germany display at the Euros would make him even more attractive.
There was plenty of humility in Nagelsmann's introductory press conference, in which he talked about having "reflected on my time in Munich, on my football and looking at what I would like to do better in the future" and of watching games "more from the fan's perspective". Yet his appointment is about presence and projection as much as it is about the coach's style or philosophy. If Germany are to be competitive at Euro 2024 they will need a whirlwind of change. That is what Neuendorf and Völler hope they have just secured.