On Sunday night, Messi Mania makes its next stop when Inter Miami visit LAFC at BMO Stadium and the latest chapter of the great American soccer superstar experiment comes full circle in Los Angeles.
In many ways, the latest away scene on Leo's Magical Mystery (and Soccer Mythmaking) Tour is nothing new: an urban metropolis galvanized for a breathless, priceless night (see: Philadelphia, Nashville, and New York, er, Harrison, New Jersey, in recent weeks). Apple and Adidas marketing teams smiling once more, and over again.
Obscene ticket prices hyped by the local and national media. A $96,000 ticket listing is not quite the going rate, despite the Los Angeles Times' clickbait suggesting such; as of Friday night, plenty of pairs could be spared for $1,200 or so. (Or only $80 or so for a pair in two weeks for LAFC v Real Salt Lake.) All while LAFC's team president bemoaned the ongoing shakedown by presumptive celeb hangers-one for his spare, last-minute VIP comps.
And amidst it all, the electric 5ft 7in maestro whirling into town to the screams of thousands, diehards and casuals alike, Messi may as well be both John and Paul to Sergio Busquets' George and Jordi Alba's Ringo.
In the City of Stars, traffic absurdities and parking fiascos are par for the course, and part of the grid-locking spectacle. But in one huge way, Sunday night's Hollywood pit stop is different from the last six weeks – because of how familiar it is. Consequential and monumental, a coronation of sorts; a pressing reminder of how the past foretells the future, and the present.
And the moment of arrival du jour for America, the sport of soccer, and the city that laid the foundation almost two decades ago – all owing to the one person who brought all those pieces together, to make Messi-palooza possible in the first place, who lived his own version of this mania himself way back in 2007.
David Beckham: back again, in his adopted home.
Only on Sunday, the former LA Galaxy midfielder will take his grinning bow in downtown LA rather than Carson, and this time, from the comfort of a presumptive luxury box, while taking in center stage and midfield, rather than occupying it.
After all, without the Beckham Experiment – and his leap of faith to bet on himself and a barely profitable league, in a vaguely interested country – none of the present-day Argentinian-flag clad excesses of could have ever been possible. For Messi to bask the US in the Miami pink and prosper, Beckham's uber-celebrity needed to first till the soil.
And perhaps none of it would've been possible without Los Angeles itself, either.
It is easy to forget now, thanks to MLS's rapid ascent into the billion-dollar franchise valuation strata, just how fragile the upstart league once was.
Consider: when the league was founded in 1996 with 10 teams, two MLS franchises (Tampa and since-resurrected Miami) soon folded, with losses the first five years reportedly nearing $250m.
In fact, no team was profitable until 2002, when the LA Galaxy's green and gold finally moved out of the red, thanks, in no small part to the USMNT's magical World Cup quarter-final run.
(In those early Pasadena years from 1996 to 2003, the Galaxy coasted on the fumes of USMNT longhair legends like Cobi Jones and Alexi Lalas, and initially, an audacious 5ft 7in Mexican national team goalkeeper named Jorge Campos mwhose flamboyant keeper's kit and propensity for dribbling everywhere outside his goal box made him a late-90s cult hero.)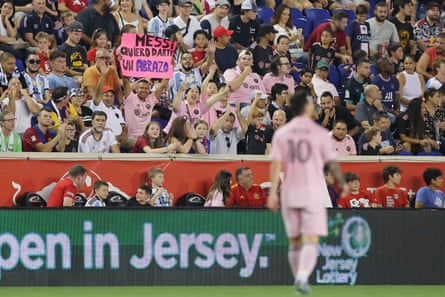 All collectively did just enough to get enough butts into the Rose Bowl to help keep the team (and league) viable in those early years, biding time for Home Depot's Center's soccer-centric, commerce-friendly backdrop to break ground and finally open in 2003.
And not even four years later, Becks decided to make and take the American plunge – and proved himself the shrewdest of businessmen (and business in-and-of himself) worthy of the owner's box in the process.
Becks' time in LA was, in sum, living history:
His 2007 debut, against Chelsea, with celebs braving hours on the 405 to watch the midfielder sit on the bench for 70-plus minutes in a friendly, with ESPN's now-classic Beckham Cam dedicated to tracking his every move, one of its 19 (!) total cameras;
The 2011 midsummer friendly at the Rose Bowl against Cristano Ronaldo and his former galácticos teammates of Real Madrid – fittingly falling on the city's first "Carmaggedon" 405-freeway closure – sells out LA Coliseum en route a 4-1 Galaxy drubbing;
A handful of loan spells alongside Landon Donovan crossing the pond and back again, and, eventually, the dynamic duo bringing a pair of MLS Cups to southern California;
And last but least, the upshot of his masterstroke, five-year, $32.5m contract – with an approximate cumulative value of upwards of $500m – and the now-outrageous, highly-publicized opportunity to start his own MLS franchise for a modest $25m, which appreciated exponentially in convincing Messi to join the project.
(Lest we forget, that $25m promise is made less absurd when remembering the expansion fees in 2005 for the formerly glorious and absurd marketing-shill second team of LA, Chivas USA – as well as Real Salt Lake – were $7.5m a piece. Doubtful either team could've convinced Leo to spurn the Saudis, though.)
Which brings us a long way back to Sunday night.
Hollywood is here – and its silver-tinged fingerprints are everywhere, nowhere more apparent than BMO Stadium's foundation, not even a decade old, that serves as the Dortmund-styled home for MLS second-most valuable franchise: LAFC.
(For the record, LAFC was sitting atop the list with a billion-dollar valuation this year – only to be usurped thanks to Messi, Becks, Mas and co.)
About a decade ago, an absurdly star-studded ownership group led by Magic Johnson, Will Ferrell, Mia Hamm, Nomar Garciaparra, Tony Robbins (!) and many more doubled down on LA's potential by owning and selling themselves, banking on a deep capacity for more soccer, more superstars, an evolving on-field product and a better skyline-lit backdrop (apologies, Cal State Dominguez).
This black-and-gold tinted landscape is the fitting set-design for Messi tonight: the inevitability of American commerce, sports business, and celebrity-attuned, and celebrity-driven capitalism. (Welcome to Wrexhamerica.)
The backdrop that makes Messi spurning $400m-a-year from Saudis seem like a drop in the bucket, to be the latest football Trojan Horse – and Becks' future equity torchbearer – for a league that has doubled its total franchises, and increased valuations tenfold in roughly a decade, say nothing its new 10-year streaming partnership with Apple, all making winning inaugural, semi-made-up trophies like the Leagues Cup look like a lot of fun.
Tonight, Messi will keep playing his winning cards of global corporate takeover to great effect: the 36-year-old face of America's inevitably unrivaled market cap, sovereign wealth funds be damned.
Because here, anything and everything are possible.