The fourth round of the 2019 Australian Open would prove a far more significant event in recent tennis history than anyone present could have foreseen. As Novak Djokovic continued his attempts to regain the title that had evaded him for two years, he came across a 22-year-old Russian named Daniil Medvedev.
While most players step on to the court with Djokovic wary of his defensive and physical capabilities, Medvedev, then ranked 19th in the world, was merely curious. He wanted to see just how far he could push those strengths, how much he could make Djokovic hurt. From the beginning he deliberately forced his opponent into endless, excruciating exchanges, breathlessly defending the baseline and refusing to miss. Countless 30-40 stroke rallies followed, with both players frequently reduced to gulping in air from behind the baseline with hands on knees.
After one of the most exhausting three-hour, four-set matches either had ever played and a near-1am finish, Medvedev had a simple question as they shook hands at the net: "He asked me whether he made me sweat at all tonight," said Djokovic. "I just laughed. I think the answer is obvious."
At that time, the Russian had only recently begun to take a step forward in his career. But that was the moment that he showed his heart, a quality that has sustained his rise to greater heights.
They will meet again in Sunday's US Open final with everything on the line. Since that meeting in Australia, this match-up has morphed into one of the premier rivalries on the ATP Tour, with Medvedev the only player of his generation to compete with Djokovic as an equal. It has evolved from that attritional battle into one of the most tactical, cerebral rivalries on the circuit. Like Carlos Alcaraz, Djokovic has adopted serve and volleys, dropshots, angles and ample variety in order to counter Medvedev's return position. Medvedev, meanwhile, has found himself essentially serving two first serves at times just to remain unpredictable.
The pair have faced each other 11 times since, with Djokovic narrowly leading 6-5. In completed matches, they are tied at 5-5 during this period.
Among those meetings is a landmark moment in recent tennis history. Two years ago Djokovic chased immortality as he arrived in the US Open final with a 27-0 record in the majors, only one win away from becoming the first man in the Open era to win a sweep of grand slam titles. Instead Medvedev produced the statement performance of his career, giving a full reflection of his mental strength and self belief by shutting out the Serb in straight sets, refusing him the opportunity of a second wind or inspiration from the crowd.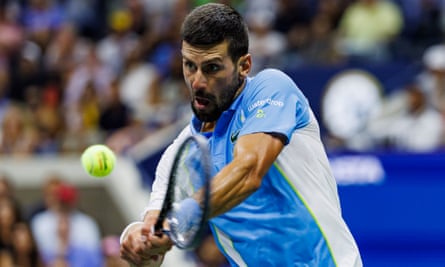 It has been some road back for Medvedev since that clash. He followed up the US Open by reaching the 2022 Australian Open final against Rafael Nadal, leading Nadal by two sets before falling in five. Just as it seemed that he had reached the top table though, he fell apart. He was a shadow of himself for most of 2022 and by February this year, from scaling the No 1 ranking, he had fallen out of the top 10. He has gradually found his way back to the top of the game and Friday's incredible win over Alcaraz suggested that he may have surpassed previous heights.
It may not be quite the same challenge as a few years ago when winning a major inevitably required a player to go through two of the big three players, but Medvedev is now charged with pulling off the toughest achievement in men's tennis this year. Two days after that incredible win over Alcaraz, in which he was spotless for four sets, he must now elevate his level again and beat a 23 time grand slam champion in a major final. Asked what he believes he can take from that victory two years ago, Medvedev said that Djokovic's loss there will only make him greater.
"I think the only way I can use it is, as I say, thinking that Novak, when he loses, he's never the same after," he said. "So he's different. It's just a different mentality. That's why he has 23 grand slams, whatever Masters 1000s, weeks at No 1. So I have to use it knowing that he's going to be 10 times better than he was that day. And I have to be, if I want to still beat him, 10 times better than I was that day. That's what I'm going to try to do."
As Medvedev tries to become a multiple grand slam champion, Djokovic is again in pursuit of 24. Should he win, he will be the oldest player to win the US Open in the Open era. After so many years of success, he says he is in a different mental space now, more conscious of the significance of these moments and aware that he does not know how long the good times will last.
"I probably value these occasions and opportunities to win another slam as more than I have maybe 10 years ago, because 10 years ago I felt like: 'Hey, I still have quite a few years ahead of me,'" he said. "I don't know how many I have ahead of me now, or I don't know how many of the years where I play four slams in the whole season do I have in front of me. So of course I am aware of the occasion. But I try to approach Sunday's match as basically any other match with intention to win, and I'll play my opponent."