The first episode of Match Officials Mic'd Up certainly wasn't short of talking points. From Michael Owen's typically wooden presenting skills to Howard Webb's admission that Nathan Aké's header for Manchester City against Fulham on Saturday should have been disallowed, the monthly 26-minute show produced by the Premier League that will be aired on Sky Sports and TNT Sports on Wednesday evening breaks new ground for the sport.
But while Webb – the chief refereeing officer at Professional Game Match Officials Ltd (PGMOL) – offers viewers an insight into some of the more controversial VAR decisions so far this season, it is the audio feed from Stockley Park that provides most of the entertainment.
1. VARs can 'overthink' decisions
"No way! It's like collisions, we don't give those." Perhaps it was Simon Hooper's insistence that Manchester United goalkeeper André Onana hadn't just clattered into the Wolves striker Sasa Kalajdzic that caused all the confusion for the VAR Michael Salisbury in one of the highest-profile gaffes seen so far. "I think because the Wolves player doesn't head the ball it's a normal collision as they have both challenged for the ball," was his verdict. Unfortunately for the officials, Webb and everyone else didn't agree over a decision that ultimately cost Wolves dearly in their 1-0 defeat. "He starts to go down the road towards recommending a video review but he sort of overthinks it a bit. Sometimes VARs can do that."
2. Handball is the hardest call
As Lewis Dunk will testify, the interpretation of the handball law remains a major issue four games into the new campaign. Webb acknowledged that the Brighton defender could consider himself hard done by after the harsh penalty given against him on the opening day but had no such sympathy for Sheffield United's John Egan after his indiscretion against Manchester City. "It's the area that always creates the most debate," said Webb. "We're trying to look at the situation on its own merits. It's a subjective call – have you taken that risk of moving your arm significantly away from your body?"
3. Learn from mistakes
Marco Silva was left fuming and even Erling Harland thought it was offside. Yet somehow the VAR deemed that Manuel Akanji had not interfered with play as Manchester City went 2-1 up against Fulham on Saturday after Aké's header was allowed to stand. "From the outset, I want to say this should have been disallowed," confirmed a stern-faced Webb, who has admitted he would have sent off the Netherlands midfielder Nigel de Jong for a studs-up challenge in the 2010 World Cup final had he been presented with a better angle at the time. On Aké's goal, Webb added: "Unfortunately it was not identified on the day and the learning from this will be shared from all of our group because we are looking to do better each and every week – and this was an error." Not that it does Silva much good after a 5-1 defeat.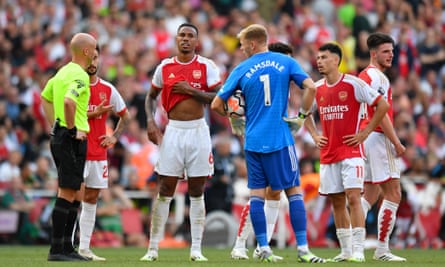 4. Don't mess with Howard
Since his appointment as the PGMOL's chief in August last year, Webb has been the driving force behind the idea of explaining decisions to the footballing public. He first appeared on the Premier League's in-house channel in a pilot episode of Match Officials Mic'd Up in May alongside Owen and went on Sky's Monday Night Football to talk Gary Neville and Jamie Carragher through five refereeing decisions across the 2022-23 Premier League campaign. As he showed when discussing the decision to overturn Alejandro Garnacho's goal against Arsenal for offside, the former policeman is not afraid to stick up for his team when they have been criticised, having admitted he had been "surprised by some of the comments after the game" in clear reference to the Manchester United manager, Erik ten Hag.
5. It's a breeze for Oliver
Maybe it was just the wind catching the effects microphone at Turf Moor that created the impression that he was stranded at sea in a storm. But Michael Oliver took the distraction in his stride when he was the VAR for Manchester City's victory over Burnley on the first night of the season, correctly deciding to upgrade Anass Zaroury's yellow card to a red after his challenge on Kyle Walker. "I reckon that's red, mate. Straight leg with the studs …" Having initially agreed with the referee, Craig Pawson, Oliver made full use of the angles at his disposal to reverse the decision in a cool and calculated manner.
6. Owen's finishing school
It's fair to say Owen's media career has had its ups and downs, with the highlight for many being his promotional helicopter tour of the United Arab Emirates back in 2009. "Are you buckled up and ready? Great – let's go and see Dubai." But despite his lack of natural charisma in front of the camera, that didn't stop BT Sport using the former Liverpool and Real Madrid striker as a pundit for most of the last decade for its Champions League coverage. Yet there is something about Owen's burgeoning on-screen relationship with Webb that adds to the overall Match Officials Mic'd Up experience. Take, for example, his serious facial expressions when discussing the decision to send off Virgil van Dijk in Liverpool's game against Newcastle and Webb takes him through Ifab's new laws concerning denial of a goalscoring opportunity. Now that's entertainment.