Key events
Half-time advertisement. Sign up now! Sign up now! Sign up now? Sign up now!
HALF TIME: Marseille 1-0 Tottenham Hotspur
This is no more than Marseille deserve. The hosts have been utterly dominant, and Spurs have paid the price for their lack of ambition. As things stand, the 1993 champions are heading for the last 16, and Spurs will be cashiered into the Europa League.
45 min +7: Kane creams a rising shot goalwards from 25 yards. Pau Lopez tips over, then punches the resulting corner clear. Hojbjerg shanks the dropping ball wide right, with the goal unguarded. Then the whistle goes for half-time. Pau Lorez is fuming, insisting he'd been obstructed while clearing his lines. But it doesn't matter now.
45 min +6: Spurs haven't reacted to the goal at all. They're really desperate to hear the half-time whistle now.
45 min +4: The Velodrome erupts. The roof is in danger of coptering off towards the Basque Country. In the stand, Antonio Conte looks thoroughly miserable. As things stand, his Champions League curse is set to continue, and Spurs are heading for the Europa League.
GOAL! Marseille 1-0 Tottenham Hotspur (Mbemba 45+2)
Harit bustles down the right. Sessegnon shepherds the ball out for what he thinks is a goal kick … but the referee awards a corner. Marseille take it short, Harit to Veretout. Then Vertout whips it to the far stick, where Mbemba rises and absolutely batters a downwards header past Lloris and into the bottom-left corner. Unstoppable! That, it is fair to say, had been coming.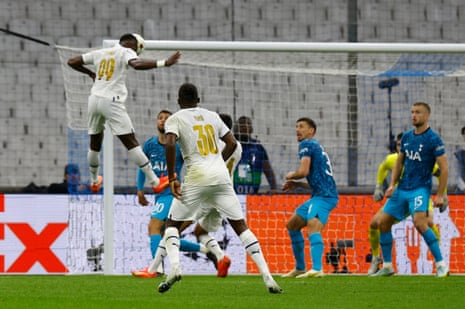 45 min: Spurs can't get out of their final third. They keep gifting the ball to Marseille, allowing the hosts to probe this way and that. The noise in the Velodrome is cranked up. Spurs are hanging on. There will be seven extra first-half minutes.
43 min: A corner for Marseille on the left. Gigot beats the flapping Lloris but heads over the bar. Marseille soon come straight back at Spurs, Tavares crossing from the left, Guendouzi can't connect in the middle and Sessegnon clears. Spurs could do with hearing the half-time whistle.
42 min: In the other Group D match, Sporting have taken the lead against Eintracht. Arthur Gomes on 39 minutes. As things stand, they're going through as group winners.
40 min: Spurs continue to sit deep. Guendouzi hovers and probes. Spurs hold their shape. "They can't keep playing like this," sighs a worried Glenn Hoddle on BT Sport.
38 min: Kane busies himself down the left and earns Tottenham's first corner of the evening. Pau Lopez, formerly of Spurs without ever turning out for the first team, punches Perisic's delivery clear, earning a free kick for obstruction while doing so.
36 min: Lloris takes his sweet time over a goal kick. The home fans give him the pantomime bird. Expect more of this. You can't blame Tottenham, everyone would do the same.
35 min: Sessegnon and Moura combine on the edge of the Marseille D before slipping the ball wide left for Perisic, who fizzes an extremely inviting ball through the six-yard box. But Kane is inexplicably not there, and then the flag pops up for an offside on Moura anyway. The most dangerous Spurs have looked so far.
34 min: Marseille have enjoyed 62 percent of the possession, and now have forced Lloris into a second save. On the balance of play, Spurs will be pretty happy with this outcome.
33 min: Mbemba crosses from the right. Sessegnon tries to clear but doesn't really connect with his attempted volley. The ball breaks to Veretout, who takes a touch to shift the ball to the left, then pearls a shot across Lloris and towards the top right. Lloris, at full stretch, parries marvellously away for a corner, from which nothing comes.
31 min: The four-minute pause for the injury to Son has disrupted the flow of the match. It's all a bit disjointed right now.
29 min: The departed Son is replaced by Yves Bissouma.
28 min: Nope. Poor Son, his shoulders hunched and head hanging low, is helped off the pitch. He walks extremely gingerly down the tunnel, assisted by the doctor. God speed.
27 min: The physio has taken a good couple of minutes looking at Son, who is down on his haunches and staring into the distance rather vacantly. He surely won't be allowed to continue.
25 min: Son is down having taken an accidental whack upside the head in an aerial challenge with Mbemba. He looks really groggy. Mbemba's shoulder connected with his cheek. That will have been a sore one.
23 min: Spurs are struggling to play their way through the Marseille press and out of their final third. They've not enjoyed much in the way of possession so far.
21 min: Veretout crosses deep from the left. Clauss chests down and shoots across the face of goal and wide of the left-hand post. Lloris had that one covered, but the hosts continue to dominate, and Spurs are living a little dangerously here.
19 min: Tavares finds Sanchez with a pass down the inside-left channel. Sanchez has his back to goal, but spins away from Davies and shoots in one smooth motion, the ball sailing towards the top left. Lloris parries out for a corner, from which nothing comes. A fine effort by – let's face it, this is going to be the story if he scores – the former Arsenal man.
17 min: Dier flings a throw across the face of his own box towards Lenglet, who just about clears under pressure from Sanchez. Marseille claim the ball hit Lenglet's hand, but there's nothing doing. Davies bombs down the left wing at full speed on the counter, but his attempt to release Perisic with a ball down the channel sails out for a goal kick. It's not much, but at least Spurs have now shown themselves in attack.
15 min: Harit, quarterbacking from deep, nearly finds Sanchez with a forensic ball down the middle. Davies does extremely well to read the danger, intercepting and clearing as Sanchez prepared to take up possession just inside the box.
13 min: Tavares barrels down the left and is nearly upended by Sessegnon. Tavares stays on his feet only to be brought down successfully by Sessegnon's second attempt. Free kick just to the left of the Spurs box. Everyone lines up ten yards from goal. Veretout's delivery fails to beat the first man and Spurs are able to blooter clear.
11 min: Marseille are first to everything right now. Kane, already showing signs of frustration, pointlessly clips Veretout and gives him the eyes as he gets back up. A hard stare. Paddington would be proud.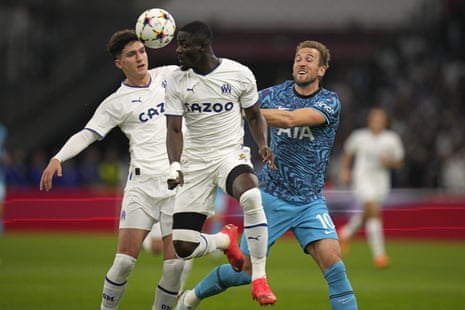 9 min: The injury plagued Bailly goes down. Then gets up and sadly limps off. Samuel Gigot comes on in his place.
8 min: Sanchez drags a speculative shot wide left from 25 yards. Spurs are presumably scheduled to arrive soon.
7 min: Guendouzi pops up on the left now, his prompting sending Tavares into space down the flank. Tavares digs out a cross that proves easy pickings for Lloris. This is all Marseille, and the noise is ear-splitting.
5 min: Guendouzi makes more ground down the right. He slips Clauss clear on the overlap. Clauss skitters along the byline and has team-mates waiting for the cutback, but instead threads a strange ball straight at Lloris, who will be thankful for the gift. Spurs need to wake up and quick.
3 min: Harit dinks a low cross into the Spurs box from the left-hand edge of the area. Sanchez stoops and guides a header across Lloris and inches wide of the bottom right. Had that been on target, Lloris was beaten. A lovely effort.
2 min: Guendouzi drives down the right and crosses deep. Tavares tries to control on the left-hand corner of the six-yard box, but can't do so under pressure from Dier. Spurs clear their lines.
Spurs get the ball rolling. One hell of an atmosphere! Warm but not particularly welcoming. That Riviera touch!
The teams are out! As home team, Marseille get first dibs on white shirts, so Spurs run out in third-choice "rift blue and mystic navy … inspired by Tottenham's ever-evolving DNA and the popular Nike TN sneaker range." So there you have it. Dare, yeah dare, to do it your way. The Vélodrome is bouncing, even without fans on the Visage Nord, a legacy of incidents involving Marseille fans when they played Eintracht Frankfurt in September. We'll be off once the desecration of Zadok the Priest is complete.
No word from Antonio Conte for obvious reasons, so assistant coach Cristian Stellini – looking and sounding relaxed and confident – speaks to BT Sport instead. "The routine doesn't change. We prepared with Antonio until we arrived here, and the dressing room is quite calm. We are motivated and ready to play this match. We slept very well last night, we enjoyed the fireworks, but they were a bit short! We do many changes every game because the schedule is tough, but every game our choice is to win, and we select to win. Marseille mix quality with intensity. We have to be tough, win duels, and we'll see."
Spectacular pre-match pyrotechnic display.
Tottenham make four changes to the starting XI selected for the 3-2 comeback win at Bournemouth on Saturday afternoon. Ivan Perišić, Eric Dier, Rodrigo Bentancur and Lucas Moura return, with Davinson Sánchez, Oliver Skipp, Yves Bissouma and Emerson Royal dropping to the bench.
Marseille have got some familiar names in their starting line-up. Alexis Sánchez, Mattéo Guendouzi and Nuno Tavares are formerly of Arsenal, while Eric Bailly is on loan from Manchester United. The mercurial Dimitri Payet, late of West Ham, is on the bench alongside former Leicester winger Cengiz Ünder and another erstwhile Gunner, Sead Kolašinac. A rare old Premier League reunion.
Marseille: Pau Lopez, Mbemba, Bailly, Balerdi, Clauss, Rongier, Veretout, Tavares, Guendouzi, Harit, Sanchez.
Subs: Ngapandouetnbu, Gigot, Gerson, Payet, Suarez, Under, Kolasinac, Kabore, Blanco.
Tottenham Hotspur: Lloris, Lenglet, Dier, Davies, Sessegnon, Bentancur, Hojbjerg, Perisic, Lucas Moura, Kane, Son.
Subs: Doherty, Skipp, Sanchez, Gil Salvatierra, Emerson, Forster, Spence, Tanganga, Sarr, Bissouma, Austin, White.
Referee: Szymon Marciniak (Poland).
Last week this happened …
… and now Spurs need a point from their final match at Marseille if they're to make it through to the last 16. Kick off is at 8pm GMT. It's on!