The Brazilian Football Confederation and Manchester United are facing calls to axe the £84m forward Antony after the player's ex-girlfriend made serious allegations against him of physical assault, including that he threatened to kill her and attacked her with a glass.
The Brazilian website UOL reported the accusations – which Antony called "false" – on Monday, a fortnight after Mason Greenwood was forced to leave Manchester United despite rape charges against him being dropped and as Brazil's Seleção prepared for World Cup qualifiers against Bolivia and Peru. Antony is one of seven forwards in Brazil's squad.
UOL's exposé contained a series of serious allegations from Gabriela Cavallin, a DJ and social media influencer with nearly half a million Instagram followers. Antony and Cavallin became a couple in 2021, before his 2022 move from Ajax to Manchester United.
Cavallin, who provided UOL with photographs and WhatsApp messages, alleged the São Paulo-born player had first attacked her on 1 June last year, when she was pregnant with their child and on holiday in Brazil. She claimed Antony, who is 23, became angry after spotting her in a nightclub he was also at, and "put her in the car, repeatedly assaulted her and threatened to throw her out of the car at high speed".
Cavallin told UOL: "He said that if I wasn't going to be with him, I wouldn't be with anyone … I was shaking with fear."
A second alleged attack allegedly took place in Manchester on 15 January this year – one day after United's 2-1 victory against Manchester City. According to the report, it left Cavallin needing medical attention in her room at the four-star Hyatt Regancy hotel. "He punched me in the breast and my silicon [implant] flipped over," she told the website, adding: "He said, 'I didn't mean to hurt you, it was an accident, it wasn't a punch – I just held you against the wall.'" A photograph showed what Cavallin said was a head wound she had sustained in the attack.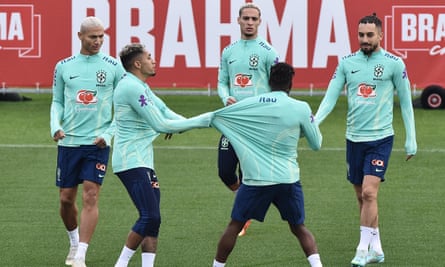 According to UOL's report, a third alleged attack took place on 8 May this year when Cavallin claims the player "tried to attack her face with a glass" during an argument. While trying to defend herself, Cavallin said she had suffered a deep wound to a finger on her right hand which left the bone exposed. As she scrambled to book a flight back to Brazil to get away from the player, Cavallin wrote a message to the travel agent – provided to UOL – that said: "I need to get out of here before he kills me."
The accusations – which have been reported to police in São Paulo and Manchester – sparked outrage in Brazil and calls for the player to be removed from the national team while police conducted their investigations.
Paulo Vinícius Coelho, one of Brazil's top sportswriters, said he believed Antony should be arrested as well as axed from the Brazil squad. "The justice system must do its part," Coelho wrote on his blog.
Another sportswriter, Danilo Lavieri, said Brazil's interim coach, Fernando Diniz, had no choice but to axe Antony. Diniz has admitted publicly that he did not include West Ham's Lucas Paquetá in the squad because of a Football Association investigation into potential betting breaches. Not leaving Antony out would send a "dangerous message" that one case was less serious than the other, Lavieri wrote.
In a statement, Antony said: "I can say with tranquility … that I am innocent of the accusations that have been made. My relationship with Ms Gabriela was tumultuous, with insults [made] on both sides, but never did I commit any act of physical aggression."
The Manchester United player claimed his accuser had repeatedly changed her story over the alleged attacks. "Therefore, I vehemently deny these accusations and [would like] to make it clear that I remain willing to clear up whatever is necessary to Brazilian authorities."
Other WhatsApp messages provided to Brazilian news outlets by Antony's former girlfriend painted the player in a toxic light. "You and me are done. I hope you die. Get fucked," he wrote in one message. In another WhatsApp message the footballer appeared to apologise for "kicking and attacking" Cavallin.
In a statement to the Telegraph, Greater Manchester Police said it was "aware of the allegations made and inquiries remain ongoing to establish the circumstances surrounding this report. We will not be commenting any further at this time".