Key events
49 min: Hemp does not quite back up to full fitness after her injury absence, she is slipped in as City break but Batlle stands up the England international, forcing the winger away out of the United box and away from danger.
48 min: There are jeers from the visiting fans as Yui Hasegawa needlessly puts the ball out of play. Bright start from United, City need to sharpen up if they are to find a way back into this.
The teams are back out for the second half…
Moving the Goalposts, the Guardian's free women's football newsletter, brings the best of the game to your inbox every week. You can sign up via the form in this extract from Megan Swanick's interview with US international Sophia Smith. Did I already mention that it is free?
Half-time: Manchester City 0-1 Manchester United
United deservedly lead at the break. The away side have had the better of the chances and Galton's goal is the difference at this stage.
46 min: Into an additional two minutes of added time and Parris agains shows some lovely footwork to create a chance for Hayley Ladd, but the midfielder lashes her effort high and wide.
43 min: Parris almost finds Russo in the box with a cute pass after some neat footwork on the left. I think Russo would have been ruled offside but as it is the pass is just out of reach.
39 min: Castellanos fires a low drive 25 yards, it is a good one but Earps is more than equal to it and gets everything behind it gather the ball safely.
35 min: Toone is getting more and more space, which is bad news for City. This time she drives forward to the edge of the City box but her shot is a poor one and dribbles wide.
33 min: Ouahabi saves City with a wonderful saving challenge to deny Parris. Russo had clerverly freed Blundell down the left and the full back's ball into the past of Parris looked a good one, but the Spanish international tracked it all the way and slid in to clear.
31 min: Russo gets her first sniff of goal as she's found in the box by Toone's smart backheel. The striker's left-footed shot drifts harmlessly wide.
29 min: City respond with Hemp and Shaw swapping passes on the edge of the United box. Hemp's first-time shot is comfortable enough for Earps to deal with.
Goal! Manchester City 0-1 Manchester United (Galton 27)
When I said Toone would be key I did not know she would prove me right so quicky. It is a lovely goal for United as Toone combines with Galton to drive into the City box. Toone cuts the ball back to her teammate from the left-hand side of the box, Galton's shot gets a handy deflection to beat Roebuck.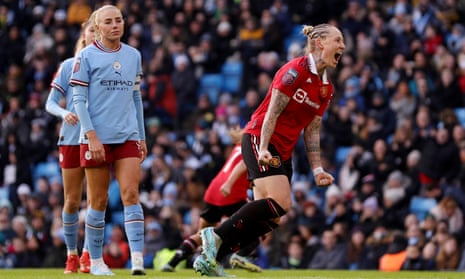 25 min: Toone looks like the United player most capable of unlocking City's defence. The Lioness gets time turn and find a pass into the path of Parris, but Leila Ouahabi battles back well to snuff out the chance.
22 min: Chance from nothing! Hemp makes a burst down the City and puts in an early ball that Deyna Castellanos gets a toe on, but it just goes wide.
19 min: Now it is United's turn to enjoy a period of sustained pressure. First Galton, then Batlle get balls into the box which panic the City defence and force a corner. Roebuck stays strong to claim Zelem's dangerous ball.
15 min: Shaw looks really dangerous. She is clearly confident with eight goals so far this season and looks to be in the mood today. The Jamaican striker gets to the byline on the City right and pulls the ball back for Chloe Kelly, but Hannah Blundell nips in at the key moment.
11 min: Galton turns the ball over in the final third for United and Ellie Roebuck is called into action for the first time to collect the resulting cross.
9 min: United clear the initial corner but as the ball is hoisted back in it all gets a bit messy on the edge of box. City get another chance to put the ball in the box from a corner. Two great set pieces back-to-back from Greenwood have Mary Earps under pressure but United manage to clear.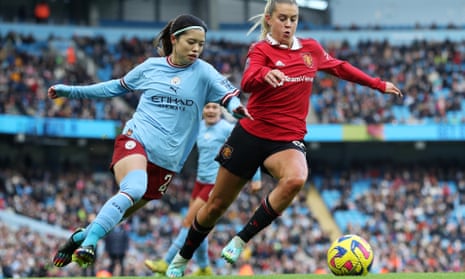 6 min: Shaw drives City upfield with a powerful run from her own half. The move breaks down but Shaw picks up the pieces and wins a free-kick for her side 25 yards out. Alex Greenwood's effort canons into the wall and out for a corner.
4 min: There is a smart turn from Toone just inside the City half but her through ball towards Russo lacks precision an is easily cut out. Brief moment of excitement for the crowd with that little moment of quality.
3 min: Patient start from United, who are able to control the ball for the opening minutes without getting into anything resembling a dangerous position.
1 min: We are underway at the Etihad.
The teams are out, kick-off is imminent…
There will be around 42,000 fans at the Etihad today, short of WSL attendance record but another big gate to add to growing collections this season. The FA recently revealed that top-flight attendances are up 200% on the numbers from this stage of last season.
Encouraging youth participation is also on the rise after the pandemic. There are now 100,000 more girls playing football than there were five years ago, according to an annual survey of children's fitness by Sport England:
Julie Blakstad isn't in the City starting XI today, but the midfielder has a busy few days ahead. After today's derby against United, she will have to switch off, whatever the outcome, as she sits exams for her master's degree in engineering on Monday.
Ahead of today's game the Norwegian spoke to Suzy Wrack:
After trouncing Aston Villa 5-0 last weekend, Skinner keeps the same starting XI for this one. Russo has scored in each of her last three matches and will lead the line with support from the trio of Toone, Nikita Parris and Leah Galton behind.
City bring in Lauren Hemp for Julie Blakstad as the only change from their 3-1 win over Brighton in the previous matchday.
Manchester City: Roebuck, Casparij, Aleixandri, Greenwood (C), Ouahabi, Hasegawa, Castellanos, Coombs, Kelly, Shaw, Hemp
Subs: MacIver, Stokes, Houghton, Fowler, Angeldahl, Raso, Morgan, Kennedy, Blakstad
Manchester United: Manchester United: Earps, Batlle, Le Tissier, Turner, Blundell, Ladd, Zelem (C), Parris, Toone, Galton, Russo
Subs: Baggaley, Thorisdottir, Tounkara, Boe Risa, Moore, Staniforth, Lucoa Garcia, Thomas, WIlliams
Since earning promotion to the Women's Super League in 2019 Manchester United have not beaten their city rivals. In that time Manchester City have beaten United three times and played out two draws.
None of this is a surprise. City have been WSL force for far longer than United, but this season there is a growing sense that the red side side of Manchester can truly challenge. Marc Skinner's side are two places ahead of City in the league, sitting second, and have a number of England internationals in their ranks who could form a solid core around which to build for the years ahead. Household names such as Alessia Russo and Ella Toone are accompanied by experienced internationals from overseas.
For a long time that squad makeup was the hallmark of City's identity, but they are rebuilding under Gareth Taylor having lost Keira Walsh, Lucy Bronze and Georgia Stanway to big moves overseas and Ellen White's retirement following Euro 2022. After a slow start City are beginning to find form. Powered up the table by the goals of Jamaica international Khadija Shaw, a win in front of at least 42,000 fans at the Etihad will see City overtake United in the WSL table heading into the winter break.