I was totally aghast when Luis Rubiales grabbed Jenni Hermoso's head and kiss her on the mouth as Spain collected their World Cup winners' medals in Sydney. Yet if it was truly shocking to see such brazen behaviour unfold on the biggest stage, that moment was also, sadly, all too typical of the way women across the world are often treated in the game's shadows.
Far too many players can tell you stories of organisations, clubs and coaches with seedy undertones. Over the years, playing in different countries, I've seen, heard and experienced enough not to be surprised by Rubiales's audacity in thinking he could get away with it. In his world, as president of the Spanish Football Federation (RFEF) and, let's not forget, a Uefa vice-president, this is clearly normalised behaviour.
Indeed, he is merely a sad symbol of a much bigger, systemic problem. Last Friday, Rubiales addressed an emergency meeting of Spanish federation delegates but rather than apologising to Hermoso and expressing regret for ruining the biggest moment of the Spain players' careers he painted himself as the victim of a witch-hunt.
As he kept reiterating his refusal to resign Rubiales – now suspended by Fifa – drew loud cheers from several delegates. Those applauding him included Jorge Vilda and Luis de la Fuente, the managers of Spain's women's and men's teams respectively. I found that quite sad.
Both men have since performed volte faces and condemned the kiss, while on Monday the Spanish football federation's regional presidents demanded that Rubiales immediately resign, but it's hard to forget that they clapped Rubiales and that Vilda had been kept in his job in the face of long-running player complaints regarding his allegedly controlling behaviour.
Perhaps only Rubiales could have been sufficiently brass-necked to unmask his true self on such a grand platform in the full glare of the world's cameras, and alongside Spain's wonderfully dignified Queen Letizia, but his cheerleaders have been enablers. Their complicity facilitated Hermoso's excruciating discomfiture. It dictated that even as she and her outstanding teammates beat England a certain type of man, with a certain attitude towards women, continued to undervalue them.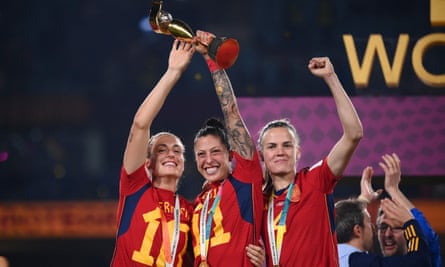 Rubiales's lack of respect for Hermoso and crude crotch-grabbing gesture in the VIP box reflected the patronising, often controlling, male mindset women in almost every industry, and from every part of society, recognise instantly. One of the reasons why this incident has resonated so deeply and so widely is that you did not have to be a footballer – or even a football fan – to know how Hermoso must have felt.
Women everywhere instinctively understood the syndrome and their reaction was visceral. Such overt discrimination may be extremely rare in the public glare but, behind closed doors, it remains widespread. Accordingly, Rubiales's threat to initiate legal action over Hermoso's alleged "lies" will doubtless have rung a few bells
Confirmation of a systemic problem within the Spanish federation arrived when Hermoso's assertion that the kiss had most definitely not been consensual was dismissed, the Spanish federation promptly issued a statement claiming Rubiales "had not lied", augmented by video footage showing images of Hermoso apparently lifting his feet off the ground. Talk about an organisation showing full-blown symptoms of extreme dysfunction.
What particularly concerns me is Uefa's failure to act. It refused the federation's request to suspend it from international competitions because of government interference over demands to remove Rubiales from office but why is it not investigating the conduct of one of its vice-presidents? Europe's governing body may claim this is a Fifa matter and they do not want to tread on its toes, but that simply doesn't wash.
Uefa should be involved. Quite apart from Spain players telling me there have been serious problems behind the scenes in regards to the women's team for years, similarly dismissive attitudes to female players exist in Europe and beyond. If the logistical problems countries such as Colombia, Nigeria and Jamaica experienced in the build up to the World Cup represent one example, the US team's long fight for equal pay reflected the lack of appreciation for a national squad infinitely more successful than their male counterparts.
Too many national federations do not create atmospheres where potential misconduct is properly interrogated and players feel comfortable enough within to raising concerns. Look at the Football Association's initial failure to hold a properly independent investigation into Eniola Aluko's complaints against the former national team manager Mark Sampson.
In my experience, problems with sexism, racism and homophobia often arise in organisations lacking diversity at boardroom level. Unfortunately, football has a shortage of not only black executives but senior women. The good news is that there are plenty of men in the game who value women's involvement football and treat us as equals.
I'm lucky enough to have experienced working as first-team coach at Bristol City where Lauren Smith's side share a fabulous open-plan training facility with the men's set up and the men's team manager, Nigel Pearson, and his staff are fantastically welcoming. It's a friendly, harmonious arrangement, provoking plenty of exchanges of ideas; it feels entirely normal for male and female footballers to work alongside each other.
Sadly, that's not the case when powerful, controlling, unchallenged football men undervalue women.