As the rest of the top 100 tennis players moved on from the clay courts of the French Open to the lawns of Wimbledon and beyond, Jack Draper was nowhere to be seen. During his first-round match against Tomás Etcheverry in Paris at the end of May, he had picked up a problem with his left shoulder that forced him to retire from the match, yet another injury in a season defined by them.
The minor setback that he anticipated would be resolved by the time he stepped on to the grass turned out to be a major injury. Instead of competing at Wimbledon, Draper spent each day arriving at the National Tennis Centre early, doing two fitness sessions a day while having to remain incredibly patient through rehab as he saw minimal progress because of the seriousness of his injury.
"Every day was sort of groundhog day, getting up and going into training and making sure we do the best to have a great day – listening to a lot of David Goggins," Draper said thisweek. "Just trying to motivate each other and get back to where we are, around people who are going through the same struggles and have the same sort of paths. I think, for a tennis player, it's very important. So I was lucky during that period."He was accompanied each day by another British player, one of his best friends, Paul Jubb. The pair moved in together this year just before, by coincidence, Jubb sustained an ankle injury. As both missed the grass-court season, they supported each other through their recovery processes.
"It was about time that I learned how to wash my clothes and start cooking and stuff. So we've been giving each other food poisoning," Draper said, smiling, on leaving home. "But nah, it is amazing. He's one of my best friends, closest friends and we keep each other just right, you know? If one of us says 'I want to go and do this', it's like, 'Ah, no, no, no. Stay. You've got training tomorrow.'"
From those frustrating early days of summer, Draper is in the fourth round of a grand slam tournament for the first time with a shot at achieving even more.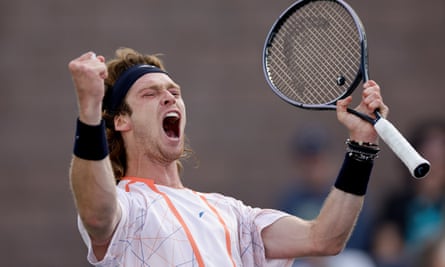 The past week has been indication of the increasingly complete game the 21-year-old possesses. After sustaining another shoulder injury that forced him to withdraw from the Winston-Salem Open and left his US Open in serious doubt a week before it began, Draper has been forced to temper his first-serve speeds and focus instead on hitting his spots. So far, he has dropped just three games on his serve.Along with the serving and easy power from his 6ft 4in frame, Draper moves very well and has developed the ability to quickly flip defence into attack. He is comfortable at the net and, although his heavy lefty forehand can sometimes drop short when not fully confident, he has immense potential off both of his groundstrokes. Big servers are often less good at returning serve, but Draper has proved himself an extremely proficient returner and, in the first week, he has won a strong 33% of his return games.
"I think it goes without saying it is obviously always a worry at the minute about his physical state, especially after Winston-Salem. But if he's fit, there's no worries about his tennis," Dan Evans, his compatriot, said on Saturday.
Standing between Draper and a spot in his first grand slam quarter-final will be his biggest challenge yet, Andrey Rublev, the eighth seed, who narrowly beat him 7-5 in the third set in Madrid last year but left their encounter convinced Draper has all the tools to be a top player. There are no worries about his tennis. Whether the world No 123 can keep this excellent run going by beating Rublev, one of the fittest players on the tour, will rather rest on his ability to be physically resilient across an intense best-of-five-sets match at the very highest level, for as long as it takes.