Key events
It's another excellent Leicester goal. This time it was made by Maddison, who considered his options and then swept a fast cross towards Daka, 10 yards from goal. He improvised beautifully, flicking the ball behind his standing leg and past Henderson at the near post.
GOAL! Leicester 4-0 Nottm Forest (Daka 73)
Patson Daka makes it four with a lovely finish!
71 min Soumare is booked for pulling back Mangala. This is a decent spell for Forest, relatively speaking.
71 min "Before tonight, I was still harbouring a dash of hope that Forest would stay up," says Matthew Turland. "That dash has now been reduced to a soupçon. But it would disappear completely if we sack Cooper. I get the impression that a few of the signings were made with the possibility of relegation in mind. Williams, Dennis, O'Brien and Toffolo for example so keep the man in charge to get us out of the Championship again. If we go down. Which we probably will. But I'm still being poisoned by hope."
70 min An outstanding run from Brennan Johnson, who beats four players before the last man Soumare comes across to concede a corner.
69 min The disappointing Jesse LIngard is replaced by Orel Mangala, who immediately hands a note to Ryan Yates.
67 min After a long passing move from Leicester, Maddison turns Freuler on the edge of the area before shooting well wide with his left foot.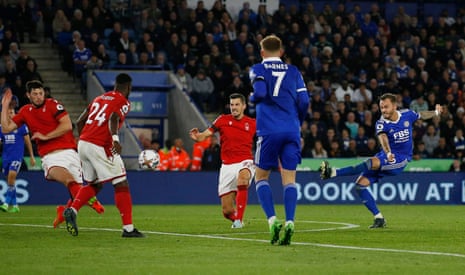 65 min Dennis misses a one-on-one, though the flag went up after the event. He was well offside.
64 min Lingard is booked for a high challenge on Justin.
62 min Forest bring on Emmanuel Dennis for Taiwo Awoniyi.
61 min Maddison is in a lot of pain after a challenge from Lodi. I don't think it was deliberate – Lodi seemed to fall onto the back of Maddison's leg. While he receives treatment, Patson Daka replaces Jamie Vardy.
61 min A bit of a quiet spell. Forest are readying to more substitues.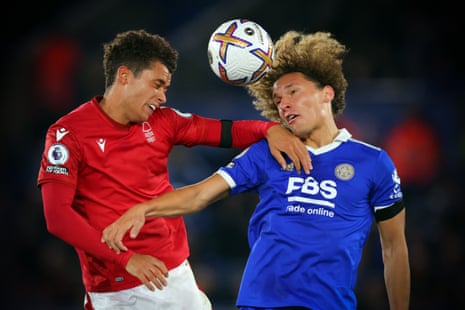 60 min A win was the most important thing for Leicester, but they'll also be desperate for a clean sheet after all the defensive problems they've had. In fact I think they've only kept four clean sheets in the league in 2022.
57 min Castagne goes down holding his jaw after running into Yates's elbow. He's fine to continue.
55 min The VAR check is complete – no penalty. I'm slightly surprised at that.
54 min Castagne's flat cross is met on the run by Barnes, whose acrobatic, cushioned volley hits Cook and deflects over the bar. It hit his hand, in fact, and this might be a penalty.
52 min: Good save by Ward! Awoniyi marches through on goal, onto a long clearance from McKenna. Ward is caught in no man's land but ends up making a good diving save right on the edge of the area. The ball rebounds to Johnson, who can't control it on the stretch. Had he done so, he'd have had an open goal. Awoniyi probably had more time, too, and could have floated the ball over Ward.
52 min "When was the last time a team was promoted with such a universal buzz and sense of positivity about them?" says Matt Dony. "Maybe Leeds, but only because of Bielsa (that Dirty Leeds tag is hard to shake). It seemed like absolutely everyone was excited to see Forest in the top flight. Now, I don't want to sound hyperbolic, but it feels like they are disappointing the entire football community. They're letting you down, they're letting me down, they're letting everyone down. Neco Williams will still be a star, though."
They'll also lose a lot of goodwill if they sack Steve Cooper tomorrow.
51 min Maddison's corner ricochets around the area and is scooped over the bar by Faes. That wasn't a bad chance.
49 min "Not just the full-backs," says Kári Tulinius. "What struck me especially now was how poor Kouyaté was. He was so good for Senegal and Crystal Palace. But yes, Williams and Lodi are also nowhere near how good they have been in the past."
I don't know how you can expect to succeed with almost an entirely new squad. The Premier League is hard enough for promoted teams anyway.
48 min "So," says Rob Hisnay, "moving to Forest doesn't look like a good career move for Lingard and Henderson."
Henderson will be fine but you fear for Lingard. He turns 30 in December, the day after the second World Cup semi-final, and it feels a long time ago that he played in a semi-final himself.
47 min Barnes curls a low shot towards the far corner that is comfortably saved by the diving Henderson.
46 min Peep peep! Leicester have made a half-time change as well, Boubakary Soumare for Wilfred Ndidi.
Forest are making a triple substitution. Serge Aurier, Ryan Yates and Remo Freueler are on for Lewis O'Brien, Cheikhou Kouyate and Neco Williams.
"Our defenders knew each other from last season," says Simon Frank. "Maybe we should sign some new ones (yawn)."
I assumed he meant the full-backs. I do have a bit of sympathy for Forest – they had to sign more new players than most because of all the loans last season, not to mention the demands of the Premier League. But this is all a bit of a mess, and it'll be even worse if they sack the manager.
Half-time reading
Half time: Leicester 3-0 Nottingham Forest
Leicester are on course for their first victory of the season after a joyous first half at the King Power Stadium. The inspirational James Maddison scored twice, either side of a beauty from Harvey Barnes, in an increasingly one-sided half. Forest had a big chance at 0-0, when Taiwo Awoniyi hit the post, but there are no hard-luck stories here.
43 min Leicester break dangerously down the right, with Vardy's cross put behind by Lodi. Maddison's corner isn't the best.
39 min Lingard has a chance to get one back for Forest, but he takes one touch too many and his shot from 15 yards is blocked by Tielemans. The chance came after a terrific, driving run from Johnson in the inside-right channel. He squared it to Lingard, who was a bit too indecisive.
38 min "Clearly the big takeaway from Forest's return to the Premier League is don't try to buy an entire new squad over the summer," says Kári Tulinius. "However, the defenders still play as if they met five minutes before the game started. There should be some coherence after two months."
36 min That's Maddison's 50th goal for Leicester. I could happily watch him play football (and do post-match interviews, for that matter, because he's equally great at those) for the rest of my days.
It was a brilliant free-kick from Maddison, curled across goal and into the net via the inside of the post. Maddison is such an infectious, stylish footballer, and he has been irresistible tonight.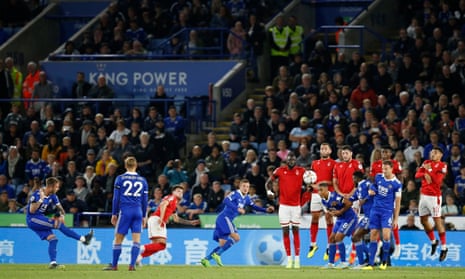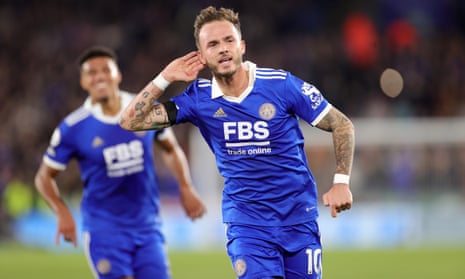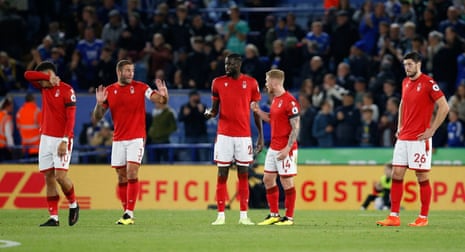 GOAL! Leicester 3-0 Nottm Forest (Maddison 35)
James Maddison is a joy to watch!
34 min"I was fully expecting Maddison to break out his patented darting celebration considering the darts World Grand Prix is taking place as we speak fewer than three miles down the road from the King Power Stadium," says J.R. in Illinois. "How disappointing."
Ssssssssssshhhhhhhhhhh! I want to watch that on delay when this is over.
33 min Dewsbury-Hall surges forward and is fouled on the edge of the D by Kouyate. He's booked. Forest are getting a bit of a chasing here.