Gareth Southgate has revealed that he has twice needed to talk Kyle Walker out of international retirement – after the European Championship finals in 2021 and the World Cup last year.
Walker starred in England's 1-1 Euro 2024 qualifying draw against Ukraine on Saturday in the Polish city of Wroclaw, scoring the equaliser – his first goal for his country at any level – and defending with supreme assurance, particularly against the pace of Mykhailo Mudryk.
It was his 77th senior cap and afterwards Jordan Pickford called him the best right-back in world football; the quickest, too. Walker, though, would not be enjoying another tournament campaign if it were not for the heart-to-hearts with Southgate.
"I've talked him [Walker] out of retirement twice," the England manager said. "After the Euros and after the World Cup. I think he loves being here, he's wanted to keep going and now he's thinking about how many caps he can get. He's critical to us. If we're talking about world‑class players in their position in our team then he's probably one of them. I think he didn't realise how much value we have for him and how important he is for us."
Walker made his senior England debut under Fabio Capello as a 21-year-old in the 1-0 friendly win against Spain in November 2011. In the summer of that year he had been in the Under-21s squad at the European Championship. In the summer of 2019 he was away with the Under-19s at the European Championship finals.
Walker's England career looked to be over when he spent 15 months out of the team after the Nations League finals in June 2019. When he returned against Iceland in September 2020, he was sent off and suggested he really could be done. Southgate stood by him but after each of the previous two tournaments, Walker worried about the continued levels of sacrifice and the competition in his position from Trent Alexander‑Arnold, Kieran Trippier and Reece James.
"Obviously, in a moment, at the time that me and Gareth spoke, the likes of Trent, Tripps, Reece James coming through … you do think your days are numbered," Walker said. "And to sacrifice how many holidays and summers that I've sacrificed? I've been doing this since I was 19. I'm 33 now.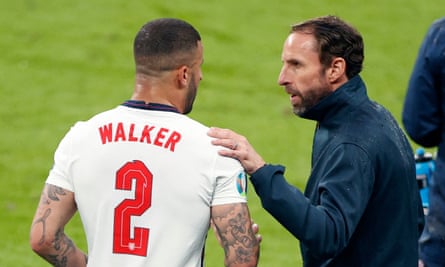 "Me and Gareth have a good relationship off the field. We do speak and I feel that I can still bring something to the team. So why stop?"
Walker considered his club future at Manchester City over the summer and again had to be talked around by his manager. He was close to going to Bayern Munich, having agreed personal terms on a two-year deal, but Pep Guardiola offered him reassurances over dinner in Manchester in early August. Walker has now agreed a new three‑year contract at City.
Walker, who was outstanding against Kylian Mbappé in England's World Cup quarter-final defeat by France last December, played superbly against Vinícius Júnior in both legs of City's Champions League semi-final win against Real Madrid last season. He was devastated to be left out of the starting XI for the final against Internazionale, although he did come on as a late substitute in the 1-0 victory. After the injury to Kevin De Bruyne, Walker has been City's interim captain in the early weeks of this season and he hopes to be voted into the role full-time.
"Kyle has got better with age," Southgate said. "Not only playing but also around the training, the way I hear him speak when he's interviewed, his influence on the group, the younger players. He's become a really mature leader for us. I think he's enjoying the extra responsibility he's had at his club and I know he's ready to embrace that with us as well.
"Mudryk has not hit the heights yet in the Premier League [with Chelsea] but he's a bloody dangerous player. Kyle's ability to control those counterattacks was critical. It was his all‑round game. He showed great composure in a position where you don't always find it."
Pickford said: "Kyle is the best right-back in the world. His pace against Mudryk, who is absolutely rapid … games against Mbappé, his defensive stuff. He has got to be the quickest, hasn't he? There is no doubt."
Southgate is looking forward to the friendly against Scotland at Hampden Park on Tuesday and he said that the Football Association was still interested in securing the international allegiance of Elliot Anderson. The 20-year-old England-born Newcastle midfielder also qualifies for Scotland and he was given a first senior call-up by them for this window only to withdraw through injury.
"We liked him and we do like him," Southgate said. "He was called into their squad and I don't know what the position is at the moment. I saw he's pulled out. Let's see. That's something that John [McDermott, the technical director] and others at our organisation will be picking up. He's definitely a player we like."