Some things in life are guaranteed. Manor Solomon, given the chance to run at an opponent, will cut infield into his right foot. James Maddison, challenged in the box, will go to ground, sit up and spread his arms while looking plaintively at the referee. And Tottenham, just as optimism is beginning to sprout, will find a way to lose. Or will they?
Perhaps this is the true measure of what Ange Postecoglou has achieved: it took 15 minutes of injury-time, but from somewhere Spurs found two late goals to win a game that had seemed lost.
And so the scene, when the final whistle was blown, was of extraordinary jubilation, players swinging off the crossbar, a crowd in raptures and Postecoglou being serenaded with a mass singalong to Robbie Williams.
It was probably all a bit much for a 2-1 victory over Sheffield United, but this was about as far from a regulation win as it is possible to get; no side has been behind later in a Premier League game and gone on to win.
The most remarkable aspect of the comeback, though, was not even its lateness, but that it was sparked by Richarlison. The Brazilian had previously scored one league goal since joining from Everton for £60m in the summer of 2022 and had revealed over the international break he has been receiving psychological help for his struggles with off-field events. But he headed the equaliser before laying on the winner for Dejan Kulusevski.
"Richy was great," said Postecoglou. "You try to maintain a balance in life. His football hasn't been that bad but sometimes when you struggle in certain parts of your life it goes into other areas. He got his rewards today, hopefully that goes into other areas and hopefully a day like today will help him."
He was keen to stress that he did not know too much about the specifics of Richarlison's difficulties and had not been asking questions or offering advice, preferring to leave that to the people at the club "who are far more qualified" to do so.
"My role," Postecoglou said, "is to provide an environment to hopefully feel secure in this part of his life. We've a great group of players. They've been round him and you could see at the end how happy they were for him."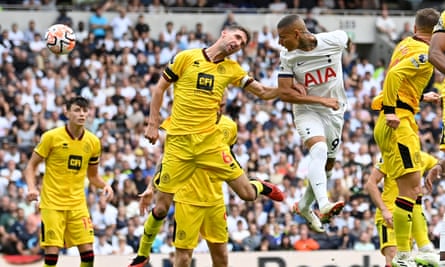 One of the most impressive aspects of Postecoglou's short reign at Spurs has been his capacity to make substitutions that have had a positive effect. Against Manchester United and Bournemouth a couple of changes headed off possible fightbacks almost before they had begun. Here, the job was to kindle imagination that had seemingly been snuffed out and he achieved it by introducing Richarlison and the new signing Brennan Johnson.
It had not seemed as though it was going to end like that. We'd seen this Tottenham performance before. The longer the game went on, the more Tottenham ran out of ideas, the more frustration mounted, the more probable an away goal became.
Even the manner of it had a certain inevitability, as Jack Robinson's long throw looped over everybody and came to Gustavo Hamer at the back of the box. Taking it on the bounce, the Brazilian steered his second goal since last month's move from Coventry in off the far post.
It says much for how Postecoglou has changed the mood that the crowd stayed with Spurs. It is easy to imagine how toxic the atmosphere would have been at 1-0 down six months ago; what anger and frustration there was, though, was directed largely at the referee, Peter Bankes, and his inability to deal with what might euphemistically be called Sheffield United's game management. As it turned out, the added minutes worked in Spurs' favour.
"I'm gutted for everyone in that dressing room," said Sheffield United's manager, Paul Heckingbottom. "That's how cruel the game can be but the result doesn't change the performance."
That is seven points lost this season to goals conceded after the 88th minute but here especially they will wonder how on earth, having defended so well and for so long, they ended up with nothing but a very late red card for Oli McBurnie, but the force of the Postecoglou revolution is not to be denied.