So far in Jack Draper's young career, since his very first ATP appearance, much of his progress has been dictated by his injuries. Whenever he has had the opportunity to play with a clean bill of health, though, he has shown that he can step up.
He did so again on Thursday afternoon as, soon into his return to competition after a shoulder injury derailed his summer, Draper pulled off a big win by dismantling Hubert Hurkacz, the 17th seed, 6-2, 6-4, 7-5 to return to the third round of the US Open.
Moments after Draper's victory, his British compatriot Katie Boulter trod her own path into the third round by recovering from a set down to overcome the in-form qualifier Wang Yafan 5-7, 6-1, 6-4 in an intense, high-quality scrap. In her first US Open as a direct entrant into the main draw, this is the first time Boulter has reached the third round of any grand slam outside Wimbledon.
Cameron Norrie, the 16th seed, also continued to build his confidence and momentum as he reached the third round with a 7-5, 6-4, 6-4 win over Hsu Yu Hsiou of Taiwan.
Until the past few weeks, Draper had barely competed this year because of hip and abdominal problems, before struggling with his shoulder at the French Open. What he thought would be a minor setback before the grass-court season ended up costing him another three months between May and August and he has fallen out of the top 100 to his current ranking of No 123.
Upon his return, Draper retired from his match in Winston-Salem the week before the US Open after feeling pain in his shoulder. After undergoing scans, Draper estimated that there was a 70-30 chance he would not play in New York.
"I was looking with my coach and physio thinking, 'Another bit of time off,'" he said. "We were almost in tears. What more can we do?"
But Draper and his team worked hard on his shoulder and, after two matches, he says it feels good. He has opted to veer on the side of caution by taking some pace off his enormous lefty serve.
Still, he served well in addition to showing his all-round game, returning effectively and moving smoothly while dictating from on top of the baseline and occasionally closing points at the net.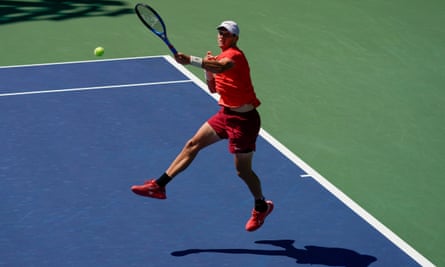 While Draper stepped up, Hurkacz was clearly unwell and midway through the third set he called for the doctor. After being the struggling player in so many matches in his career, this time Draper took full advantage of his ailing opponent and closed out the match in straight sets. He will face Michael Mmoh of the United States for a spot in the third round.
"I'm proud of the way I have come back every time and hopefully I don't have to come back any more," said Draper. "I can keep on this trajectory of playing and getting more matches and just getting more confident in my body and in my tennis."
Despite her status as a qualifier, Wang had arrived on court five against Boulter as one of the most in-form players around. A former top-50 player on the comeback trail, she had compiled a 37-3 record leading into this match. In the decisive moments of such a tight encounter against a battle-hardened opponent, though, Boulter trusted her weapons and played fearless attacking tennis to seal an enormous win.
Boulter is now No 50 in the live rankings, her final position depending on how other players around her fare over the next nine days. She has a great opportunity to reach the fourth round of a grand slam for the first time as she faces Peyton Stearns of the US, a 21-year-old ranked only two places above her at No 61.
Jodie Burrage's US Open came to an end, though, as the 24-year-old from Kingston upon Thames was defeated 6-3, 6-2 by Aryna Sabalenka, the Belarusian second seed and one of the tournament favourites.