There were 66,747 people at the Santiago Bernabéu for Jude Bellingham's home debut on Saturday and all of them fit neatly into his pocket. They had seen this before – in every game he had played, in fact – but not quite like this, not right there in front of them, under their roof. He was 94 minutes into his first game in his new, recently-renovated place, this giant silver spaceship landed on the Castellana, it was 1-1, Getafe had built a wall in their way and time was running out, but the moment was coming. Of course it was: they're Real Madrid and he, he is Jude Bellingham.
And Jude Bellingham is inevitable.
Bellingham set off the second Lucas Vázquez shot. Most players wouldn't have – the ball was heading straight at David Soria, who had already made 10 saves more difficult than this one – but he's not most players. That much is already abundantly clear. This time, Soria spilled it: not far but just enough, a flash of white in front of him slipping the ball into the net. The Englishman had only gone and done it again: for the third week running, he had got the winner. This was his fourth game for Madrid; he has scored in all of them. Now he had one at the Bernabéu too, Getafe finally defeated 2-1 and everyone erupting around him.
"I had never heard a noise like it," he said afterwards. Marca's headline declared: "Bellingham takes the roof off," which was inconsiderate of him; they'd only just put it on. He ran towards the south-east corner, skidded to his knees, got up again and kept running, teammates following him towards the four paramedics on a bench in front of the stand. Which was handy when Antonio Rüdiger came leaping into the pile of screaming players a little too hard, missed it, tumbled over the top and on to the barrier beyond. Handy too when Rüdiger got up and started pummelling David Alaba in the stomach.
Bellingham looked up at the immense arena and lifted his fist. He pulled at his shirt by the badge. He shouted vamos!, which isn't defecating on the milk but is a start. And it has been a hell of a start, almost absurd. Then he stepped aside for his moment, alone with the supporters, and raised his arms wide.
They're seeing a lot of that and, in it, a lot of him: the character, a man commanding all he sees. A trademark they now know, his celebration had first been performed at San Mamés, where one helpful Athletic fan gave him the full V sign, which isn't a thing here, to ensure he understood. It was there again at the Power Horse Stadium where Vinicius Júnior liked it so much he copied him. And at Balaidos, where Rüdiger raised him up like a trophy and Alaba punched him in delight. This time Madrid's fans got to see it in the flesh. And, yes, they are entertained. Embraced too: it was as like the entire stadium was being welcomed into his arms, hugging him hard.
This, Marca said, was cupid's arrow: the kind of love at first sight that even Figo, Zidane, Ronaldo and the rest didn't get. It helped that Bellingham had already been named La Liga player of the month before even setting foot in the Bernabéu. Now that he had done it here too there was a chant of "Jude! Jude! Jude!". And as he made for the centre circle, from the fans who had finally returned to the south stand lower came the chorus of Hey Jude. Which may sound obvious, but actual songs aren't really a thing here, however much of a tap-in they are. There's no McManaman to the tune of the Muppets; however fast he sprints Idrissa Baba doesn't hear Barbara Anne, and Rubi never got Kaiser Chiefed. As for Bono, he still hasn't found what he's looking for.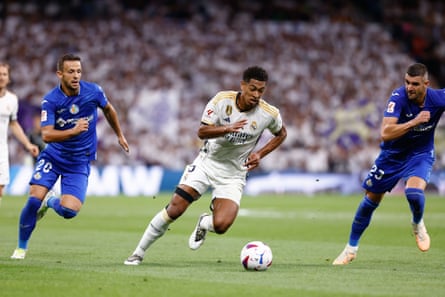 "I can't believe it. My legs were shaking," Bellingham said. "When they were singing Hey Jude I got goosebumps. I just wanted to turn and stand still and listen to it. I could feel the support. I don't know what I have done to deserve it, I'm just so grateful."
He has done more than anyone could have expected. Even those who thought he was good didn't imagine him to be this good. There is this old line, trotted out endlessly of late, about British players always and inevitably failing – because title winner David Beckham, five-times Champions League winner Gareth Bale, double league champion and two-time European Cup winner Steve McManaman and double winner and European Cup finalist Laurie Cunningham were a disaster. It's bollocks but anyway, they say, Bellingham has broken that. "It is like he was born on the Castellana," AS's Mad Madridista Tomas Roncero wrote one week. "It's like he was born in the Puerta del Sol," AS's Mad Madridista Romas Roncero wrote the week after.
Carlo Ancelotti said what most stands out about Bellingham is his personality, a remark that's rightly becoming a recurring theme. There's a line from his former coach at Dortmund about him being "the oldest 19 year old in the world"; just turned 20 now, the maturity and assuredness is startling, the leadership. As one headline had it, Bellingham "cuts the cod", and only the most important do that. Teammates – and this is not just any team; it's Real Madrid, for goodness sake – gravitate towards him, trust him, hand over to him. They are taken by him. "He's fantastic," Dani Carvajal says. "He has a star," Fran Garcia says. "It's crazy, I've run out of words," David Alaba says.
As for the fans, they're smitten. And how could they not be? Not only is he playing superbly, Bellingham gets it, understands his surroundings, the stage he is on. There is no fear, a supreme confidence but a deference too: both bloody hell, Real Madrid is huge and It's Real Madrid? And? Every word, every gesture, is pitched right. At full time on Saturday, he turned to all four sides of the ground, which had all turned to him, applauded, pointed and promised more. It felt natural, not forced, the connection complete. He is, one front page declares, "the master of the Bernabéu."
There was a moment just before the final whistle that caught the eye, encapsulating his management of a game that, as it tends to be against Getafe, had occasionally become a battle – one in which he had a penalty taken away because VAR decided he had dived and another shout turned down. Deep in the southwest corner, Gastón Álvarez tried to barge him off the ball and the pitch. Bellingham took the hit – not for the first time – stopped, looked at the stands and smiled. There was the slightest hint of a wink. The look said: this is good, innit.
Very, very good. On his opening night against Athletic, at the place that they call the Cathedral which has a symbolism unlike anywhere in Spain, there was no sense of being overawed, and nor was there here. It wasn't any one thing in particular that Bellingham did although there were highlights of astonishing technique and athleticism; instead, it was everything he did. And that was a sign of what followed, the appreciation growing each week, the story repeated. He defended, he attacked, he passed, he ran. He flew into tackles, never backed down. And of course he scored. The player whose youth team coach once gave him the No 22 shirt because he was a 10, an 8 and a 4 all added together now wears 5 and turns out to be a 9.
Ancelotti says goals are not his primary function but he altered the formation to put Bellingham at the top of a diamond, close to goal. It is a new role, but one Ancelotti thinks suits him. "He learns very quick; you don't have to tell him things lots of times. We have shown him videos of him playing at Dortmund, doing things we like and asked him to keep doing that. It's a change – at Dortmund he received between the lines more – but he's always been a player who goes forwards, never back."
With five in four games, he is La Liga's top goalscorer even though he's not a goalscorer. Responsible for 63% of Madrid's goals, directly involved in 75%, he has been decisive. Madrid's Mr Wolf, one columnist called him. At San Mamés, he made the game safe with the second in a 2-0 win. At Almería, he scored the equaliser and the goal that gave them the lead. In Vigo, he got the only goal late on. Now he had another winner. It is not chance, either: they're all striker's goals, inside the area, beyond the penalty spot, the man likened to Zidane also being compared to Raul on Saturday. "There's a lot of mental work behind that," Bellingham said having again arrived in just the right place at just right time: the south end of the Santiago Bernabéu in the 95th minute of his first day, standing there arms apart, 66,474 people welcomed in.