Jérémy Doku has enjoyed a busy month; he started the season scoring in Rennes' 5-1 victory against Metz and on Saturday made his Manchester City debut against Fulham, winning by the same scoreline. This week he joins up with Belgium for two important European Championship qualifiers as the new-look Red Devils focus their gaze on Germany next summer.
The 21-year-old has two new head coaches to work under after joining Pep Guardiola in east Manchester and Domenico Tedesco with the national team, who come with a new set of teammates and strategies. Belgium have collected seven points from three games and wins against Azerbaijan and Estonia could seal a place at Euro 2024.
Belgium's golden generation are dwindling in numbers after failing to live up their expectations at major tournaments. Many thought Eden Hazard, Kevin De Bruyne and Toby Alderweireld would be at the heart of a first-ever major trophy for the country. Hazard, Alderweireld and Axel Witsel have retired, De Bruyne's body is struggling with the rigours of club and international football, while Thibaut Courtois is a long-term absentee with a ruptured anterior cruciate ligament, making this a much-changed group to the one that limped out of the World Cup in the group stage, costing Roberto Martínez his job.
In the current squad there are 15 players with fewer than 10 caps; Doku is a relative veteran with 14. He will be required to take on greater responsibility, especially with the title of Manchester City player, as he looks to help revitalise Belgium. The Red Devils cannot afford to look back at their absent legends, instead they should focus on an exciting collection of young players, such as Charles De Ketelaere, Johan Bakayoko and Amadou Onana, who will be at the forefront of a number of upcoming qualifying campaigns.
Doku is used to being a focal point in the national team. "I saw a game he played for the under-15s and you could tell immediately he was very talented," says his Belgium youth coach, Bob Browaeys. "At that moment, there was already a lot written about him being a fantastic player. He was really talented from a young age but he still needed to progress. It is dangerous to predict a great career when a boy is 13 and 14 but I saw the talent."
Despite the pressure, Doku was not fazed, instead wanting to enjoy football for what it is: a game. He was desperate to take on opponents with his phenomenal dribbling skills, although his talents were already widely known and teams would double up on Belgium's pivotal player. "He was one of the best, uniquely so; his speed was unbelievable, he was able to stop his movement, then start and nobody could follow him," Browaeys says. "His speed was really a weapon, he made a difference with his combination of speed and dribbling skills."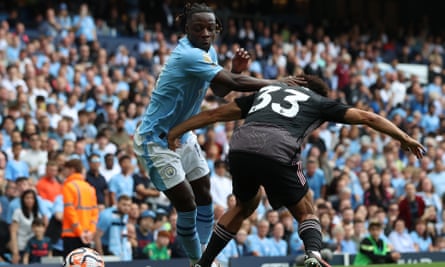 Doku's natural ability had taken him so far but to move on to the next level, he had to understand the professional game would not always be so easy. Browaeys moved Doku from his preferred left-wing role to the right in order to make him adapt and develop from someone that would cut in for a shot to a player that could beat a man and put in a cross. On his City debut, he was switched from left to right, a sign that the modern winger needs such variation.
"He is an intelligent guy," Browaeys says. "Sometimes in training, he can seem quite nonchalant, that it is just for fun and would play like it is only a game but the moment he needs to be serious, he is. We spoke about football with him, about tactics and he was very eager to learn. What was very important was to find the right balance between not killing his creativity and being efficient."
What really excited Doku was the prospect of playing in front of big crowds, to give him the audience his skills merited. It might explain why he opted to stay with Anderlecht as a teenager to play first-team football, rather than move to Liverpool where he would have to wait. "He was similar to Eden Hazard," says Browaeys, "who was the same at that age; he was phlegmatic and it did not matter what was happening around him. Doku was cool, he was never stressed."
Doku scored 10 and created seven more in 75 Ligue 1 appearances for Rennes, a ratio Guardiola will be eager to increase. Like Hazard, Doku moved from France to England and will be hoping to enjoy the same career trajectory. "If there is someone who can help improve the skills and decision-making of Doku, it will be Guardiola," says Browaeys. "One thing he needs to improve is to score more goals and get more assists but it is normal. It was the same with Eden Hazard at the beginning of his career. I compare the two at 15 years old – Doku has a different physique to Eden but the way he plays can make the difference. Eden needed to be more efficient with his use of skills to have a greater impact for the team."
If Doku is to become the leading man for Belgium, they might need a little help from Guardiola for the winger to reach his potential but this is one set of Red Devils he will not mind taking to new heights.