After an unexpected, brilliant week that offered both himself and the rest of the world a reminder of his considerable talents, Jack Draper's much-needed US Open run came to an end in the fourth round on a humid Monday afternoon in New York.
Andrey Rublev, the eighth seed, used all of his experience and nous to edge his challenger 6-3, 3-6, 6-3, 6-4 after a gruelling 2hr 45min on Louis Armstrong Stadium.
Despite the defeat, the past week presents a significant step forward for Draper as he continues to find his way back after missing nearly three months with a shoulder injury, a return complicated further by sustaining a separate shoulder tear a week before the US Open.
Most players need time and match experience to re-establish their rhythm, so it is a reflection of the 21-year-old's talent and ability that, with minimal matches and preparation, he has been able to compete at such a high level. It is, as ever, clear that his physical issues are his only obstacle to being able to compete at this level on a regular basis.
Although Rublev may not be the towering figure of his generation, he exemplifies the consistent excellence that Draper is aspiring to achieve: the 25-year-old has now reached nine grand slam quarter-finals in his career, with three this year alone. He will once again look for his first major semi-final as he faces either Daniil Medvedev or Alex de Minaur in the following round.
After the most physically gruelling yet rewarding week of Draper's career and his first four-set win against Michael Mmoh on Saturday, it remained to be seen whether the Briton's body would hold up against one of the most durable players on the tour. He started the match with his abdominal muscles taped.
Early on, Rublev served well and dictated from inside the baseline with his trademark forehand, consistently forcing Draper backwards. While Draper's forehand can be such a heavy, destructive stroke when he fully trusts it to take control of points and attack, he can also be tentative with the stroke, the topspin dropping short and allowing elite opponents such as Rublev the opportunity to take control. Early in the second set, Rublev had struck 12 forehand winners to just six from Draper.
As he tried to manage the pressure of the second week at a grand slam tournament, there were plenty of stressors for Draper. On a day so humid that it rained on and off throughout, forcing them to play under the stadium roof, Draper was initially unhappy with his string tension in the conditions, sending off rackets to be restrung after just two games. He was also bemused by the electronic service "let" system, which he believed called numerous lets incorrectly.
At 1-1 in the second set, as he tried to hold off Rublev's suffocating aggression, Draper thought he had saved a break point with a wicked sliding ace before it was eventually called a let. As Draper argued briefly with the umpire, Greg Allensworth, the crowd, amused by his exasperation, began to root strongly for him. After yet another let, Draper saved the break point with a brilliant running crosscourt forehand winner before holding serve.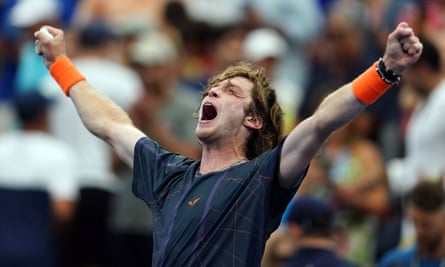 The moment seemed to free Draper up and he played his most authoritative tennis of the match, all directed by his brilliant backhand down the line. With the first sustained pressure on Rublev's serve, Draper broke for the first time to take a 4-2 lead before confidently serving out the set.
Despite a lengthy toilet break that irritated Rublev, Draper carried the momentum into the second set, also unloading on forehands as he took an early break as he led 2-0. But after some missed first serves and great returning, Rublev reeled him back, winning three games in a row to reach break point at 2-3. From 15-40 down, Draper slammed down four unreturned serves to hold.
As the momentum swung back and forth, Rublev showed his experience and his ability to think clearly even through his typical anger. The Russian recognised his opponent's fatigue and he looked to make the decisive points physical, elongating rallies and charging Draper with hitting through him. Rublev gradually broke Draper down towards the end of the third set and as the younger player's energy levels cascaded, Rublev eased to victory in four sets.
While Draper left Louis Armstrong Stadium having again reached his physical limits, there is no shame in being outlasted by a top player after a week of competition so soon into his return.
The hope is merely that this is a new beginning for Draper, whose ranking has tumbled from a career high of 38 at the beginning of the year. By improving on his third‑round berth of last year, Draper will rise from 123 to around 105 in the ATP rankings, which should give him a better chance of continuing to the ranking cutoff at ATP events instead of dropping back down to the ATP Challenger Tour. Most importantly, he should leave renewed hope about his future after the best grand slam week of his career to date.